Omega-What? A Quick Introduction to Omega-3 Fatty Acids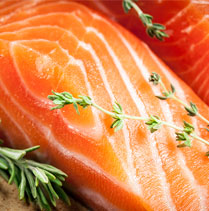 Typically, people aren't thrilled by eating things that have the word "fat" in their name, but in the case of omega-3 fatty acids, we have a lot to be excited about.
Imagine that omega-3's are a family of healthy fats that our bodies cannot make on their own. This means we must eat enough omega-3 rich foods in order to keep our hearts working properly, our genes error-free and to optimize peak brain function. In this omega-3 family, there are 3 "siblings," whose 3-letter names you may recognize from ads on cereal boxes, orange juices, baby formula, or vitamin supplements. These are:
ALA (alpha-linolenic acid):The bossy big sister, ALA is found in a variety of commonly eaten foods, like vegetable oils (canola and soybean), walnuts, and flaxseeds. The average American diet tends to be low over-all in omega-3's with the most omega-3's from the diet coming from ALA, which is converted in the body into EPA and DHA.
EPA (eicosapentaenoic acid) and DHA (docosahexaenoic acid): The shy and often overlooked twins of the Omega-3 family, EPA and DHA are something of a dynamic duo and are often measured together because their benefits are not well understood apart. These two important fatty acids are found in their pure form primarily in cold-water fish, fish oil supplements, and certain algal extracts and are especially easy for the body to use. EPA and DHA are being used a great deal in research to determine their potential use in a variety of settings for both children and adults.
---