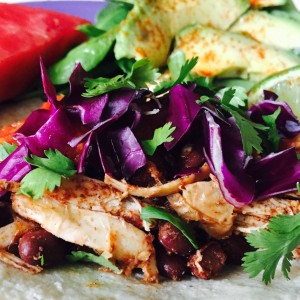 This 7-day dinner meal plan is designed to feed a family of 5 for under $60! Yes, it can be done, and you'll be surprised how simple and delicious the recipes are!
Simple, quick, healthy, inexpensive… can these ideals co-exist?! As a parent wandering the grocery store aisles, you may feel torn between choosing cheap low-quality processed foods that leave you wracked with guilt, or more expensive fresh foods that you imagine will take hours to prepare in the kitchen and really hurt your budget. You're not alone! In fact, a 2013 Gallup survey found that 76% of individuals polled believed that their food budget was hurting their personal finances (1).  Fortunately, with a bit of forethought and proper meal planning, healthy, affordable, and easily prepared meals can be a reality for anyone. The recipes are simple, and don't contain any hard to pronounce, expensive, or impossible to find ingredients! You'll find the complete shopping list and recipes below.
7 Day Dinner Shopping List:
Produce/ Ready Prepared Foods
Dried/Canned

1 large bunch fresh basil (1 ½ cups)
1 head of garlic
3 yellow summer squash
2 green bell peppers
1 large watermelon
4 lemons
2 medium cucumbers
2 heads broccoli
1 bag carrots
1 yellow onion
1 large family sized bag of spinach (at least 20 oz.)
1 fully cooked rotisserie style chicken

10 oz. can mild diced tomatoes with chilies (rotel style tomatoes)
28 oz. can diced tomatoes
24 oz. jar prepared salsa
4, 14.5 oz. cans black beans
14.5 oz. can garbanzo beans
14.5 oz. can cannellini beans
16 oz. box whole wheat penne pasta
1 bottle light olive oil vinaigrette dressing
1 package low-sodium Cajun seasoning (look for 270 mg of sodium or less per ½ teaspoon serving)
1 package corn tortillas (at least 10 tortillas)
1 loaf whole wheat French bread
1, 1 lb. bag brown rice
1, 8.5 fluid oz. container olive oil
1 bottle low-sodium soy sauce

Refrigerated/Frozen
Optional Ingredients (Not in $60 budget):

12 oz. bag frozen corn
12 oz. bag frozen peas
12 oz. bag frozen okra
16 oz. bag frozen pepper and onion stir fry vegetables
20 oz. frozen salmon filets
8 oz. container of refrigerated prepared hummus
10 eggs

fresh parsley
fresh cilantro
fresh chives
cumin
chili powder
chopped red cabbage
1 avocado
2 tomatoes
honey
limes
extra lemons
extra bag of salad greens
All ingredients shown above only cost $59.19!
MONDAY NIGHT: Southwestern Baked Eggs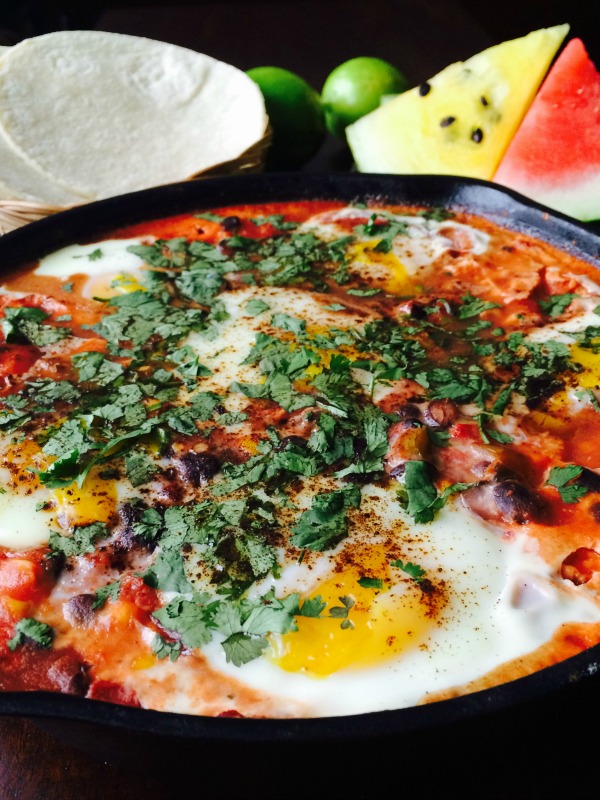 Servings: 5            
Cook time: 20-25 minutes
Ingredients:
1, 10 oz. can of mild diced tomatoes with chilies (Rotel style tomatoes)
2 cups of prepared salsa
1, 14.5 oz. can of black beans, rinsed and drained
1 cup frozen corn kernels
Corn tortillas
Watermelon activity, cut into slices
Special equipment: ovenproof skillet, aluminum foil
Directions: 
Preheat the oven to 375° Fahrenheit.
In an ovenproof skillet, combine the mild diced tomatoes with chilies, salsa, black beans, and corn. Simmer on the stovetop over medium heat for about 10 minutes to let the flavors combine.
Meanwhile, wrap the corn tortillas in aluminum foil and place in the oven to warm.
Next, remove the skillet from the heat and gently crack the eggs directly onto the salsa mixture, taking care to space them evenly throughout the skillet. Cover with an ovenproof lid or aluminum foil and bake in the oven for 10-15 minutes, or until egg whites are set and the yolks reach desired consistency.
Serve with warm corn tortillas and watermelon slices.
Additional Serving Suggestions: Splurge with fresh chopped cilantro and a sprinkle of chili powder on top for added flavor and antioxidants!
Helpful Tip: Oven temperatures may vary. Check eggs frequently while baking to ensure desired consistency.
TUESDAY NIGHT: Grilled Summer Vegetable Crostini with Hummus Spread & Spinach Salad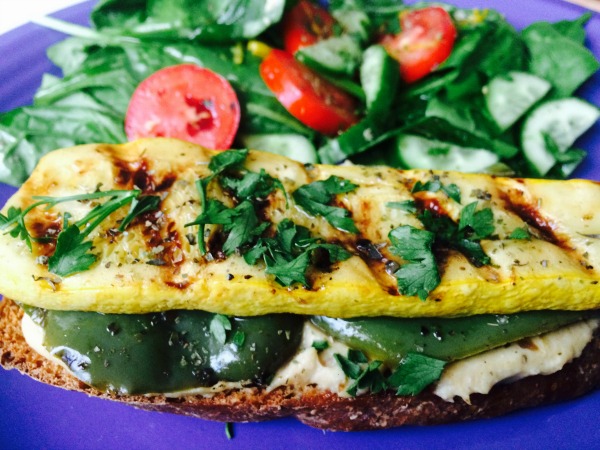 Servings: 5
Cook time: 15-20 minutes
Ingredients:
Prepared hummus of choice (roasted garlic, roasted red pepper, or pesto hummus would be great for this dish!)
One loaf of whole wheat French bread, sliced into 1 inch thick slices
3 yellow summer squash, cut lengthwise into ¼ inch slices
2 bell peppers, seeds and membranes removed, cut into quarters
½ cup light olive oil vinaigrette dressing, divided
5 oz of fresh spinach
Special equipment: grill, grill pan, or broiler
Directions:
In a large bowl, marinate the summer squash and bell peppers slices in the light vinaigrette dressing for at least 15 minutes. Overnight in the fridge or an hour on the counter is even better! Meanwhile, toss the spinach with ¼ cup of the Italian dressing and set aside.
When the vegetables are done marinating, heat a grill pan or outdoor grill to medium heat. Grill the vegetable slices until they have softened and have grill marks, approximately 5-7 minutes per side. Halfway through grilling the vegetables, place French bread slices on the grill, turning after about 4 minutes, to create grill marks on both sides. If you do not have a grill or grill pan, you can broil the vegetables and bread using your oven broiler.
Remove the bread from the grill and spread 2 tablespoons of hummus on top of each slice. Top with the grilled vegetables, and serve with the spinach salad.
Additional Serving Suggestions: Splurge by drizzling 1 teaspoon extra virgin olive oil, a squeeze of lemon juice, and fresh Italian herbs (like basil, chives, or parsley), over the crostini. This dish can also be served as a dipping platter, with the roasted vegetables and grilled bread alongside the hummus.
WEDNESDAY NIGHT: No Mess Salmon & Broccoli Foil Packs with Marinated Cucumber & Chickpea Salad
Servings: 5
Cook Time: 20-25 minutes
For the salmon:
2 lemons, sliced into ¼ inch rounds
5, 4 oz. frozen salmon filets, thawed
2 cloves of garlic, minced
2 tablespoons olive oil
¼ tsp cracked black pepper
1/8 tsp kosher salt
1 head broccoli, chopped into medium sized pieces
Special equipment: aluminum foil
For the salad:
1, 14.5 oz. can of garbanzo beans, rinsed and drained
2 medium cucumbers, diced
1/3 cup low sodium vinaigrette dressing
Directions:
Preheat the oven to 375° Fahrenheit. Lay out five 10 by 10 inch pieces of aluminum foil. Place 2-3 lemon slices in the middle of each, and place one portion of fish on top of the lemon slices in each foil packet.
In a small bowl, combine the minced garlic with the olive oil, and brush the mixture evenly over the top of the fish. Disperse the broccoli florets evenly between the five foil packs, placing them around the salmon filets. Season each packet with cracked pepper and kosher salt. Fold the edges of the aluminum foil over the fish and broccoli to make a sealed package. Bake for 20-25 minutes at 350 degrees Fahrenhiet until the salmon easily flakes with a fork, and the broccoli is cooked through.
As the salmon bakes, combine the garbanzo beans, diced cucumbers, and dressing in a medium sized bowl. Let the mixture marinate, and serve alongside the salmon foil packs.
THURSDAY NIGHT: Vegetarian Crockpot Gumbo over Brown Rice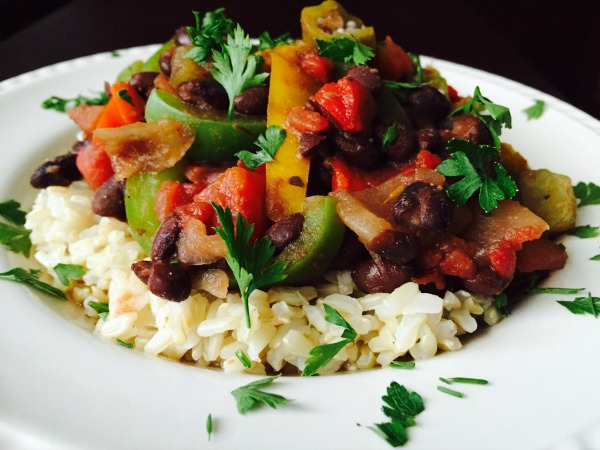 Servings: 5
Cook time: 3-4 hours on high in crockpot or 6-8 hours on low in crockpot
Ingredients:
2, 15 oz. cans black beans, rinsed and drained
1, 28 oz. can petite diced tomatoes, undrained
1, 16 oz. package frozen stir-fry vegetables containing sweet peppers and onion
2 cups frozen cut okra
2 teaspoons lower-sodium Cajun seasoning
1 lb bag uncooked brown rice
5 cups water
Special equipment: slow cooker & (optional) rice cooker
Directions:
In a 3 ½  to 4 ½ quart slow cooker, combine the beans, tomatoes, frozen stir-fry vegetables, okra, and Cajun seasoning. Cover and cook on low for 6 to 8 hours or on high for 3 to 4 hours.
Meanwhile, cook the brown rice according to package instructions on the stove or in a rice cooker. Reserve 2 cups of cooked brown rice for the fried rice recipe later in the week.
When the gumbo is done cooking, serve over warmed brown rice.
Additional serving suggestions: Sprinkle each bowl with chopped fresh parsley, basil, or chives for added flavor and nutrients.
Adapted from: https://www.bhg.com/recipe/soups/cajun-seasoned-vegetarian-gumbo/
FRIDAY NIGHT: Lemon Basil Penne Salad with Cannellini Beans, Green Peas, and Roasted Chicken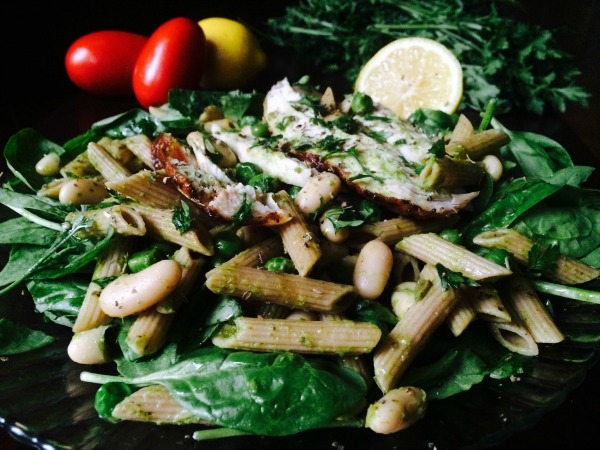 Servings: 5 
Cook time: 15 minutes
Ingredients:
1, 14.5 oz. can cannellini beans, rinsed and drained
1 cup frozen green peas
2 ½ cups dry whole wheat penne pasta
½ of a rotisserie chicken sliced into 2 oz. servings
10 cups fresh spinach
2 small cloves of garlic, peeled
1 ½ cups of fresh basil
Juice from two lemons
1/8 tsp salt
¼ tsp black pepper
¼ cup olive oil (preferably extra virgin olive oil)
1 tsp honey (optional)
½ cup of water
Directions:
Place the garlic, basil, lemon juice, salt, pepper, olive oil, honey, and water in blender and blend at medium speed until the dressing reaches a smooth consistency, approximately 30 seconds to 1 minute. Set dressing aside.
Bring one quart of water to a boil. Cook the pasta according to package directions (approximately 10 minutes), adding the frozen peas to the pot during the last five minutes of cooking. Drain the pasta and peas, place back in the empty pot, and combine with cannellini beans.
Pour the lemon basil dressing into the pasta mixture, folding the dressing into the mixture until well combined.
Place approximately 2 cups of fresh spinach onto each serving plate, and top with 1 ½  cups of the pasta mixture and a 2 oz. portion of sliced rotisserie chicken. Enjoy!
Additional Serving Suggestions: Add freshly chopped parsley and diced tomatoes when serving!
SATURDAY NIGHT: Shredded Rotisserie Chicken& Black Bean Tacos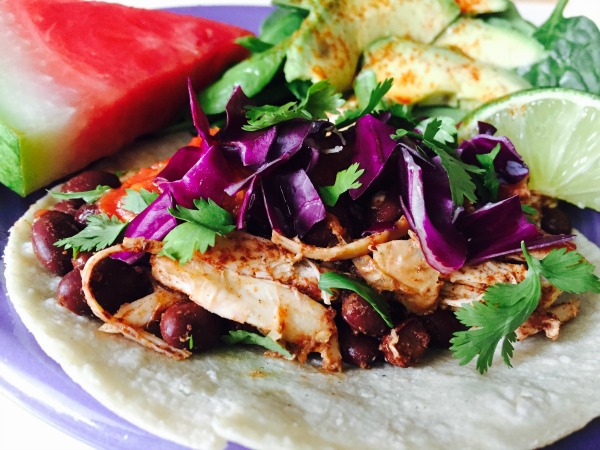 Servings: 5
Cook Time: 5 minutes
Ingredients:
1, 15 oz. can black beans, rinsed and drained
½ medium yellow onion, diced
1 clove garlic, minced
1 Tbsp. olive oil
½ of a rotisserie chicken
1 cup salsa (for topping)
At least 5 corn tortillas
Optional: ground cumin and/or chili powder, shredded purple cabbage, cilantro, lime juice.
Directions: 
Add the olive oil to a large skillet and warm over medium-high heat. Add the onions and garlic and sauté until the onion becomes translucent (about 3 minutes).
Add the shredded rotisserie chicken and black beans, and, if desired, season to taste with about a teaspoon or so of spices like cumin and chili powder. Fill the corn tortillas with ½ cup servings of the chicken and bean mixture.
Top with salsa, and serve.
Additional Serving Suggestions: Top with shredded purple cabbage, cilantro, and lime juice. Serve alongside a green salad with avocado and watermelon, or steamed broccoli.
Money Saving Tip: Reserve the chicken carcass from the rotisserie chicken. Boil in a large stock pot for several hours with 2 quarts of water, chopped onion, carrots, celery, bay leaves, salt, and pepper to create a rich stock for future soups and dishes. Drain the stock through a fine mesh sieve so that only stock is reserved. Store in the refrigerator for up to 5 days, or freeze for up to 3 months.
SUNDAY NIGHT: Very Veggie Fried Brown Rice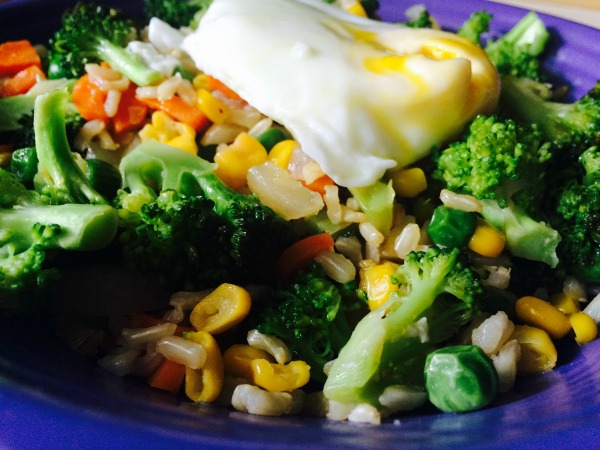 Servings: 5
Cook time: 15 minutes
Ingredients:
1 head broccoli, chopped into bite-sized pieces
½  medium onion, diced
1 cup frozen corn kernels
1 cup frozen peas
2 medium or large carrots, diced small
2 cloves garlic, minced
¼ cup water
5 large eggs
2 cups pre-cooked brown rice
2 Tbsp. olive oil
2 ½ Tbsp. low-sodium soy sauce
Directions:
Heat the olive oil in a large skillet over medium-high heat.
Add the onions, carrots, broccoli, corn, and peas, and sauté for 3 minutes, or until onions are translucent.
Add the water to the pan, stir, and cover pan with lid. Continue cooking, covered, for 3-4 minutes, or until broccoli and carrots become tender.
While the vegetables are cooking, in a separate pan, scramble, fry or poach the eggs to put on top of the fried rice.
Add the brown rice and soy sauce to the vegetable mixture.
Stir, and cook until rice is heated through.
Top the fried rice with cooked eggs & serve immediately.
Learn more ways to save money through decreasing food waste, cooking quick low-cost meals, growing a small amount of produce, and buying some bulk items.