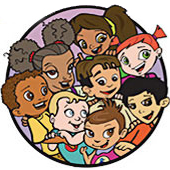 Making simple changes, like eating healthy foods and moving more each day, has the power to give your children a healthier future – one where they can avoid cancer, diabetes, heart disease and other serious, expensive conditions.
Super Kids Nutrition and the American Institute for Cancer Research are teaming up to help prevent 1 in 3 cancers. HEALTHY KIDS TODAY – PREVENT CANCER TOMORROW campaign shows you where to start by giving you step-by-step tools to:
Teach your children to enjoy and explore food that protect their health and fight cancer: vegetables, fruits, whole grains and beans.
Help them make healthier food choices in an environment full of nutrition-poor foods that are heavily marketed and readily available to children.
Make healthy choices fun through cooking and educational activities they'll love.
Learn why shielding yourself from cancer starts now!
START NOW!
Healthy foods and physical activity are essential shields for good health and disease prevention. Cancer develops over decades, so it's never too early to get your children to move more and start eating a healthy diet that includes plenty of cancer-fighting vegetables, fruits, whole grains and beans.
Download These Overviews to Learn More