As a nationally recognized dietitian for over 20 years, Melissa has been featured in national campaigns, print, web, and media work.
Close to 15 years ago, she set out with the goal of creating the first kids' nutrition website! It has grown into a trusted source and mega-site for parents, schools, health educators, educational institutions, and government organizations. We are the trusted nutrition experts!
Our Services
Through SuperKids Nutrition, Melissa provides a wide range of services, included but not limited to: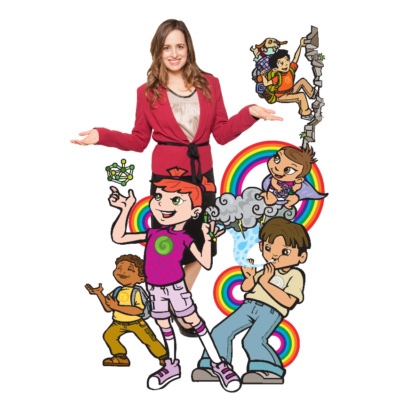 Speaking Engagements & Events – Melissa is a dynamic and engaging keynote speaker – contact me for a sample of my work
Webinars and Course Creator with over 20+ years of developing and teaching programs
Spokesperson & Nutrition Ambassador
Sponsored Content Hosting
Product Development
Sponsored Newsletters
Social Media Sharing
Recipe Development, Analysis and Meal Planning
Co-branded Super Crew Activities, Recipe Handouts, Placemats, Curriculum or Downloadable Guides
Nutrition Expert Consumer and Product Insights
TV and Media
Consumer and Professional Educational Materials
Health Writing & Featured Articles
Expert Q & A
E-Book Creation and Curation
At SuperKids Nutrition, we believe in growing healthy kids, families, and communities by providing trusted nutrition and fitness content to parents nationwide.
Kids and parents alike want tasty foods that are easy to make. That's where we come in. We provide fun activities, recipes, curriculums, and tools for parents and kids based on the latest science to boost the intake of real, healthy, whole foods! Plus, we've got the kid-adored and parent-approved Super Crew. 
We like to partner with companies and organizations that share our vision of creating a healthier world with nutritious foods and campaigns. Our site offers engaging content from pregnancy to college-age kids.
Social and Website Reach
Over 40K monthly page views
Over 12.5K followers on Facebook
Over 140K monthly followers on Pinterest
Over 2000 followers on Instagram
Over 1000 followers on Twitter
Testimonials of SuperKids Nutrition & Melissa's Work
I first worked with Melissa when she was a clinical nutrition manager, and she helped organize a Healthy Dining Extravaganza at Huntington Hospital. She made sure it was a sold-out event with media attending. Most recently, our company partnered with Melissa/SuperKids Nutrition on a CDC funded project. Melissa worked seamlessly with our team and Tufts University to develop the nutrition education materials for kids ages 3-11 featuring the Super Crew kids. Her creative approach to kids nutrition is fun, effective, and engaging! Melissa directed the creation and production of the Super Crew toys, which were used as incentives in the project. Additionally, Melissa's roles were to oversee the design and printing of the educational materials, including search, validation, and oversight of suppliers, including the toy manufacturer, which was overseas. Melissa's quality and attention to detail in every phase of the project were exemplary. We hired Melissa for her childhood nutrition expertise but ended up getting a whole lot more! Since that project, Melissa has provided valuable insights into other aspects of our business, and I deeply appreciate her contributions to our nation's children.
While working with Melissa over the past 3+ years, she has helped us break down science for consumers in a relatable and genuine way, while sharing her personal experience and tips on nutrition, phytonutrients and brain health. No matter the request, Melissa goes above and beyond to share new ideas and provide fresh content and quotes for media in a timely manner. For example, she developed a three-part blog series on brain health where she simplified complex science messages into digestible content for consumers and worked closely with us to route through review processes while incorporating feedback along the way. Melissa is also a team player. As part of a network of brain health experts, she has worked with other key opinion leaders to provide scientific guidance and material development, participate in virtual events and panel discussions, and strategize future plans. Additionally, Melissa supported a medical conference – tapping into her expertise and relatability – where she helped educate registered dietitians and industry leaders about brain health and supplementation. We truly value our partnership with Melissa and look forward to continuing to work with her in the future.
Melissa is an amazing brand partner and a forward-thinking dietitian. She goes above and beyond to deliver thoughtful, research-based work that will elevate her clients' nutrition profile with consumers and health influencers alike. She is well-respected in the nutrition community, and her ideas translate to a variety of different audiences to drive impactful results. And to top it off, she is a joy to work with! Melissa's passion for her work is infectious and unparalleled.
We have worked with Melissa for over five years on a broad range of nutrition-related projects from developing evidence-based toolkits and writing blogs to presentations and media work. Melissa is passionate about good health for all. She comes to the table with enthusiasm, high energy, and professionalism. She ensures her nutrition expertise is based on up-to-date research and uses best practice to craft creative but scientifically accurate messaging for parents and kids. She is a delight to work with – responsive, thoughtful, and truly collaborative.
Melissa teaches students how to accurately and concisely transform the science into layman terms. She engages students with humor, creative lessons, and countless real-world examples. Melissa is a warm, accessible, and enthusiastic teacher that knows how to connect with students and motivate them to be better writers and nutrition professionals. She receives accolades from the class year after year for her great teaching style.
Melissa Halas…where do I start?! An amazing woman, mother, Registered Dietitian, author, speaker, business person…and I am proud to say, a friend. She is a role model for all of us, loves what she does, and does what she loves. She pours her all into helping kids learn to eat healthily and to stay fit through her awesome brand and SuperKidsNutrition.com. Melissa is a joy to work with and has been a trusted voice, contributor, and source of healthy inspiration for over a decade for the School Nutrition and Fitness websites. There are over 5,000 sites that are relied upon by School Nutrition Departments throughout the United States. Her inspiring Super Crew lesson plans, activities, parent newsletters, and articles touch and enrich the lives of millions of students and parents daily. Melissa is positive, professional, and gets the job done. Melissa Halas and SuperKids Nutrition elevate a client's image, turning brand perception into a healthful and credible reality.
I have worked with Melissa for several years now, and I can say with 100% certainty she is a go-getter. She is full of great ideas, is very driven and passionate about furthering the field of nutrition, and is a great overall asset. One thing that impresses me the most is her networking skills. It seems she is almost constantly working to further herself by connecting with new people every day. This has proven extremely useful for my company.
Melissa and her team were phenomenal! Her presentation was fun, interactive, and catered to the audience. She had great suggestions that anyone could incorporate into their daily lives. I have to admit; I had oatmeal with blueberries for breakfast the following day! The hour flew by, and everyone wanted more! We look forward to having Melissa back.
I attended Melissa's workshop, and this challenge totally exceeded my expectations. I think I'm pretty informed about health and nutrition matters — but there is always more to learn. I was reminded of how important it is to eat all the colors of the rainbow. Melissa told us about phytonutrients and what each color of food does for our bodies. I couldn't wait to include more colors in my meals! I finally learned the formula for proper hydration based on my weight — now I carry a 32 oz. container with me everywhere. I'm actually happy to hydrate cause I know how essential it is — it also makes me eat less! Melissa talks about food and health, and fitness with love. She doesn't judge and talks about eating not-too-healthy yummy things.
I have been through many programs over the years on my journey to try and lose weight and eat healthy. I can honestly say this is the first class I've taken where I didn't feel guilty or ashamed. Your class offered support, ideas, and encouragement in a way that made me feel happy to be there and kept me motivated. I would recommend this class to anyone feeling they could use help getting on track and wanting some fresh ideas.
I had the pleasure of attending a FREE workshop that Melissa Halas generously offered. I own several of Melissa's books but had not had experienced of one of her workshops. This one was short and fit perfectly into my schedule and I learned so much.

Melissa has a fun energy and is very prepared and focused during her presentations. She encouraged feedback and questions during the meetings which also were addressed added to the fun atmosphere.

My biggest take away was to DRINK MORE WATER! I live in Colorado so you would think that would be a natural but I had slipped into neglect. I now have a glass of water with me at all times, working, driving, walking, working out and it has truly been a game changer for me. Melissa also gave tips on how to make getting hydrated easy and delicious!

There was a LOT packed into the five days, eating the rainbow, meditating, moving your body, breathing, so many easy to add practices and habits into your life. She also gave PRIZES! I won the best prize of a personal nutrition consult because of my response and participation in the homework. Others won copies of her books which are a great reference and resource in our home. Thanks Melissa!
I took Melissa's "Feel Great in your Body Challenge" and it exceeded my expectations! Although I feel pretty well versed in nutrition, Melissa gave me tips and tricks and reminders that were really insightful and helpful.

The challenge was on zoom, and Melissa is a very engaging speaker. She has a great balance between lecture, lighthearted and practical info as well as eliciting feedback from the group. Her mindful exercises/homework between sessions really helped engaged my brain, my level of commitment and make the lessons stick.

Melissa is extremely knowledgeable about nutrition. I really liked her practical and highly customized approach. She makes you feel like you can eat anything as long as you are making other healthy choices and doing it all mindfully.

This class was fun and informative and I highly recommend it to anyone who wants to have a deeper level of engagement with nutrition!
Thank you, Melissa from SuperKids Nutrition, for coming to Hamilton Elementary during Red Ribbon week. What a super-charged assembly! You kept the kids engaged and having fun all the while getting them to think about the daily food choices they should make. Way to energize our kids!
Melissa is a great speaker! She's very knowledgeable about all types of foods from fruits and vegetables to packaged foods. She has a great understanding of the nutritional challenges today's families face and she provides realistic solutions and recipes.
Melissa has the gift of knowing what her audience needs to hear. Whether speaking to a senior audience on healthy eating tips or leading the weekly Weight-Fit class for the hospital employees, she offered fresh ideas, the latest well-researched dietary information, a wonderful sense of humor and a "you CAN do this" positive attitude. She was our cheerleader, coach and mentor all in one.
We truly enjoyed having Melissa Halas as a presenter for our member webinar. Due to her excitement and energy in preparing for and giving the presentation, we had a much larger turnout!
Over the years I have read countless books and attended numerous group meeting and lectures on weight loss and healthy eating. Your lectures finally turned on the light for me, and now it all makes sense. I have successfully changed my habits, lowered my blood sugar levels and dropped the unwanted pounds without medication. I attribute the lion's share of my success to the clarity and enthusiasm you brought to the Healthy Lifestyles lectures.
Melissa is a dietitian- entrepreneur with creativity and energy that infect all who come into her presence. Her passion for evidence-based nutrition and medical science is reflected in her research, writing, seminars, and lectures and in her personal life. Her lectures are riveting, her power-point presentations visually stimulating, organized and creative. Her ability to keep an audience's attention is amazing. Best of all people's lives are changed by not only her knowledge but her ability to motivate and make lifestyle possibilities a reality!
Your knowledge of the matter and the style of your presentations are qualities that make you a very dynamic speaker. You present practical information that can be easily applied in day-to-day clinical practice. Your energy and enthusiasm motivates us as dietitians to perform at a higher level.
I attended numerous presentations that Melissa gave, and each one was dynamic! She possesses a world of knowledge! Melissa teaches with such an enthusiastic conviction that her instruction remains with me on my lonely walks through the grocery aisles. I can envision her speaking as though she was by my side, helping me make the best selection of foods that will impress my family!
I came into Melissa's class knowing how to "diet" but what I was looking for was how to maintain a lifestyle. Melissa's class taught me the importance of all the food groups. Balance and moderation are the keys. Chocolate, cheese and bread can be part of a healthy diet.
I really loved your presentation at the Tavis Smiley Health Fair. We learned so much about nutrition. The children had a lot of fun answering your questions. Thank you for the wonderful presentation!
Melissa and her team were phenomenal! Her presentation was fun, interactive, and catered to the audience. She had great suggestions that anyone could incorporate into their daily lives. I have to admit, I had oatmeal with blueberries for breakfast the following day! The hour flew by and everyone wanted more! We look forward to having Melissa back.
Brand Recognition – 1000's of Sites List Us as an Expert Source
We are listed on over a thousand government, cooperative extension, pediatric clinics, childhood foundations, life science college websites, .edu, and .org websites as a credible source of nutrition content. We are also featured as an excellent resource in county, state, library, and health and wellness program's toolkits.
Brands We've Worked With​
We've worked with national and internationally recognized brands.  Take a look at Featured In.
Educational and Nonprofit Institutions
Melissa has been published in journals, textbooks, periodicals and has written many grants as well as participated in nationally-funded research. Her company has partnered with both for-profit and educational institutions for government-funded grant programs. Melissa also lectures on health writing, teaching students how to accurately and concisely communicate research to the public at Columbia University Teacher's College graduate program, for close to 10 years.
Grant-funded partnerships and research
Curriculum development
Workshops
Highlighted Accomplishments
Partner and co-creator of the Healthy Kids Today, Prevent Cancer Tomorrow campaign with American Institute of Cancer research who have raised over 90 million for cancer research (see our campaign on American Institute for Cancer Research)
Received Center for Disease Control and Prevention (CDC.gov) funding for the development of childhood nutritional educational materials and interventions with the Super Crew.

The Super Crew have been positively received with both high and low-income children across cultures in focus groups and are featured in curriculum and books. Research shows that utilizing cartoon characters is an effective way to get kids to select and enjoy healthier foods. We are proud that children and parents across the country love the Super Crew characters!

Partners with over 5,000 schools in 40 states to provide parent newsletter and menu back activities with the Super Crew
People.com parent nutrition expert
Past TEDMED dietitian expert on Childhood Obesity
Key note speaker on daycare and preschool nutrition
Multiple National Media Tours, including Green Giant with Alison Sweeney and other nationally placed segments, see recent Hallmark appearance
Consult regularly on new product launches or reformulation of internationally recognized brand names including age ranges from toddler to college-age
Snapshot of Our Work
Here's a snapshot of some of our handouts. But, also check out our home page to see all of our amazing content! We are a mega-site, so it may be helpful to see our Tools and Resources, How to Use the Site after scrolling the homepage.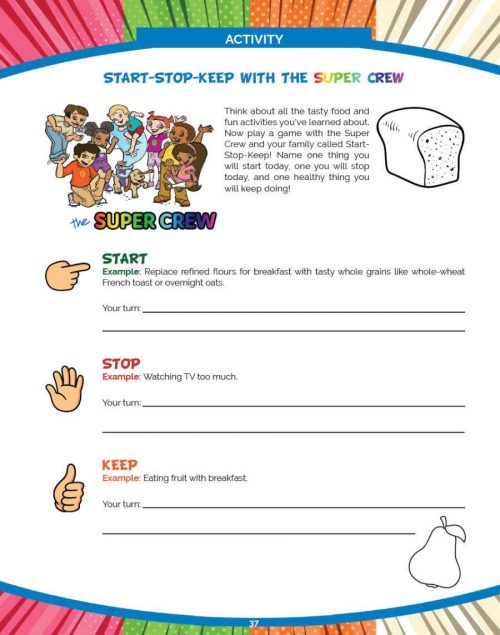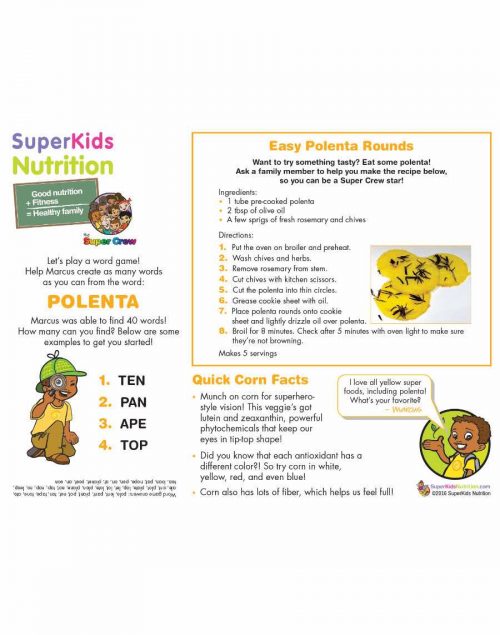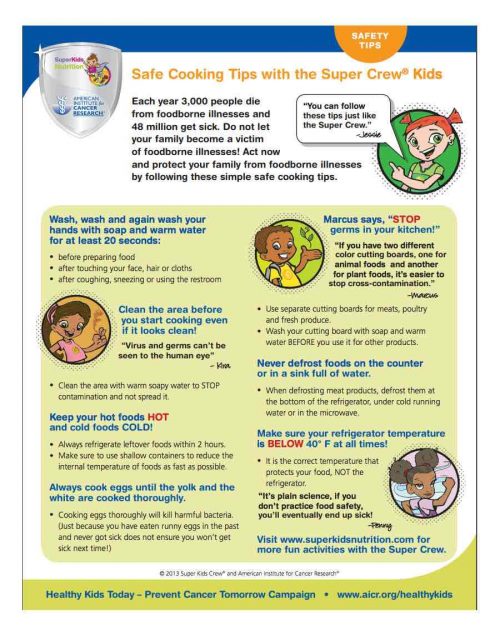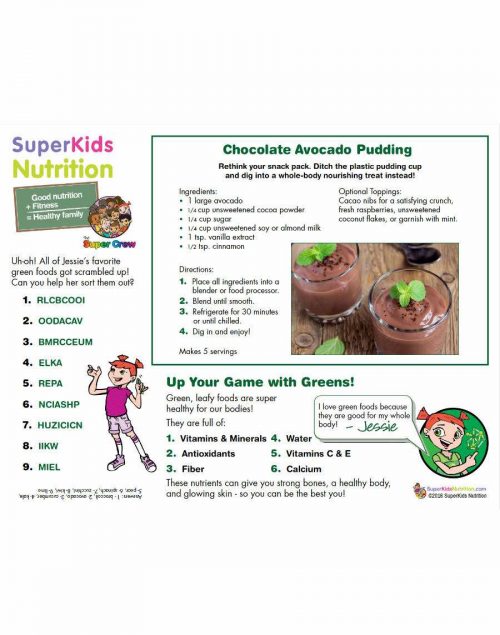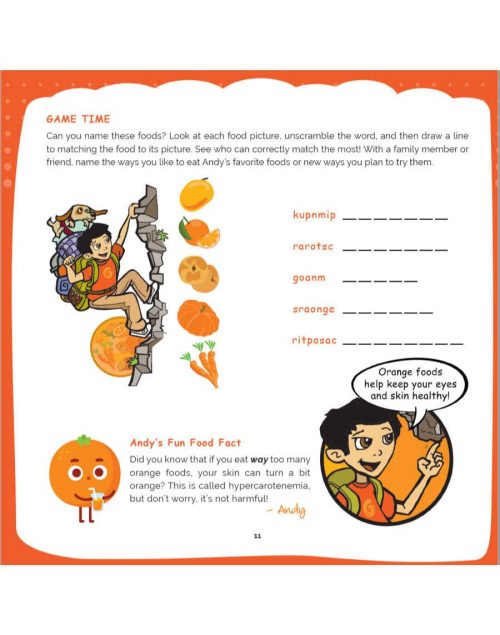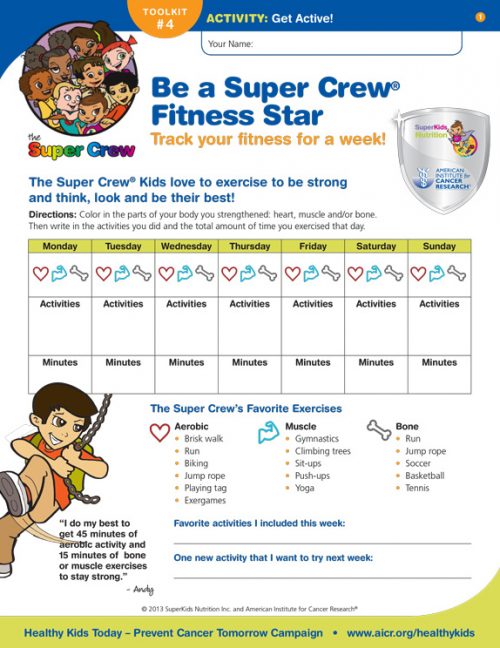 Learn more about Melissa and SuperKids Nutrition
Looking for more than just kids?
See how Melissa's blog can extend our partnership to a new audience. When parents visit Melissa's Healthy Living, they have themselves in mind. This content is specifically for adults wanting to eat healthily, live more fit, and feel their best every day!
"I found that parents who learn how to prioritize their health and are more active become more invested in their kids' health and family meals, so I started a nutrition and fitness blog for adults." -Melissa