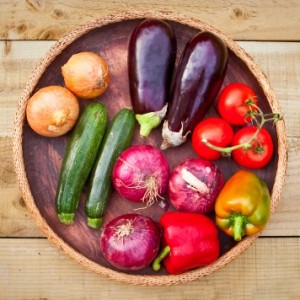 Plan, plan, and plan some more! We're all busy, and as much fun as eating out can be from time to time, learn how spending time in the kitchen will benefit your weight and long-term health.
One of the best benefits of cooking at home is that it is cheaper than eating out. You also usually wind up with plenty of leftovers, which you can recycle in a myriad of ways – into soups, sandwiches, salads, etc. The more you plan, the more you save on your time, your money, and your sanity! However, sometimes a grocery list isn't enough. So before you even begin to write down your grocery list for the market, I recommend doing the following first.
Create a "to use" list.
Poke around your fridge, pantry, and freezer to brainstorm meal ideas with items that you already have on hand and which may be approaching expiration! Once you have this list, stick it on your fridge and cross items off as you use them until the time comes to re-stock.
Think about how your ingredients will overlap.
The quantity of ingredients you buy is important when planning what you're going to cook for the upcoming week. Meaning, if a recipe calls for half a bunch of kale, try to find another recipe that also uses kale to reduce waste. Or, if a recipe calls for quinoa, cook another recipe that uses quinoa so that you only have to make it once but enjoy it twice. Here are some tasty quinoa recipes.  Pinterest is another great website to discover recipes.
Use an organized system to house all your recipes.
Organize your recipes in an app, on Pinterest, as electronic recipe files you maintain on a specific website or some other way. Whatever option you choose, pick a format and stick with it.
Don't reinvent the wheel.
Experimenting and trying out new recipes is fun, but everyone should have a few recipes they love to cook in a pinch. Standby recipes also reduce the need to acquire new and exotic pantry items, which can go to waste or add up fast.
Plan for leftovers.
Batch cooking is a useful time and energy saver! I recommend grocery shopping on Sundays (always with your list!) and spend the rest of the afternoon roasting the veggies you purchased – time permitted. Here are quick time-saving tips:
Roasting is an easy method to batch cook –plus the caramelized vegetables are delicious! Roasting typically provides enough servings of vegetables from the beginning of the week through Wednesday or Thursday.
Block off time in your schedule mid-week, when possible, and cook in batch again to get you through the rest of the week.
Throw together some tin foil packets that include chicken or fish dressed in a little olive oil, herbs, and spices. Bake the tin foil packets along with the veggies, so you'll have a protein source that you can "re-heat and eat" too.
The best part of leftovers is figuring out how to creatively use them. Each day is a different opportunity to experiment! Tip: Aim for veggies that are on sale and/or in season! Check out ideas from lunch with leftovers.
Clean up as you go.
There is nothing worse than cooking and enjoying a nice meal only to face a disaster zone you used to know as your lovely kitchen. There are always a few spare minutes here and there while cooking – when you're waiting for some water to boil, heating the oil, or softening the onions. Make the most of this time! Return an ingredient to its proper place, put dishes and utensils into the sink and/or dishwasher, or put back any remaining ingredients after use into the fridge or pantry. I guarantee that your final cleanup will go a lot faster if you routinely clean as you go!
I hope these tips will help you save time when meal planning. Watch your grocery bill go down and the amount of wasted food decline. Both good things! Lastly-and, arguably, the best part of all- you will spend less time in the kitchen and more time enjoying the masterpiece you created-your meal!