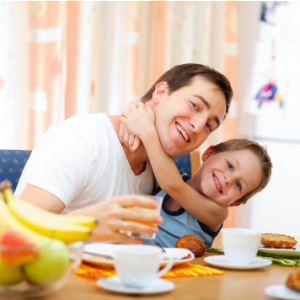 Many of these kids will grow up to be obese adults putting them at increased risk for many cancers, type 2 diabetes, and heart disease.
More than one in ten children ages 2-5 are obese in the United States. This shocking information comes from the latest State of Obesity Report by the Robert Wood Johnson Foundation and suggests that we face a future of serious health problems.
The somewhat good news is that childhood obesity has stabilized in the last decade, thanks to many parents and others who are working to influence food policy decisions that facilitate healthier choices in schools and supermarkets. And I know plenty of Moms and Dads who give their children a healthy head start at home.
I learned from both my parenting experiences and, for 20 years, providing nutrition counseling and education to college students, how much of a balancing act it is to help kids grow up with healthy habits and attitudes about eating, food, and their bodies. Based on those experiences, these are three tips I give parents to help develop healthy habits and attitudes in a family.
Healthy balance, not perfection.
What's important is what you eat most of the time – make balanced, healthful meals the norm. But show your kids how to enjoy foods like ice cream, cookies, or whatever your treats are, in small amounts – as occasional treats. You'll be giving them tools to make balanced choices that promote a positive attitude about being healthy in a smart way.
Healthy Talk.
What I love about the Healthy Kids Today, Prevent Cancer Tomorrow campaign from AICR and SuperKids Nutrition is the positive language about food and kids' bodies. Activity toolkits like "Eat Powerful Plant Foods" and "Healthy Protein Muscle Builders," – who wouldn't want to eat those foods? Words like that can take the focus away from weight and emphasize the importance of giving your body healthy food, being active, and recognizing how healthy habits make you feel good too.
Get Everyone Involved Around the Table.
There's nothing like contributing your own interests, skills, or passion to take ownership and pride in a family meal. Let your child help with the meal using their talents – when our kids were into calligraphy and fine dining, our table included beautifully written descriptive menus and fancy folded napkins. Whether kids prefer to cook, create a beautiful atmosphere, or offer before or after dinner music, those food experiences can help create a positive attitude around healthy eating and food attitudes for life.
Check out the Healthy Kids Today, Prevent Cancer Tomorrow Campaign