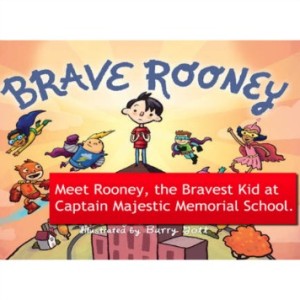 Written by Gerry Renert
Rooney is the only regular kid at Captain Majestic Memorial School where everyone else is a superhero. His favorite game is soccer, but none of the superheroes want him to play. They do, however, ask Rooney to play a different game. In Super Planetary Pig-Out whoever eats the most food in the shortest amount of time wins. Rooney refuses to play Super Planetary Pig-Out even though everyone says they will like him more if he does.
This App has a great message about handling peer-pressure, especially when it comes to over-eating and eating junk food. The superheroes eventually play so much Super Planetary Pig-Out that they all can't play. They learn their lesson when at the big soccer match they are all too slow to jump or chase the ball. Rooney saves the day by scoring the winning goal and then recruits his friend Mercury Man to teach all the superheroes about eating right using his special planetary plate puzzle. Soon everyone is healthy and fit again and they all have Brave Rooney to thank for it.
My 7 year-old played Brave Rooney and really liked the interactive features that allow the player to move the characters around the screen with their fingers. You can make the superheroes fly around, kick the soccer ball, and – when they get too fat – tear open the bellies of their too-tight shirts. There is also a challenge where players are asked to fill a plate with the appropriate foods using MyPlate. The story can be read or narrated by the author depending on the child's reading level.
After playing this App:
We live in a super-sized world! Teach your kids to recognize what an appropriate portion size is. Learn more about portion sizes for kids.
Discuss with your kids the principles of calories in versus calories out. To demonstrate, you can have them eat something small and then do jumping jacks for the amount of time it takes to burn it off.
Have them come up with 3 specific ways they can avoid overeating when they are out with friends. For example, if they are at the mall they can occasionally order the smallest size of a not so healthy food; they can occasionally share a treat with a friend; or they can look for the healthier alternatives, such a grilled chicken sandwich with salad versus a hamburger and french fries.
Practice the principles of mindful eating with your family.
Check out our children's book corner for fun garden, health and fitness themed books!