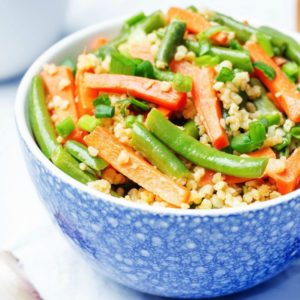 Try these delicious, quick, and healthy meals that you can throw together in little time when in a rush or on a budget!
Despite good intentions, limited time and money are frequently the culprits of last-minute fast food choices. With very little planning and preparation, you can ensure that you always have a few quick and healthy meal. These budget-friendly options won't cost any more time or money than it takes to pick up dinner through a fast food window. Here are a few ideas to get you started. Each recipe makes 2 servings!
This post contains an affiliate link. As an Amazon Associate, we earn from qualifying purchases. The link is noted with an asterisk (*) or Amazon image.
8-minute Start to Finish Stir Fry
For a complete meal in less than 10 minutes, just boil a pot of water and cook a bag of quick-cooking brown rice. While the rice is cooking cut open a bag of pre-cut mixed frozen vegetables, and/or any other fresh veggies you have on hand (about 8- 10 oz.) and saute in one tablespoon of canola or olive for about 5 minutes on medium-high heat. Once the vegetables are tender, throw in your favorite can of beans (unsalted, rinsed and drained well). Heat all ingredients for 2-3 more minutes. Add your favorite salt-free seasonings (I prefer cumin, cayenne pepper, lemon, or curry). Put 2 cups of vegetable stir fry over ½ cup brown rice for a delicious, high fiber, cholesterol-free meal!
When you're ready to try another mix, this one-skillet stir fry is my favorite go-to meal when I want something nutritious yet easy. It's also remarkably versatile — you can add whatever veggies you'd like and pair them with your choice of grain, protein, healthy fats, sauces, and any other favorite toppings. The possibilities are endless! I love making this in my cast iron skillet*, but any skillet you have will work!

Ingredients:
½ cup quinoa
1 cup mushrooms, sliced (any kind work- I usually go for button or cremini)
1 zucchini, cubed
5 leaves of kale, destemmed and slivered
1 tbsp olive oil
1 clove garlic, minced
½ cup canned whole beans, rinsed (try pinto, black, cannellini or garbanzo)
1 egg, fried
½ avocado, diced
Additional topping suggestions: Salsa, shredded cheese, fresh cilantro, salt, and pepper
Directions:
Start by cooking the quinoa, following the cooking instructions on the package.
While quinoa is cooking, heat olive oil over medium heat. Add in the mushrooms and zucchini. Cook until tender.
Add the kale, garlic, and beans. Let cook for an additional 2 minutes, then transfer to your bowl.
Clean and grease your skillet with more olive oil, then fry the egg.
When quinoa is finished cooking, scoop some into your bowl with the stir-fried veggies. Top with the fried egg, avocado, and other toppings as desired, and enjoy!
Homemade Veggie Burger
Sauté 2 Portobello mushrooms and 1 sliced red pepper in 1 tablespoon of olive oil for approximately 5-7 minutes. Season with ground black pepper and 2 tablespoons balsamic vinegar.Top with plenty of veggies some options can be lettuce, tomato, spinach, mixed greens, sautéed onions/mushrooms/peppers, pickled jalapeños, raw red onion, roasted sweet bell peppers, hummus, pesto, pickles, and salsa. Serve on a toasted whole wheat bun for a well-rounded healthy meal.
Whole Grain Pasta Dinner
This quick and healthy meal can be a weekly go-to. Boil a pot of water and add 4 oz of whole wheat pasta. While pasta is boiling, sauté 1 diced garlic clove and any fresh vegetables you may have available. After 1-2 minutes, pour 4 ounces of salt-free tomato sauce over vegetables. Season with your favorite seasonings (I prefer oregano, basil, ground black pepper, and cumin) Drain pasta, add to vegetable sauce mixture and enjoy! If you want to get creative and still save time, try making zoodles! Zucchini noodles aka "zoodles," are packed with phytochemicals from their green color. If you are hesitant to make the switch because of your kids' love for normal pasta, you can meet them halfway and make it a 1/2 pasta and 1/2 zoodles meal!
Protein-Packed Potatoes
Prepare a baked potato. Leave the skin on the potatoes for added fiber and quicker prep time. Add your preference of steamed vegetables, top with salsa, non-fat Greek yogurt,  and low-fat cheddar cheese. If you're feeling extra creative toss in some black beans or kidney beans. They will add protein, fiber, and many vitamins & minerals to your quick meal! Many people associate the word "carb" with grains, but fruits and vegetables are also great sources of healthy carbohydrates – these potatoes are a perfect choice for that!
High Fiber Mexican Meal
Taco night is your friend! Kids and adults love a fun taco feast. All you have to do is cook the protein (chicken, fish, beans) – and add whatever accouterments you and your family love – heat some tortillas and within 20 minutes you have yourself a healthier, less expensive version of take out. Here is a quick idea to get started:
Pick up a bell pepper, avocado, and any other fresh vegetables from your local supermarket. Sauté vegetables until soft in 1-2 tablespoons of olive oil. Add 1 can of salt-free, drained black beans and heat thoroughly. Pour mixture on 2 whole-grain, warmed tortillas. Top each tortilla with ½ sliced avocado and additional lettuce, tomatoes, salsa, and ask your kids to choose one or two last fun veggie toppings! You can also sub non-fat Greek yogurt for a typical sour cream topping.
Still looking for more quick and healthy meals?
We have additional ideas to fit your family's needs and preferences. Check out our Nutrition Counseling page for more info on individual counseling options. We can help you develop healthy menu plans despite any time, budget, or food restrictions your family may require!