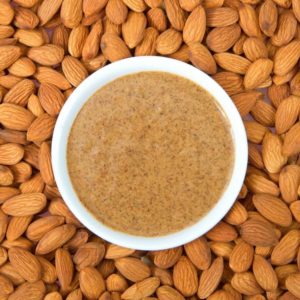 Nuts and seeds add a flavorful and nutritious boost to kids' snacks, meals, and treats.
You've likely heard that nuts pack a healthy punch for your health and are loaded with good fats for your children's nutrition. With different prices, tastes, and nutrient composition, it can be difficult to know which nut butter will give you the best bang for your buck. There are solutions for kids with nut allergies too! We're here so you no longer have to go nuts trying to figure out the best one to choose. Here's what we found!
Facts in a Nutshell
Almond
Highest in fiber (3.3g per 2 Tbsp. serving)
Lowest in saturated fat (the kind you want to limit), when compared to the other nut and seed butters. It is also highest in unsaturated fat (the good kind of fat) when compared to the other nut butters.
You'll get a boost of calcium, magnesium, and Vitamin E
Something to consider before adding a jar of almond butter to your cart: it's more expensive than peanut butter (usually about 3 times as much)
For a healthy snack, slice a date open and take out the pit, then add a dollop of almond butter on top! Make it a dessert by adding a square of dark chocolate on top!
Peanut
Highest in protein (7.1g per 2 Tbsp. serving)
This is your most affordable and accessible option. It is available in nearly all stores.
Watch out for certain brands that claim to be "natural" and offer a seemingly healthy option, but have additives such as sugar, palm oil, and molasses.
Fun fact: Even though they have nut in their name, peanuts are actually legumes and grow underground!
Tired of just putting peanut butter on sandwiches and fruit? Give these

Fresh Spring Rolls with Peanut Dipping Sauce

a try!
Cashew
Lower in calories (188kcal per serving) when compared to nearly all of the other nut and seed butters
Lower in fiber and protein, when compared to the other nut and seed butters
A good source of copper and magnesium
Expensive and not widely available
Often used in many vegan dishes due to the mild taste and creamy texture.
Cashews are a great alternative to cashew butter. They're great to snack on, or you can put on your chef hat and whip together a

No-Bake Gluten-Free Vegan Chocolate Cheesecake

!
Macadamia
Highest in calories (224kcal per serving) and lowest in protein (2.5g per serving)
Higher in saturated fat and a poor source of healthy fats (unsaturated fats)
Good source of manganese
While macadamia nuts do not offer the same nutritional benefits than that of other nuts, they have quite a buttery taste & smooth texture that will make your taste buds happy.
If you're craving something smooth and buttery, try making your own macadamia butter by simply blending whole macadamia nuts in a food processor.
Sunflower seeds
Second highest in unsaturated fat (good fats), with 15.6mg per serving
Good source of magnesium
Good alternative for kids with nut allergies
We love a twist to the classic PB&J – try sun butter and jelly on

whole-wheat crackers
Sesame (commonly called Tahini)
Lowest in calories (178kcal per serving) compared to the other nut and seed butters
Good source of calcium (128mg per serving)
Another great alternative for people with nut allergies
Try #7 of our

13 Top Sandwich Spreads

by spreading tahini on warm grilled veggies and/or a grilled chicken wrap.
Comparing Jars
Always compare the nutrition labels and ingredients list of a few brands when you're at the store. Choose the one with the fewest ingredients and watch out for additives! A common commercial brand's ingredients list you may see is: peanuts, sugar, palm oil, contains 2% or less of: salt, molasses. Ideally, you want to choose one that has the nut or seed as the only ingredient! Here are a few key tips to keep in mind:
Watch out for these additives: sugar, palm oil, salt, or molasses, in addition to partially hydrogenated oils

and words that don't sound like food!

Roasted/Dry roasted nut butter (which you'll see in the ingredients list as "dry roasted almonds", etc.) will have a slightly different taste than raw nut butter. See which one your child prefers – especially if you're dealing with picky eaters!
Store your nut butter upside down to keep it from separating.
Some nut butters should be refrigerated, so look for this on the label. It will help prevent separation and will keep the butter from going rancid.
Nutrient Breakdown
This nutrient table is based on one serving (2 tablespoons) of unsalted nut or seed butter:
Peanut, tree nut, seeds
Calories
Unsaturated Fats:
(mono and polyunsaturated)
Saturated
Fats
Fiber
Protein
One serving is equivalent
to this many nuts
Peanut
191 kcal
Mono: 8.3g
Poly: 4.0g
Total =12.3g
3.3g
1.6g
7.1g
35
Almond
196 kcal
Mono: 10.4g
Poly: 4.4g
Total = 14.8g
1.33g
3.3g
6.7g
24
Cashew
188 kcal
Mono: 9.3g
Poly:2.7g
Total = 12g
3.1g
0.6g
5.6g
18
Macadamia
224 kcal
Mono=18.4g
Poly=0.5g
Total = 18.9g
3.8g
2.7g
2.5g
12
Sunflower
197 kcal
Mono:12.5g
Poly:  3.1g
Total= 15.6g
1.5g
1.8g
5.5g
—
Sesame
178 kcal
Mono:6.1g
Poly: 7.1g
Total= 13.2g
2.3g
2.8g
5.1g
—
Now that you have this new guide, make a trip to the grocery store and test your knowledge. Start by trying one new nut or seed butter and come up with a few new recipes to try. You can even have the kids help you come up with ideas to make it a fun family brainstorming activity that gets you all in the kitchen!