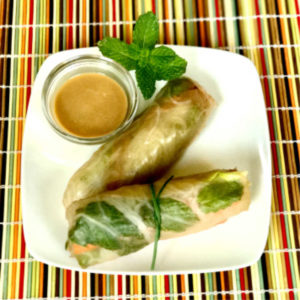 Try these simple, delicious, and nutritious spring rolls that you can make in minutes!
Like many people, you probably have a drawer in your kitchen filled with take-out menus and coupons for those nights when you don't feel like cooking. But you're not going to need them tonight! These fresh spring rolls make a quick appetizer and are so easy to make; you can even get the kids involved. The best part is each roll is customizable, so kids can pick and choose their veggies if they don't like a particular ingredient. Kids can help stir the sauce and place the sliced vegetables in the wrapper. You can purchase rice paper wrappers at your local grocery store in the ethnic foods section.
Filled with veggies, mint, mung bean noodles, and dipped in fresh peanut sauce, these little rolls are surprisingly filling and refreshing. Add a piece of tofu or cooked shrimp to make them even more substantial. See our Tasty Tuesday kid video for this recipe on our Instagram page.
Ingredients: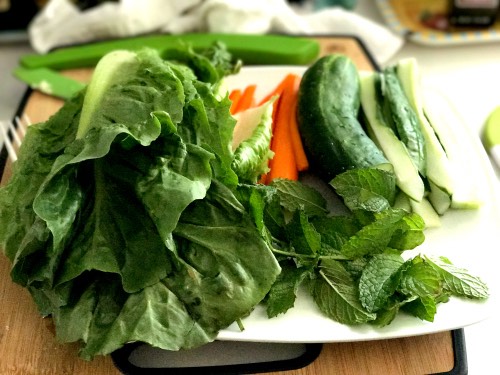 Peanut Sauce
2 tablespoons peanut butter
3 teaspoons rice vinegar
2 teaspoons low-sodium soy sauce
¾ teaspoon ginger, grated
1 ¾ teaspoons garlic, minced
2 ½ teaspoons water
2 teaspoons honey
optional: crushed peanuts
Spring roll
Rice wraps (1 per roll)
1 bundle Mung bean noodles
3 Carrots
1 Cucumber
Mint leaves (about 3 leaves per roll)
Lettuce

 

(half leaf per roll)
Avocado, sliced
Directions:
Combine all the ingredients for dipping sauce in a small mixing bowl. Set aside.
Cut the carrots and cucumber into julienne style strips.
Brush warm water over the rice wrapper and wait until soft, or dip wrapper in warm water and remove quickly.
Place lettuce leaf, 2 cucumber strips, 2 carrots strips, 3 mint leaves, and a pinch of Mung bean noodles in the middle of rice wrapper. Or add your child's favorite raw vegetables.
Fold sides in, and roll gently, but tightly.
Serve with peanut dipping sauce sprinkled with crushed peanuts.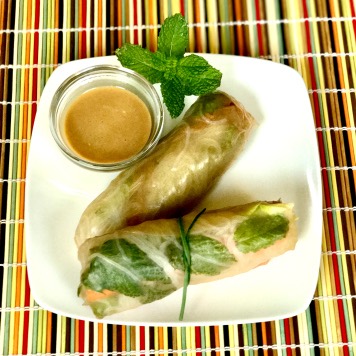 Check out our Healthy Kids Today toolkits and Super Crew learning activities for more fun and tasty ideas.