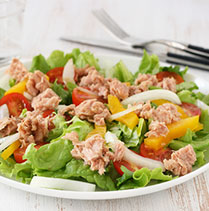 Learn about the health benefits of Omega-3 fats for your kids and the many different food sources of them!
If you're not familiar with what omega-3 fatty acids are, read A Quick Introduction to Omega-3 Fatty Acids.
Omega-3 fatty acids provide great benefits for all children, as they are used to help grow a healthy body, keep the heart strong, and ensure that a growing brain is able to think and process information. Although more research needs to be done before supplement recommendations can be made for all children, exciting studies are currently looking at the therapeutic use of omega 3's.
Health Conditions that Benefit from Omega 3s
Increasing intelligence and neurological development in infants and older children
Improving behavior among children with autism and ADHD
Managing asthma symptoms among children
Decreasing the number of flare-ups among children with Crohn's disease and ulcerative colitis
The consensus among professional agencies like the American Academy of Pediatrics and National Institute of Health is that fish oil supplements should not be given to children under the age of 18 without supervision by a medical doctor.
Sources of Omega 3s
However, there are a number of tasty omega-3 foods that children will love. The American Heart Association says that kids may safely consume up to 12 ounces of low-mercury seafood per week. Some omega-3 rich food sources that families can enjoy:
Salmon
Cod (great in fish sticks)
Shrimp/Lobster
Catfish
Pollock
Crab
Scallops
Flounder/Sole
Light canned tuna fish
Tips for Feeding Your Child Fish or Shellfish
Avoid serving high mercury fish (shark, swordfish, king mackerel, or tile fish), as mercury can be toxic to children.
Don't go overboard with canned light tuna, as it is a bit higher in mercury than other fish. Aim to only have tuna once per week.
Variety is best! By varying the types of fish that you eat, you can help reduce your children's risk of consuming mercury and other toxins.
Make eating seafood fun! Try baked fish sticks, crab cakes, seafood tacos, or fish kabobs.
Now that you know about how to feed your children, learn why Parents Need Omega 3's Too!