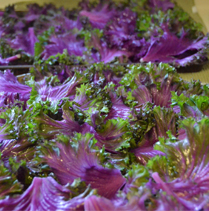 We all want children to eat healthy.  Sometimes we're just not sure how to go about it. One approach that can help your children to eat healthy is to include children in decision-making. Ask for their input and consider their likes and dislikes. If they suggest less healthy options, provide them with healthier alternatives. For younger children, consider giving them two or more nutritious food options rather then asking them what they would like. This will enable you to select healthy options but still provide them with a sense of ownership by allowing them to select the food they would like.
Helpful Tips to Healthy Eating
Distribute jobs that are age-appropriate such as participating in grocery shopping, taking out and putting away food items, washing fruits and vegetables, cracking eggs, mixing and measuring ingredients, washing and drying dishes.  The tasks that children can help you with are numerous and will provide you with the opportunity to spend time with your children and teach them important life skills.
Each week have your help plan and prepare at least one meal every week.  This is a wonderful chance for you and your children to spend time together and share the day's events. It provides children with the opportunity to learn important life skills such as how to safely and nutritiously prepare food, follow directions, work with others, and how math and reading skills are applied to everyday projects (e.g. reading recipes or measuring ingredients using measuring cups and spoons). It is a great one-to-one time to spend with each child.
Involvement in food decision-making and preparation provides children with ownership of their snack or meal. It helps them choose and prepare healthy snacks and meals that they like, and therefore, will be more likely to eat. Additionally, it will give them a feeling of accomplishment because they helped create delicious food for themselves or their family. Teaching children how to prepare simple and nutritious snacks and meals is important for their health and teaches them essential life skills.
Check out age appropriate activities for kids cooking in the kitchen.