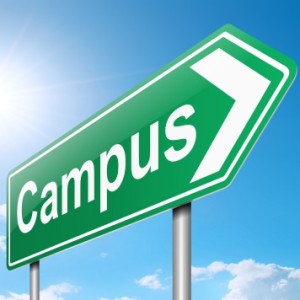 Healthy dorm room meals and snacks don't have to be difficult! They can be made without a microwave or stovetop, with simple ingredients, and still taste great! 
College may be the first time you're moving away from home, not to mention an entirely different state. When most of us leave for college, we're pretty inexperienced when it comes to cooking and cleaning for ourselves. At least this was the case for me.
To help ease your transition, here are 10 foods you can enjoy straight from the fridge–no cooking necessary!
Items you will need:
Cutting board
1 chef knife, 1 serrated knife, 1 paring knife
Storage containers
Microplane grater, vegetable peeler or grater
Utensils
Herb/spice blends
Breakfast in Your Dorm Room
Overnight No-Cook Oatmeal
Ingredients:
1/2 cup rolled oats
1/2 cup nut milk
1/4 cup chia seeds
Optional: 1/4 cup unsweetened yogurt
Fresh berries, diced apples, sliced bananas
Directions:
Place ½ cup of rolled oats in a cup with ½ cup nut milk.
If you have chia seeds, then add ¼ cup. Chia seeds can be a bit pricey, but if they fit into your budget, they are a nice plant source of omega-3 fatty acids.
If you like yogurt, mix in ¼ cup unsweetened yogurt.
Let the oatmeal mixture sit in the fridge overnight.
In the morning, mix in fresh berries, diced apples, sliced bananas, or whatever else makes you happy. The oatmeal will be soft and tasty after soaking overnight.
Yogurt Fruit Delight
Ingredients:
Plain, unsweetened yogurt
Fresh fruit
Cinnamon
Granola
Optional: dried, shredded coconut
Directions:
Layer plain, unsweetened yogurt with fresh fruit, dried shredded coconut (optional), cinnamon, and granola. It makes a delicious 5-minute breakfast.
Green Power Boost
Ingredients:
1 cup nut milk
1 handful spinach
1 handful kale (torn into pieces)
1 banana
1 cup frozen berries
1/2 apple
Pinch of cinnamon
1 tbsp peanut butter
Directions:
Add one cup nut milk of choice, one handful of spinach, one handful of kale (torn into pieces), 1 banana, 1 cup of frozen berries, 1/2 apple, pinch of cinnamon, and 1 tbsp of peanut butter to a blender.
Blend until smooth, adding more liquid as needed until the ingredients blend together smoothly.
Drink and become enveloped in this green goodness!
Lunch in Your Dorm Room
Canned Salmon/Tuna Salad with Whole Wheat Crackers or Sourdough Bread
Ingredients:
1 can low-sodium salmon or tuna, drained
1 tbsp mayonnaise
Pinch of cumin and cayenne
Whole grain crackers or sourdough bread
Spinach and lettuce (to taste)
Directions:
Add 1 tbsp of mayonnaise, a pinch of cumin, and a pinch of cayenne (if you like it spicy) to the salmon or tuna and stir until well blended.
Spread over whole grain crackers or sourdough. Add spinach or lettuce if you'd like!
Look for mayo with fewer added ingredients. For example, Just Mayo contains " Non-GMO expeller-pressed canola oil, filtered water, lemon juice, white vinegar, 2% or less of the following: organic sugar, salt, pea protein, spices, modified starch, and beta-carotene." The fewer the ingredients, the better!
If you're really interested in cutting down the ingredients (and have time), you can make homemade mayonnaise by beating together pasteurized egg yolks and vegetable oil!
Good ol' N
ut Butter and Fresh Fruit Sandwich on Whole Grain Bread!
Ingredients:
Nut butter
Whole grain bread
Fresh fruit (such as bananas, apples, berries or grapes)
Cinnamon
Optional: Drizzle of local honey
Directions:
Spread nut butter on a slice of whole grain bread.
Top with any sliced fruit you have available, such as bananas, apples, berries, or grapes.
Sprinkle cinnamon on top and drizzle with ½ -1 tbsp of local honey (if needed). Enjoy deeply!
Dinner in Your Dorm Room
Ingredients:
2 tbsp hummus
Whole wheat wrap
Carrot, grated
Cucumber, sliced
Red onion, sliced
Low-sodium deli meat or tofu, tempeh or drained, canned black beans
Cilantro, chopped
Lettuce, kale, cabbage and/or spinach, chopped
Optional: dried cranberries or raisins
Directions:
Spread hummus on the wrap, add grated carrots (buying whole carrots is much cheaper, and you can grate by hand), add sliced/microplaned cucumbers and red onions, low sodium deli meat (organic when possible), cilantro, chopped lettuce/kale/cabbage/spinach, and any other veggies you have lying around.
Optional: add dried cranberries or raisins for a touch of sweetness.
Tofu, tempeh, or drained, canned black beans can be substituted for deli meat.
Cranberry Celery Tuna Salad Wraps
Ingredients:
1 can tuna (preferably sustainably caught)
1 tbsp apple cider vinegar
Sprinkle of cumin, cayenne, and black pepper
1-2 tsp mayonnaise
Dried cranberries (to taste)
Kale, lettuce or cabbage leaves
Directions:
Open a can of sustainably caught tuna, drain, and add it to a bowl.
Add 1 tbsp of apple cider vinegar, sprinkle with cumin, cayenne pepper, and black pepper, and add 1-2 tsp of mayonnaise (or until desired texture is achieved).
Mix in dried cranberries and thinly sliced celery.
Use kale, lettuce, or cabbage as the wrap and place the tuna inside. Enjoy the vibrancy of this dish!
If you really enjoy tuna, be aware it can contain high levels of mercury, so switch it up and sometimes use salmon or sardines instead. Sardines are an excellent source of B12, Omega-3 fatty acids, Vitamin D, protein, and iron. Sardines contain more calcium and phosphorus than a glass of milk and as much potassium as a banana, if not more. Buy sardines packed in water or olive oil and prepare it just as you would prepare the tuna.
Snacks in Your Dorm Room
Homemade Guacamole with Veggie Sticks
Ingredients:
2-3 ripe avocados
1 clove garlic, minced
Juice of 1 lime
Cherry tomatoes, quartered
1/4 red onion, finely chopped
Veggie for dipping such as carrots, cucumbers or broccoli
Whole grain or blue corn chips
Directions:
Take 2-3 ripe avocados (gently squeeze avocado in your palm and if it feels soft, it's ripe). Halve and pit them. Scrape avocado into a bowl.
Mince 1 clove of garlic and then add it to the mashed avocado.
Squeeze juice from one large lime into the avocado bowl and mix until smooth.
Slice cherry tomatoes into quarters and add them. If you like red onions, finely chop ¼ of a red onion and add it as well.
Now, slice any veggies you would like to dip into the homemade guacamole, such as carrots, cucumbers, or broccoli. Whole grain or blue corn tortilla chips will even suffice (depending on what your body tells you).
Homemade Trail Mix
Directions:
Mix raw pumpkin seeds, raw almonds, raisins, shredded coconut, walnuts, roasted cashews, and dried cranberries together (optional: dark chocolate chips for days you want to treat yourself). Enjoy as an easy wholesome snack on the go.
Cut Up Fruit or Veggies for Easy Snacking
Simple suggestions:
Cut up apples, pears, jicama, and melons and store them in the fridge for easy snacking.
Berries and grapes also make super quick snacks. Grapes are great if you can find them at a nearby farmers' market or on sale. (Otherwise, they can be pricey).
Only wash berries the same day you plan to eat them because the moisture will make them spoil faster (since mold needs moisture to grow).