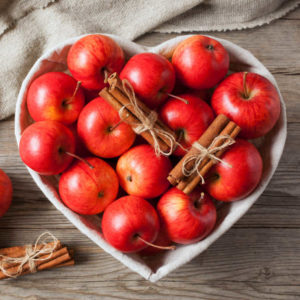 Valentine's Day falls in February, which just happens to also be American Heart Month. Use these celebrations as a time to encourage long-term healthy behaviors in the family to keep everyone's hearts healthy.
The key to healthy living is to always make it fun! Get creative at school parties and with family fun and say "no" to traditional, sugar-laden Valentine's Day parties. Valentine's Day without the sugar can be just as special! There are many ways schools and families can have a heart-healthy Valentine's Day celebration this year, featuring nutritious, creative and delicious ideas that will keep your kids happy and their hearts healthy. Revamp your family or classroom's Valentine's Day celebration with these easy tips.
Not all hearts have to come in chocolate.
Create a magnificent masterpiece for your party table with colorful berries arranged on a tray in a heart shape. Or form a big heart in the center of the table with apples. Valentine's Day food art is endless! Your heart will thank you for these fruity delicious desserts!
Think beyond the Hershey's Kisses.
Instead of including the traditional piece of candy with your child's Valentine's Day cards, switch it up with a non-food reward such as a special sticker, pencil or eraser this year.
Make sweets with benefits.
Make your own heart-healthy desserts by dipping fresh and dried fruits in dark chocolate. This treat is rich in antioxidants, which will help protect your hearts!
Give your most important muscle a workout!
Be active, have fun, and get your heart pumping this Valentine's Day! Throw a dance party, jumping party, hula-hoop party, or balance-a-balloon-on-your-head party. The possibilities are endless!
Give your child the gift of love— knowledge!
Teach your child about her heart. Show her how to find her heartbeat, talk about what the heart does, and teach her about what she can do to keep her heart strong and healthy.
Give some love to those who need it most.
Run a food or clothing drive in your school and donate the items to local shelters. Or spend a morning volunteering as a family at a local food pantry or soup kitchen.
Create some heart-themed artistic masterpieces!
Pull out the art supplies and let your child get creative. Make Valentine's Day decorations for the house or classroom. You can also have the kids create homemade Valentine's Day cards instead of using store-bought ones this year!
Bake up some healthy Valentine's Day cookies.
Pick out a healthy cookie recipe and grab a heart-shaped cookie cutter. Make a batch of heart-shaped, heart-healthy cookies, and let your child help make them! Here's a tasty Gingersnap Cookie recipe for inspiration.
Get dressed up and go out for a family movie or dinner!
Pull out those fancy clothes, get dressed up, and go out to your family's favorite restaurant. Making dinner as a family then heading to the movie theater for a family film can add some excitement your kids are looking for.
Or, share a healthy family breakfast together.
Carve away a little extra time in the morning to start the day with a family breakfast. You can even try making heart-shaped pancakes or have the kids top their oatmeal with strawberries and raspberries to make a heart!
Share what you love about those you love!
Start a new tradition this year. Each Valentine's Day, make sure you save some time to sit down with your family and have each person share one thing they love about each family member.
Have a red and pink themed meal!
Make a fun meal to share together with all the red and pink foods that you can find! Think beets, tomatoes or tomato sauce, red cabbage, red bell peppers, radishes, radicchio, rhubarb, red chard, red onions, red potatoes, red lentils, salmon, kidney beans, grapefruit, apples, cherries, raspberries, pomegranate, blood oranges, cranberries, red grapes…The list goes on! Have fun and get creative with ways to combine them! Try to pair a fruit, vegetable, whole grain, lean protein, and healthy fat for a balanced meal.
The best way to show our kids how much we love them is to give them a healthy heart! The Super Crew® makes healthy eating fun for kids. Be sure to visit our kids learning activities and coloring sheets to encourage your children to choose healthy foods every day for the healthy heart they deserve.