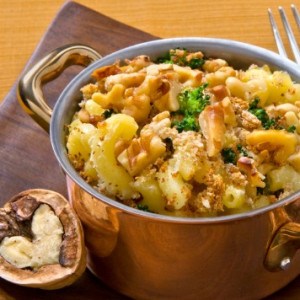 Walnuts can be a healthy part of your child's nutrition plan! Try these walnut recipes for kids to include this tasty nut in your family meals!
Walnuts provide antioxidants and an essential fatty acid, alpha linolenic acid, a type of omega-3 fatty acid. Walnuts are also a good source of magnesium -and most American's fall short of meeting their magnesium goals.  When you think walnuts, you may just think of heart and brain health but recent animal studies show that walnuts may slow or prevent the growth of some cancers.  Check out these healthy kid-friendly recipes below.
Mac and Cheese Make-Over
Mollie Katzen's Mac & Cheese with walnuts is the real McCoy! For maximum flavor using minimal saturated fat, be sure to use very sharp cheddar cheese in this recipe.
Ingredients:
Nonstick spray for the pan
1 1/2 cups low-fat milk
1/2 pound whole-wheat elbow macaroni
1 cup chopped broccoli
1 1/2 tablespoons olive oil
1 1/2 tablespoons unbleached all-purpose flour
1 teaspoon dry mustard
A big pinch or two garlic powder (optional)
Scant 1/2 teaspoon salt
1/2 cup (packed) grated sharp cheddar cheese (about 3 ounces)
3 tablespoons grated Parmesan cheese (about 1 ounce)
A big dash of cayenne pepper
2 slices (2 ounces) whole-wheat bread, crumbled
1/2 cup California Walnuts, chopped
Directions:
Spray a 1-quart gratin pan or baking dish with nonstick spray and set aside. Set the oven rack high in the oven (highest rung) and preheat the oven to 350°F.
Heat the milk until it is very hot (fine to do this directly in the measuring cup in a microwave, if the cup is microwave proof.) Do not let the milk boil. When it is hot, set aside near the stove.
Put a pot of lightly salted water to boil. When it reaches a boil, add the macaroni and let it cook until tender. When it is tender, toss in the chopped broccoli and wait about 30 seconds, then drain the entire potful into a colander in a sink.
While the macaroni is cooking, place a medium-large saucepan over medium heat. Add the oil, and use a narrow, closely-tined whisk to beat in the flour, mustard, and garlic powder. Keep whisking until it forms a thick paste (this will happen within seconds!) and then slowly drizzle in the hot milk, still vigorously whisking, so it becomes smooth as the milk is incorporated. Turn the heat to low, and switch to mixing with a wooden spoon. Keep cooking and stirring until it is velvety, thick, and smooth.
Add the salt, half the cheddar, the Parmesan, and the cayenne, and stir until the cheese is fully blended. Remove from heat. Add the cooked macaroni and broccoli to the cheese sauce, also adding the remaining cheddar. Stir until all the pasta is well coated. Transfer to the prepared pan, top with the breadcrumbs and walnuts, and bake uncovered in the high part of the oven for about 20 minutes, or until bubbly around the edges and crisp on top. Serve warm. The family will love this walnut recipe for kids!
Serves 6
Nutrition information per serving: 350 Calories; Total Fat 17g; Saturated Fat 6g; Monounsaturated Fat 5g; Polyunsaturated Fat 6g; Cholesterol 22mg; Sodium 370mg; Carbohydrates 35g; Fiber 5g; Protein 16g
Next Try These Other Two Walnut Recipes for Kids!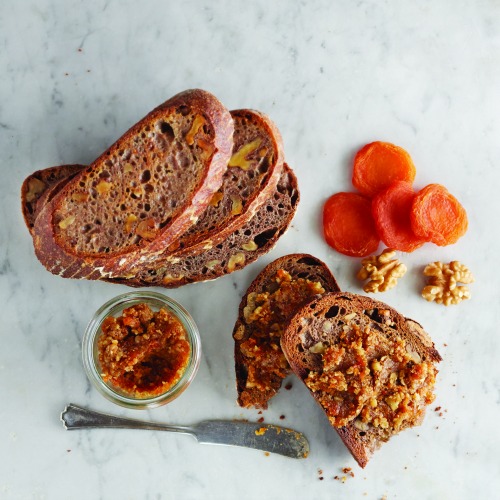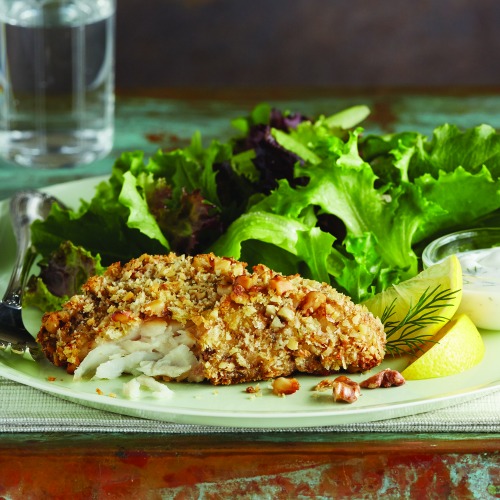 Walnut Recipes for Kids provided by the California Walnut Commission