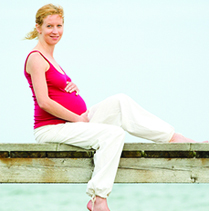 Find out which fish you should be aware of during pregnancy and nursing, and which ones you can eat with ease!
You can protect your unborn child from the negative effects of mercury, dioxin, and PCBs by completely avoiding certain fish that are high in fat.
The following fish can contain high levels of mercury and should be avoided:
Shark
Swordfish
King mackerel
Tilefish
What fish is recommended?
The U.S. Environmental Protection Agency recommends, in addition to avoiding the fish listed above, to consume up to 12 ounces (2 average meals) a week of a variety of fish and shellfish that are lower in mercury. Five of the most commonly eaten fish that are low in mercury and can be integrated into a healthy diet are:
Shrimp
Canned light tuna (While canned light tuna on average appears safe, some testing has shown that mercury levels can vary from can to can, therefore choose salmon more often than tuna.)
Pollock
Catfish
Another commonly eaten fish, albacore ("white") tuna has more mercury than canned light tuna. Therefore, limit your consumption of albacore tuna to 6 ounces per week.
Which types of fish should you check with your local health department first?
Women should also avoid eating any game fish without first checking its safety with their local health department. The following fish are good sources of omega-3 fatty acids and can be part of a healthy diet if consumption is limited to two or three times per week:
Kippers
Mackerel
Sardines
Pilchards
Alternatives to fish sources of Omega 3 fatty acids can be found in non-aquatic sources.
Good choices include:
Fortified foods
Canola, sunflower, and flaxseed oils
Fish-oil supplements
Cod liver oil is best avoided because of concerns over the possible toxic effects of vitamin A during pregnancy. Your healthcare provider can best help you find a supplement that will best meet your specific needs. For information about the risks of Mercury in Seafood call the U. S. Food and Drug Administration Center for Food Safety and Applied Nutrition Food Information Line toll-free: 1 (888) SAFEFOOD. For more information, you can also visit the FDA's Food Safety Website at www.fda.gov/food/foodsafety/default.htm.