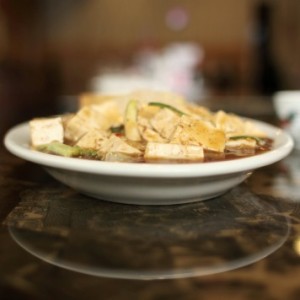 Swai and Tofu soup has been my family's favorite for so many years. My son totally loves it. So why not give it a try with your kids too!
Next time you visit an Asian market, be sure to check out Swai fish. Swai is a type of white fish that is both nutritious and affordable. Swai has been recommended as alternative to other fish species such as haddock, cod and mackerel due to overfishing. The meat of Swai is very moist and tender making it an excellent choice for soups, fish pies and pasta dishes. Swai is also high in protein and low in fat. Being an oily fish, it contains abundant Omega-3 that promotes brain development and helps lower blood pressure and triglyceride levels. Catfish can also be used with this recipe if Swai is not available. Have your child help prepare the dish by retrieving ingredients from the refrigerator, by helping to measure and pour, and by washing vegetables and cutting tofu. Get tips on how to cook with the kids for ages 2-12.
Servings: 4
Ingredients:
 2 Swai fillets, about 1 pound total, cut into 1.5"x 1.5" pieces
½ pound silken tofu
¼ cup cilantro, coarsely chopped
¼ teaspoon white pepper powder (available in Asian markets)
1 teaspoon olive oil
6 cups water
Ginger root, cut into thin slices (about 4-5 slices)
1 medium scallion, about 10-12 inches long, cut into one-inch sections
Salt to taste
Directions:
Heat oil in a large pot over medium-high heat. Add scallion and ginger, stir and cook until fragrant, 1 to 2 minutes.
Add water and bring to a boil. Turn down the heat to medium-low and keep the water boiling for 5 minutes.
Add Swai pieces, bring to a boil and cook for 3-4 minutes. Skim off the foam while cooking.
Turn heat down to low, add white pepper powder and chopped cilantro, gently stir and turn off the heat.
Add salt to taste and serve.
Nutrition Facts Per Serving:
Calories: 190  Fat: 10g  Saturated Fat: 2g  Sodium: 238mg Potassium: 453mg  Fiber: <1g