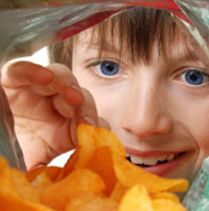 Setting a foundation for healthy eating habits for your children now will help prevent chronic disease and establish healthy nutrition habits for life.
Fat is essential for optimal health and growth of your child, but does the type of fat matter? Let's dive into the different kinds of fats and the ones to focus on for optimal health!
Why We Need Fat
So, why is fat in our diet so important? We need it to help us store energy and to absorb the fat-soluble vitamins. Many fats are also sources of vitamin E. Fat stores in our body provide us with insulation and cushioning. Some of the polyunsaturated fats (a subcategory of unsaturated fats) provide us with the essential fatty acids, or the omega-3s and omega-6s. These are fatty acids that the human body cannot make on its own, so we must get them through food or supplements. The essential fatty acids also have a lot of important functions. We need them for vision and the proper functioning of our immune system and nervous system. (1-3)
Unsaturated Fats — The Fats to Focus On
Monounsaturated fats found in foods such as olive oil, avocados, and pumpkin seeds, and polyunsaturated fat, found in foods such as sunflower oil, flax seeds, and fish, are considered the healthy fats. These fats are linked to a decreased risk of heart disease, as they improve cholesterol levels when used in place of saturated fats.
The Scoop on Saturated Fat
Full-fat dairy products, red meats, and coconut and palm kernel oils are primarily composed of saturated fat. Saturated fats are associated with increased blood cholesterol levels and can increase your risk of developing heart disease. The current recommendation for people over the age of 2 is to eat more of the heart-healthy unsaturated fat and less saturated fat.
Current Recommendations: (4)
Children between the ages of 1-2 should consume 2-3 servings a day of whole milk.
Children 2 and older should switch to low-fat or fat-free milk.
Does your child only like full-fat dairy? If she won't go for the fat-free or low-fat milk, go for the whole milk and try to take steps towards 2% after some time. Keeping the dairy in her diet will help to make sure she gets in those important vitamins and minerals!
New Research on Saturated Fat
New research is showing that full-fat dairy may not be as unhealthy as previously thought, but there is not enough evidence at this point to know for sure. Some people make the argument that reduced-fat dairy contains fewer vitamins and minerals than full-fat dairy. (5) However, while fat-soluble vitamins are lost when the fat is removed, these are added back in before the milk is packaged for the shelves.
However, it is important to be aware that many low-fat alternatives contain lots of added sugar, which can have negative health implications. So, when choosing those lower fat options, make sure you opt for ones without a ton of added sugar. Instead, add in natural sugar from fruit, and healthy fats from nuts or seeds!
Trans fats- A Fat to Avoid!
Trans fats are another type of unhealthy fat. The FDA declared that most foods can no longer contain artificial trans fats since trans fats are linked to increased risk of heart disease. However, there may still be some trans fats on the shelves, so make sure to check the nutrition labels and choose the ones that are trans-fat-free! (6) See Truth about Trans Fats for more information.
Putting it into Action
Simple ways to replace the unhealthy fats in your child's diet with the healthy ones include using liquid, plant-based oils for sautéing, drizzling or roasted veggies, substituting oil for butter in baked goods, or making a homemade salad dressing. Try swapping fish for some of the red meat in your diet. You can also boost healthy fats by snacking on nuts and seeds or adding them to salads or oatmeal. And don't forget the avocado! Guacamole, anyone?
Recipe Tip: Instead of topping your popcorn with butter, top with parmesan cheese and a dash of salt and pepper, then drizzle with olive oil and toss. See for yourself – it's so good!
Test Your Knowledge:
Test yourself to see how much you know about the different types of fat. Match the type of fat in Column A with the food source in Column B:
| | |
| --- | --- |
| Column A | Column B |
| Trans fat | Shortening |
| Polyunsaturated fat | Olive oil |
| Monounsaturated fat | Sunflower oil |
| Saturated fat | Butter |