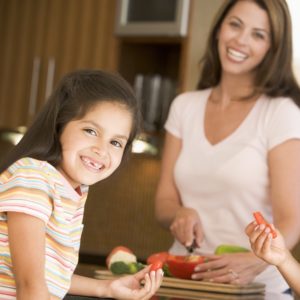 Looking for a simple but healthy meal plan for kids? Try this menu for creative yet easy options for a quickly growing 7-8-year-old!
By this age, kids' activity levels can vary widely. You may have a quiet reader, a sports fanatic, or someone in between. You've also probably noticed that appetite varies as growth spurts come and go. Weren't your son's pants long last week?! Either way, by adjusting to hunger and focusing on a healthy, high-quality, and varied diet, you'll keep your little guy fueled for all his busy activities. And don't be afraid to try new things. It's never too early (or too late) to expand your child's palate with new flavors and foods. Start by trying this colorful, healthy meal plan for kids.
Portion Size Targets in Healthy Meal Plan for Kids
For reference, keep these daily targets in mind! If you're curious how these portion sizes change for different ages and genders, take a look at Food Portion Sizes for Toddlers, Kids, and Teens.
Protein: 4 oz. equivalents
Fruit: 1-1.5 servings
Vegetables: 1.5 servings
Grains: 5 oz. equivalents
Dairy: 2.5 servings
Oils: 4 tsp.
Breakfast: Green Monster Smoothie
Do you struggle to get greens into your little "monster"? This smoothie will help! Plus, the healthy fats from avocado and chia seeds give it staying power.
The freezer is an excellent repository for those overripe bananas you'd otherwise toss, and they blend perfectly with the greens. If you aren't used to adding avocados to smoothies, don't worry! Your little one will love the added creaminess.
Ingredients:
1 cup unsweetened soymilk or low-fat milk
1 cup spinach or kale

⅙

medium Hass avocado
½ cup of frozen strawberries
½ frozen banana
1-2 ice cubes
1 Tbsp. chia seeds
Dash of cinnamon
Directions:
Pour milk or milk alternative into the blender.
Add fresh and frozen fruit and vegetables, and ice cubes.
Blend until smooth.
Pour and top with cinnamon and chia seeds.
Serve immediately and enjoy!

(1 dairy, ½ veg, 1 fat, 1 fruit, 1 pro, 1 pro or 1 fat)
Looking for more tasty breakfast ideas – check out our new Super Crew Breakfast Cookbook with 50 tasty breakfast ideas and 100 nutrition activities to inspire and teach your kids!
Snack #1: Almond Butter English Muffin
If your child is especially active and needs a little more energy, opt for the added fruit! A healthy meal plan for kids involves balanced meals and snacks.
Ingredients:
½ Whole-wheat English Muffin
1 Tbsp. almond butter
¼ cup raisins (optional)
Directions:
Toast English muffin.
Top with 1 Tbsp. almond butter.
Add ¼ cup raisins or other dried fruit to the muffin or serve on the side.
(1 grain, 1 protein or fat, ½ fruit (optional))
Lunch: Bean-rito
Anything that can be devoured sans knife and fork can be a win with rambunctious boys! But that doesn't mean you have to compromise on wholesomeness. This bean burrito is plant-based and filled with flavor.
Ingredients:
6" whole-grain tortilla
¼ cup canned black beans (rinse beans to reduce sodium by 20%)
¼ cup of salsa
⅓ cup shredded cheddar cheese
6 baby carrots
Directions:
Warm tortilla in pan on low-medium heat for 2-3 minutes, or microwave (for about 30 seconds).
Heat beans in a small saucepan on medium heat.
Spoon beans onto the warmed tortilla
Top with salsa and shredded cheese.
Serve and enjoy with a side of baby carrots!
(1 grain, 1 protein, 1 vegetable, 1 dairy)
Snack #2: Holy Guacamole Deviled Egg with Red Pepper and Whole-wheat Crackers
Swapping out the mayonnaise for guacamole makes this an easy snack that you can feel good about. Pair with baby carrots or your kids' other favorite chopped vegetables for a balanced snack. Hard-boiled eggs can be made ahead of time, peeled, and stored in water in the fridge so you can minimize prep time during a busy week. Healthy meal plans for kids don't have to be stressful!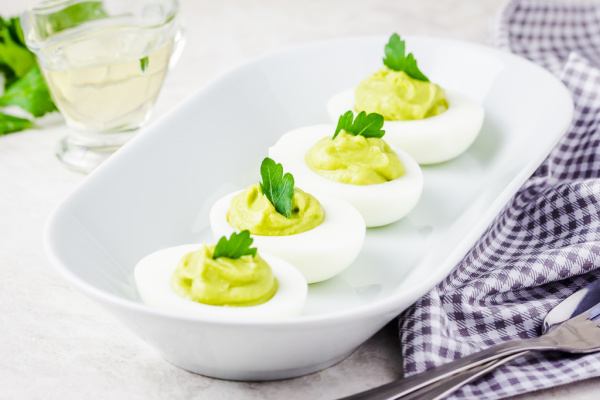 Ingredients:
1 hardboiled egg
2 Tbsp. guacamole
Dash of paprika
½ cup julienned red pepper
5-10 whole-wheat crackers
Directions:
Slice egg in half lengthwise.
Scoop out the yolk, place in a bowl, and mix with guacamole.
Sprinkle paprika on top for extra color and zing!
Enjoy egg with a side of red pepper and whole-grain crackers.
(1 pro, 1/2 fat, ½ veg, 1-2 grain)
Dinner: Pirate Pasta
Ingredients:
½ cup whole wheat or green lentil pasta shells*
2 oz. peeled and deveined shrimp (uncooked or precooked frozen)
½ cup marinara sauce
½ cup sautéed zucchini (or shredded into the sauce)
Tip! *Add a serving of ½ cup cooked pasta if your child is especially active, is at the higher end of the age bracket, or seems to have higher energy needs.
Directions:
Cook pasta according to package directions.
While it's cooking, add 2 oz. shrimp into a small saucepan with a little oil on medium heat.
Cook shrimp until white and no longer translucent. If you buy pre-cooked frozen shrimp, heat according to package instructions.
Heat pasta sauce on medium heat until at desired temperature, about 3 minutes.
Add grated zucchini (yellow squash and carrots also work well).
Strain pasta and mix with sauce and shrimp.
Serve and enjoy!
(1-2 servings grain, 2 oz. protein, 1 vegetable)

Dessert: Chocolate Pudding
Ingredients:
1-2 Tbsp. chia seeds
½ cup 2% milk or milk alternative
½ Tbsp. unsweetened cocoa powder
1 tsp. sweetener of choice, such as honey, maple syrup, or agave
Directions:
Combine all ingredients in a jar, large mug or bowl and mix well.
Let sit for at least 15 minutes. The longer you wait, the more pudding-like it becomes.

(1/2 serving dairy, 1-2 servings oil equivalents)
Daily Totals for a Healthy Meal Plan for Kids
This day of meals provides:
5.5 oz. protein
2 fruit servings
3 vegetable servings
4-6 oz. grains
2.5 dairy servings
3-4 equivalents oil