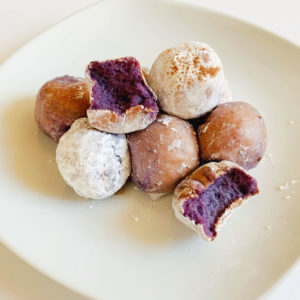 These bright purple homemade air fryer donut holes are as fun to eat as they are to make!
When you want to make a sweet treat for the kids but don't want to rely on the high sugar options at the store, these air fryer donuts can be your go-to solution.
Nutrition of Purple Sweet Potato Donuts
Purple sweet potatoes are often called Okinawan sweet potatoes or Hawaiian sweet potatoes. Inspired by Japanese mochi donuts these are significantly lower in fat and sugar than traditional donuts and have a delightfully crispy, chewy texture. They also happen to be gluten-free, nut-free, and vegan, so they're easier for those with food allergies or intolerances.
Purple Anthocyanins Benefits
The pretty purple of these sweet potatoes come from the anthocyanins and make these donuts especially fun and colorful. Anthocyanins are plant pigments that work like superheroes (just like the Super Crew!), protecting and fighting against cell damage in the body.
Anthocyanins are also found in other yummy blue and purple foods like blueberries, plums, and purple cabbage. This recipe is a treat food to include for special occasions and allows for exposure to a new vegetable (purple sweet potatoes). Younger kids will like the texture of the purple sweet potato, as it feels like playdough.
How to Make Air Fryer Donut Holes
Get the kids involved by having them help mash the sweet potatoes, roll the dough into balls, and coat the donuts in their favorite topping. Not only can these donuts be a fun activity to make, but they can be a great chance to teach your kids about different ways to prepare food. For example, they are made in an air fryer instead of deep-frying for a healthier twist without sacrificing any flavor.
Some of the ingredients in this recipe may not be available at your local grocery store, like the purple sweet potatoes and glutinous rice flour (which, despite its name, does not contain gluten and is perfectly safe for those with celiac disease). Unfortunately, substituting ingredients out may not have the desired outcome for this recipe.
Tip: Check your local Asian market for the rice flour and glutinous rice flour (despite its name is gluten-free)!
Purple Sweet Potato Air Fryer Donuts (Plant-Based)
Allergy-friendly and vegan, these colorful air-fried donuts, won't dissapoint.
Ingredients
2

cups

purple sweet potatoes, steamed and mashed

⅓

cup

sugar

¼

tsp

salt

1½

tsp

baking powder

2⅓

cups

glutinous rice flour (can not be substituted)

½

cup

rice flour

1¼

cup

soy milk, hot

2

tbsp

vegetable oil for coating
Topping Options
Powdered sugar

Powdered sugar and cinnamon

Glaze: powdered sugar, splash of vanilla, and splash of plant-based milk
Instructions
Mix all ingredients except milk and oil thoroughly.

Slowly add milk until asoft dough forms (should not be too sticky or too dry).

Roll into 1 tbsp ballsand coat lightly in oil.

Air fry at 375°F for seven minutes or bake in oven for about eight minutes.

Roll in the topping of your choice.