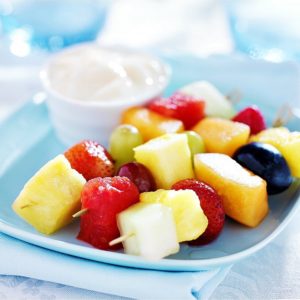 In more ways than one, eating a nutritious breakfast is crucial for maintaining health and energy in kids and adults.
Breakfast improves cognitive functioning, leads to healthier food choices throughout the day, and refuels the body to kick-start metabolism. However, mornings can be challenging, as the weekday flurry of getting kids up and ready for school doesn't always allow time for a healthy morning meal.  The following on-the-go breakfast ideas are easy to prepare and portable. They include tasty, wholesome ingredients that kids are sure to love:
Fruit "fries" and yogurt dip
Slice apples, pears, or firm peaches into 1-inch strips. Make a dipping sauce by stirring 1 tablespoon honey and 1 tablespoon peanut butter into a 6-ounce container of plain reduced-fat yogurt.
Waffle sandwich
Spread ¼ cup reduced-fat ricotta cheese or 2 tablespoons nut butter over a whole grain toaster waffle. Top with sliced berries, bananas, or peaches. Drizzle with honey. Press a second waffle on top to create a portable sandwich.
Kid-friendly cheese board
Imitate a favorite restaurant's cheese platter by selecting 2 or 3 of your favorite reduced-fat cheeses. Portion small pieces of cheese into a portable container and include a handful of nuts (such as walnuts, almonds, or pistachios), dried apricots, apple slices, grapes, and a whole-grain mini-baguette or whole-grain crackers. Have the kids make mini-kabobs from all the tasty ingredients.
Pizza pitas
Fill whole wheat pitas with ¼ cup marinara sauce, ¼ cup shredded reduced-fat mozzarella cheese, and sliced vegetables of your choice (carrots, peppers, and loose-leaf spinach work well). Warm in a toaster oven or microwave until cheese just melts. Check out this fun pizza recipe to make with the kids and these delicious apple cheese pita pizzas.
Breakfast trail mix
Select a combination of nuts, dried fruit, and cereal that your child will like. Store in pre-portioned snack bags or containers. Some tasty combinations include:
Banana chips, walnuts, and honey squares cereal
Mini wheat squares cereal, dried cranberries, cashews, and macadamia nuts
Oatmeal squares cereal, peanuts, raisins, and granola clusters
Dried cherries, honey squares cereal, cashews, and dried apple slices
Fruity breakfast burrito
Spread nut butter or hazelnut spread onto a 10-inch whole grain tortilla. Top with ¼ cup granola and sliced mixed fruit (bananas, strawberries, cherries, and mango are good choices). Roll up to form a burrito and serve.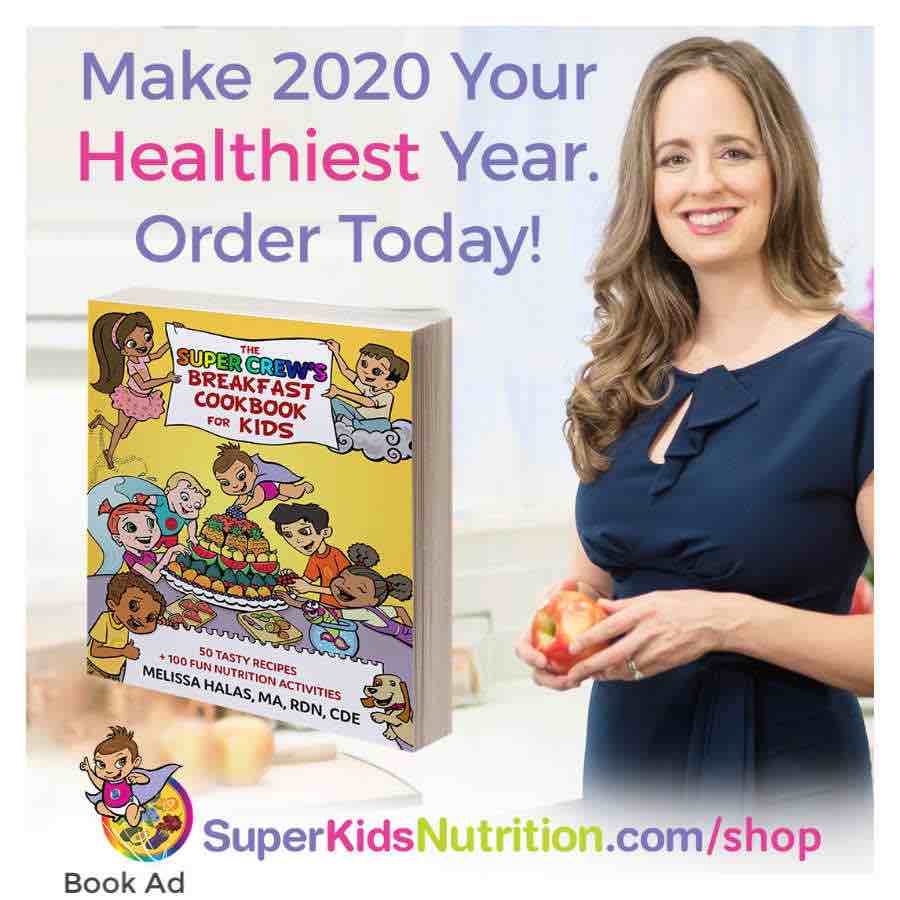 Graham cracker sandwiches
Choose a combination of peanut butter and jelly, ricotta cheese and honey, or cream cheese and fruit spread. Spread between graham crackers to create sandwiches. Serve with fresh berries, diced melon, or an apple.
Breakfast variety jar
Select a granola bar or small bran muffin, a peeled clementine, and a kids-size yogurt to include in a handy breakfast jar. Stack in a reusable mason jar for transport.
Frozen peanut butter banana breakfast mug
Blend 1 frozen, sliced banana with 1 cup low-fat milk and 2 tablespoons peanut butter. Add mix-ins of your choice, such as 1 tablespoon chocolate chips, ¼ cup granola, or ¼ cup fresh blueberries. Top with fresh, nuts and chia seeds. Serve in a transportable cup or mug with a spoon.
Pumpkin oatmeal breakfast pudding
Mix 1 packet instant brown sugar-flavored oatmeal with ¼ cup canned pumpkin puree, 1 cup low-fat milk, and ¼ cup plain reduced-fat yogurt. Store overnight in a mason jar to thicken. Serve as is, or add diced apples or pears in the morning for extra crunch. Pumpkin pancakes and pumpkin seeds are also a tasty choice for kids jammed pack with nutrients they need.
With these easy-to-prepare, healthy breakfast ideas, you can ensure that your kids will have more energy to tackle mental and physical challenges throughout the day. Mornings are not always easy, and lightening the load with simple breakfasts can help get the whole family's day off to the right start.
Quiz yourself!
What are some easy, tasty ingredients that can be used to incorporate protein in your child's breakfast?
Nuts (peanut butter, mixed nuts)
Cheese (ricotta, cream cheese, sliced or shredded fresh cheeses)
Yogurt
What are some healthier ways to sweeten your child's breakfast without adding table sugar?
Honey
Fruit spread
Fresh or dried fruit