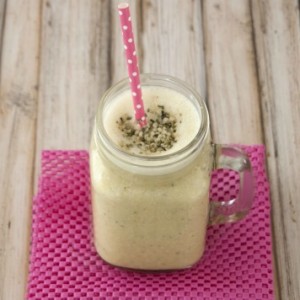 Here are a few recipes that are quick, easy, delicious, and versatile!  Get the whole family involved in new and nutritious breakfast solutions. 
If there was any day that I looked forward to during the week when I was a child it was Sunday.  I was always up early helping prepare a huge breakfast with my mom, and reading the Sunday comics with my dad after our bellies had been filled.  As far as the rest of the week we were a "grab what you can, if anything at all, and go family." Sound Familiar?
We are all so busy these days that sometimes breakfast gets pushed aside for a few extra minutes of sleep or simply not knowing what can be prepared to fill you up in a matter of minutes. Let's change that and make breakfast an everyday tradition!
Coconut and Mango "Boosted" Smoothie
Prep: 5 min     Blend: 5 min    Serves: 2-4
Ingredients:
1 1/2 cups light unsweetened coconut milk
1 cup spinach, fresh
1 banana, ripe
1 ½ cups fresh mango chunks (frozen will work)
1 tsp. turmeric
1 tsp. chia seeds
Juice of one lime
1 Tbsp. Honey
Directions:
Add all ingredients to blender in the order listed above.  Blend until smooth.  Serve immediately.
Don't like mangos? Switch them out with any other fruit you like!  Add a tablespoon of peanut butter for a protein boost.
Muesli
Prep: 10 min    Cook: overnight for  8 hours    Serves: 6-8
Ingredients:
 2 cups rolled oats
 1 Tbsp. chia seeds
 1 cup apple juice, unsweetened
 1 ¼ cup almond milk
 1 apple, diced small
 12 oz. Greek yogurt
 2 tsp.  Ground cinnamon
 ¼ cup toasted sunflower seeds
 ¼ cup dried cranberries or raisins
1 cup fresh berries (blueberries, raspberries, strawberries)
Honey, for topping
Directions:
Combine oats, chia seeds, apple juice, and almond milk.  Soak overnight in the refrigerator (8 hours minimum), covered.
When done soaking fold in all other ingredients except for honey.
Serve by drizzling with honey, and topping with more fresh berries/nuts if desired.
This is an easy and versatile breakfast option or snack.  You can mix and match different types of seeds or nuts and change up fruits, per their seasonal availability.  If you know you'll be in a big morning rush the next day, go ahead and add all the ingredients except the honey and seeds/nuts, and let soak overnight.
Peanut Butter and Oatmeal "On the Go" Breakfast Bites
Prep: 15 min   Cook: 10 min   Serves: 18-20 bites
Ingredients:
1 cup rolled oats
1/3 cup toasted shredded coconut
½ cup peanut butter
¼ cup dried blueberries
¼ cup toasted, unsalted pumpkin seeds
⅓ Cup honey
1 tsp vanilla
Directions:
Combine all ingredients in a large bowl, and combine well.
Roll mixture into 1 in. balls, or whatever size you prefer.
Place balls onto parchment lined cookie sheet, and refrigerate for 10 minutes or until firm, and enjoy.
These will keep in an airtight container for up to a week.  Make plenty for quick breakfast grabs with a side of Greek yogurt, or for a healthier alternative as an after-school snack attack! Looking for more breakfast ideas? Check out these tasty ideas: Parsley Pineapple Smoothie, 10 Yummy Breakfast Ideas Your Kids Will Love, and Fried Egg Over Taco Shells.