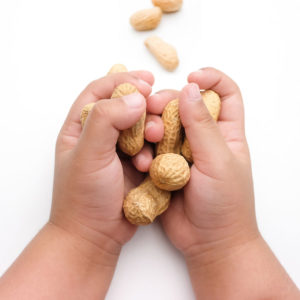 The research is out! It's time to put this controversial topic to rest. Based on the groundbreaking LEAP (Learning Early About Peanut Allergy) trial published in 2015, introducing peanut butter to your baby at an early age may help decrease the risk of its allergy.
In this trial, 640 infants between the ages of 4-11 months and at high risk of peanut allergy were randomized to either the peanut consumption group or avoidance group until 60 months of age. Upon the completion of the trial, the participants were tested to determine the presence of a peanut allergy. The results showed that 17.2% of those who avoided peanuts tested positive for the allergy. On the other hand, only 3.2% of those exposed to peanuts before 60 months developed an allergy. So, introducing peanut butter to your baby significantly decreased the development of peanut allergies in high-risk infants. (1)
When to Introduce Peanut Butter to a Baby
The American Academy of Pediatrics (AAP) recently came out with recommendations for the introduction of peanuts for peanut allergy prevention. Largely influenced by the LEAP trial, the recommendations are as follows:
introduction between 4-6 months for high-risk infants,
introduction around 6 months for mild to moderate-risk infants, and
introduction depending on family and cultural practice for infants at low risk for peanut allergy.
Risk assessment is based on the presence of eczema and/or egg allergy. Infants with no eczema or any food allergy are considered low-risk for peanut allergy. The recommendation includes detailed steps for testing peanut reactions for high-risk infants, which you can read more about in How to Help Prevent Peanut Allergy in Kids. (2)
Advancements in Peanut Allergy Treatment
In January of 2020, the FDA approved a new peanut allergy treatment, Palforzia [Peanut (Arachis hypogaea) Allergen Powder-dnfp]. It can be started with kids with a peanut allergy diagnosis who are ages 4-17 years old. While children who are using this FDA-approved treatment must still avoid peanuts, it can help decrease their reactivity to any unplanned exposure. As always, work with your health care team to pursue this type of treatment.
What does this mean for parents?
Advancing technology and science may reveal additional possibilities within the future. So, keep an eye out for any new developments, and be sure to work with a trained allergist before pursuing any of these options upon FDA approval. As with any therapy, it's important to evaluate the risks and benefits for your child and family. For safety purposes, avoid trying to desensitize your child from allergens at home without medical supervision.
What to consider before introducing peanut butter to your baby
If your infant is at high-risk for peanut allergy, consult your pediatrician to determine a safe course of action prior to the introduction of peanut-containing foods. Due to choking risks, avoid giving whole nuts to children before age 5. It's also not recommended to give peanut butter directly from a spoon or in lumps before age 4. So, proceed with caution. Instead, try crushing, blending, mixing, and chopping nuts to an age-appropriate level and try the other options below.
When introducing peanut butter to your baby, be on the lookout for possible reactions. Mild allergy symptoms may include a new rash or hives around the mouth or face. More severe symptoms may consist of lip, face, and tongue swelling, widespread hives, difficulty breathing, repetitive coughing, change in skin color, and/or sudden tiredness. If you think your child is experiencing a severe allergic reaction, seek medical attention/call 911 immediately. (3)
Easy Ways For Introducing Peanut Butter (4)
Dilute 2 teaspoons of peanut butter with 2-3 teaspoons of hot water, formula, or breast milk and cool before serving.
Mix 2 teaspoons of peanut butter into 2-3 tablespoons of pureed baby foods.
For older baby consider making your own peanut butter teething biscuits.
If you want another option that doesn't involve peanut butter, try peanut-containing baby snacks like peanut puffs.
What are the key takeaways?
If your infant is at high risk for peanut allergy, AAP recommends an early introduction to peanuts. So, be sure to consult with your medical provider to determine a plan for introducing peanut butter to your baby safely.
While there may not be a cure for peanut allergies, desensitization to a small quantity of peanuts may be possible. Not to mention, it may help put your mind at ease when trying different packaged foods, restaurants, or while at social events. But, if you already have a child with a peanut allergy, take a look at What if Peanuts Could Cure Peanut Allergies?
Bio: Amy Chen, MS, RD, CDE is a registered dietitian in the San Francisco Bay Area. She enjoys writing, spending time with her family, and finding easy recipes.