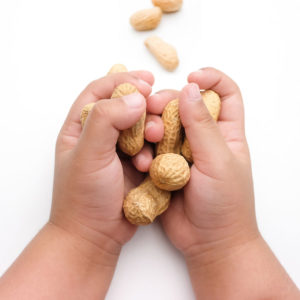 The groundbreaking LEAP (Learning Early About Peanut Allergy) trial published in 2015 has led to updated recommendations about introducing peanuts to your child.
In this trial, 640 infants between the ages of 4-11 months who are at high risk of peanut allergy were randomized to either the peanut consumption group or the peanut avoidance group until the age of 60 months. Once they reached the 60-month mark, they were tested for peanut allergy. In the avoidance group, 17.2% tested positive for peanut allergy compared to 3.2% in the consumption group. The early introduction of peanuts significantly decreased the development of peanut allergy in infants who had a high risk of developing a peanut allergy. (1)
What are the recommendations for 
introducing peanuts early to your child

?

The American Academy of Pediatrics (AAP) recently came out with recommendations for the introduction of peanuts for peanut allergy prevention, largely influenced by the LEAP trial. The recommendations are as follows:
introduction between 4-6 months for high-risk infants,
introduction around 6 months for mild to moderate-risk infants, and
introduction depending on family and cultural practice for infants at low risk for peanut allergy.
Risk assessment is based on the presence of eczema and/or egg allergy. Infants with no eczema or any food allergy are considered low-risk for peanut allergy. The recommendation includes detailed implementation for administration and testing for high-risk infants, which you can read more about in How to Help Prevent Peanut Allergy in Kids. (2)
What does this mean for parents?
As of today, there aren't any FDA approved ways to treat peanut allergy, but a number of different therapies are being researched. There is potential for one product to enter the market later this year. Keep an eye out for any new developments, and make sure you work with a trained allergist if you pursue any of these therapies when they become FDA approved. As with any therapy, you should evaluate the risks and benefits for your child and your family. It is not safe to try to desensitize your child from allergens on your own without medical supervision.
How can you start to slowly introduce peanuts to your infant?
If your infant is in the high-risk group, please discuss with your pediatrician before introducing peanut-containing foods to your child. Due to choking risks, it is recommended not to give whole nuts to children before age 5, and not to give peanut butter directly from a spoon or in lumps before age 4. However, you can crush, blend, mix, and chop to an age-appropriate level as noted below.
Mild symptoms of allergy can include a new rash or a few hives around the mouth or face. More severe symptoms can include lip, face, and tongue swelling, widespread hives, difficulty breathing, repetitive coughing, change in skin color, and/or sudden tiredness. You should seek immediate medical attention/call 911 with concerns of severe allergic symptoms. (3)
Some of the easy ways of introducing peanut butter include: (4)
Dilute 2 teaspoons of peanut butter with 2-3 teaspoons of hot water, formula, or breast milk and cool before serving.
Mix 2 teaspoons of peanut butter into 2-3 tablespoons of pureed baby foods.
Try peanut-containing baby snacks like peanut puffs.
For older baby consider making your own peanut butter teething biscuits.
What are the key takeaways?
If your infant is at high risk for peanut allergy, consider early introduction of peanuts as recommended by AAP, but make sure to come up with a plan with your medical provider for safe introduction from both choking hazards and allergic reactions.
Peanut allergy is yet to be cured, but if your child could become less sensitive to a small quantity of peanuts, it just may put your mind a little more at ease next time they are invited to a party! If your family has a high risk of allergy or autoimmune diseases, see How to Help Prevent Peanut Allergy in Kids for more extensive details on risk. If you already have a child with a peanut allergy, take a look at What if Peanuts Could Cure Peanut Allergies?
Bio: Amy Chen, MS, RD, CDE is a registered dietitian in the San Francisco Bay Area. She enjoys writing, spending time with her family, and finding easy recipes.