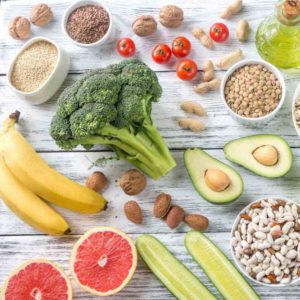 There is a lot of reasoning behind "eat the rainbow." Check out the unique properties each color group of fruits and vegetables supplies.
Eat the rainbow. Taste the rainbow. No, this is not a Skittles commercial. But the message is full of color. Different vibrant foods are packed with health benefits, not to mention their visual appeal. Check out what each has to offer!
Like a Jackson Pollock, the goal is to add an array of colors everywhere. It's an easy way make sure that your family is getting tons of healthful nutrients. But, what does Mother Nature use to give a splash of color to her plants? Nutritious compound called phytonutrients! As a family goal, try to build a plate using different phytonutrient powered colors , and explore their benefits. Here are simple tips to make it easy for the whole family to eat the rainbow.
Glorious Green Foods
Green foods contain a powerful antioxidant known as lutein. Lutein promotes good vision and healthy skin, and can also reduce the risk of cardiovascular disease by slowing down the thickening of arteries! On top of these already amazing benefits, lutein may slow down the onset of certain signs of aging, like issues with memory, confusion, coordination, and more. (2) No more forgetting about soccer practices or dance recitals, right? Well, maybe not exactly, but eating a phytonutrient-rich diet can help with brain health. While these issues are all part of "life's cycle," eating your greens can help slow down this aging process.
For continued health benefits, including a variety of these nutrient-rich green foods such as broccoli, spinach, kale, green beans, asparagus, leafy greens, cucumbers, artichokes, celery, green peppers, and okra. Add basil into your dishes for a potent serving of antioxidants! Two tablespoons of basil have three times the amount of antioxidants as a cup of cooked carrots, and two times the amount as a cup of green grapes! Including basil can add a huge nutrient and flavor punch to your meals. Fruits like kiwi, grapes, apples, limes, and honeydew offer health benefits too, such as increased fiber and nutrient intake!
Ways to Enjoy Green Foods:
Add mashed avocado to your sandwich instead of mayo
Add spinach to your fruit smoothie
Season your soup with a variety of fresh herbs, including basil
Make healthful versions of classic favorites like green bean casseroles and artichoke dip
Use pesto sauce to give a flavor boost to vegetables, chicken, or a pasta dish
Try baked green apples with cinnamon for a healthy dessert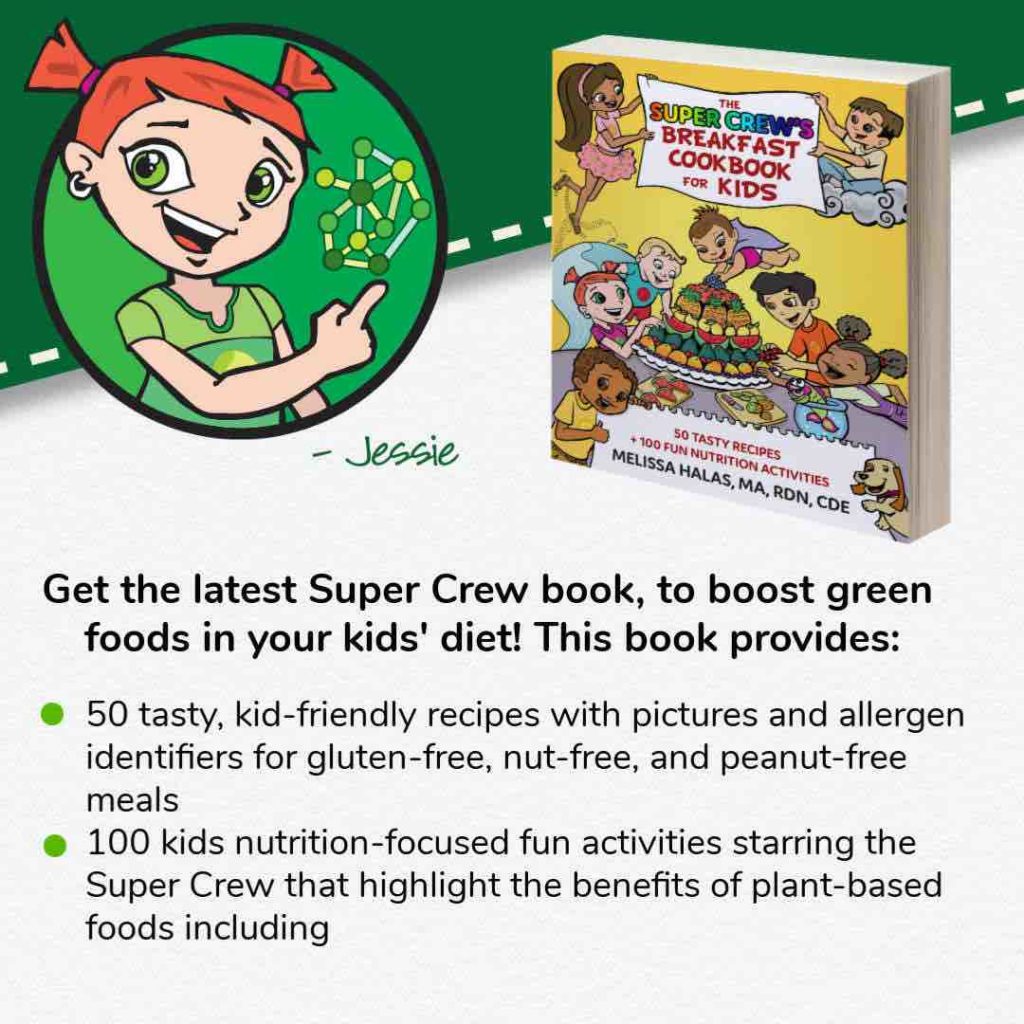 Radiant Red Foods
Red foods are always a good choice due to powerful antioxidants like lycopene and anthocyanins. Their anti-inflammatory properties help keep your heart healthy, help improve your memory, and can lower your risk of cancer. Lycopene specifically is most well-known for its blood pressure lowering effects, (5) which can help reduce the risk of heart disease and stroke. Include red vegetables in your meals like tomatoes, red peppers, beets, and red onions for increased health benefits.
Ways to Enjoy Red Foods:
Pump up any grilled cheese lunch with a bowl of tomato soup
Serve fajitas on your Taco Tuesday for a roasted pepper-filled dinner
Try a bruschetta or fresh tomato sauce on spaghetti night
Make a Shakshuka for the family weekend brunch
Freeze prepped red peppers or buy them roasted and frozen for an easy addition to omelets or ground meat
Try a plant-based burger with beets among its ingredients on your next Meatless Monday
Pleasant Purple Foods
While purple foods may be few and far between, they are especially rich in powerful flavonoids and make it fun to eat the rainbow. Eating these deep-colored veggies can help reduce your risk for heart disease and can decrease memory loss. Flavonoids have also been shown to play a role in reducing the risk of cancer. These vegetables include eggplant, red cabbage (looks purple), and purple asparagus. Purple vegetables also have anthocyanins, which can improve brain function and promote heart health. Not to mention, they have twice the antioxidant power of vitamin C. (4) If it's not part of your favorite vegetable list, give purple cabbage a try. This nutrient backed cruciferous vegetable contains 36 anthocyanins! (15) Make it into coleslaw and use it as a side dish, or zesty topper in a healthy burger or taco.
Ways to Enjoy Purple Foods:
Mix in some crunchy purple cabbage in your salad tonight
Freeze some purple grapes and have them as a snack
Serve some purple asparagus, carrots, or cauliflower as a dinner side for some color variation
Make some baked purple potato fries or mashed -download our free homemade fries guide
Yummy Yellow and Outstanding Orange Foods
These bright yellow and orange foods are packed with vitamin C, as well as several antioxidants such as carotenoids and bioflavonoids. Not only do they help maintain a healthy heart, but they also improve your vision and some may slow the progression of inflammation at the joints (which plays a role in arthritis). With these healthful benefits, you will be able to keep up with your kids, even during the most competitive game of tag.
Carotenoids also help reduce the risk of specific types of cancer including lung, stomach, bladder, and breast. Finally, bioflavonoids and Vitamin C work together to increase immune function. Face it, nobody wants a case of the sniffles.
Try yellow/orange nutrient-rich veggies such as pumpkin, yellow and orange peppers, sweet potatoes, carrots, and squash. Don't forget fruits like golden kiwi, nectarines, pineapple, cantaloupe, and oranges count too! Make sure you try yummy yellow spices like turmeric, ginger, saffron, cinnamon, and paprika! Turmeric, in particular, is known for its anti-inflammatory properties which may help boost memory for the aging parents out there. (7) In addition, cinnamon has been shown to reduce the risk of chronic disease, and help prevent insulin resistance! (9)
Spices can be added to your family's favorite smoothies, pasta, and curries, while cinnamon can be added to your oatmeal, desserts, and so much more! Talk about a nutritious way to spice up life!
Ways to Enjoy Yellow and Orange Foods:
Use fresh pumpkin as an ingredient in your favorite pumpkin bread recipe, or add small amounts to marinara to lower acidity and boost sweetness.
Add turmeric to your brown rice or other whole grains for a golden color
Try making frozen mango into nice-cream with a food processor or blender for a tasty family dessert (check out the video below!)
Become the trendy parent with a turmeric "golden latte"
Add a flare to your breakfast with pumpkin spice overnight oats or pumpkin smoothies in the Super Crew Breakfast Cookbook, 50 Recipes & 100+ Nutrition Activities
Revolutionize any typical pasta dish with spaghetti squash
Keep some frozen pineapple, mango, and cantaloupe for an easy tropical smoothie
Wonderful White and Bountiful Beige Foods
While white foods may not give a vibrant pop to your dish, white is a color that corresponds to tons of health benefits. It's often forgotten about when people think of eating a rainbow. Garlic, in particular, has phytonutrients such as allicin, which is an organic compound that gives garlic its aroma and flavor. It can even help prevent the common cold. This antifungal, antiviral, and antiparasitic compound is a nutritional powerhouse. Use it in a tasty aioli, roast it in the oven, or use it to flavor your favorite meals.
White/beige foods such as beans and legumes have isoflavones, which have a ton of antioxidants and may reduce the risk of diabetes, cancer, and nerve damage. Soybeans, tempeh, miso, tofu, and soy milk are all great sources of isoflavones. (10) Other fruits and vegetables in this brown and white group include potassium-rich bananas and potatoes. Also include cauliflower, mushrooms, and onions into your diet for some extra nutrient-dense variety!
Ways to Enjoy White and Beige Foods:
Enjoy fortified soy milk in your coffee instead of regular creamer
Use garlic to flavor some of your favorite savory recipes
Add some grilled onions to your veggie burger for a sweet crunch
Give cauliflower pizza a try
Make a loaded baked potato for dinner, with kidney beans, chives, salsa, cheese, and low-fat sour cream
Try our tasty tofu nuggets
Make cauliflower tots along with homemade tater tots
Pro Tip: Mince garlic before you start cooking. The extra time allows the allicin to increase its potent health benefits.
Beautiful Blue Foods
Say goodbye to the blues with blue food. These colorful fruits and vegetables get their beaming pigments from anthocyanins, which have shown to have a mood-boosting effect. In fact, a previous study has found that children and young adults who drank blueberry juice had a more positive mood within two hours of consumption. It is thought that anthocyanins found in blue foods may increase the compounds responsible for creating mood-improving molecules like serotonin and dopamine. (11) Oh, happy day! But, the anthocyanin compound in blue foods has anti-inflammatory properties, can improve heart health, and can decrease the risk of chronic disease. (14) Finally, blue foods can also improve brain function by improving focus and memory. Give the family an extra brain boost before work or school with blueberries! Also, try making blue corn tortillas, blue corn muffins, or pop up blue corn kernels.
Ways to Enjoy Blue Foods:
Make a blueberry jam to enjoy on toast, yogurt or oatmeal
Freeze blueberries for a healthful boost to a baked good
Mix in blue corn flour in your favorite recipes. Ever had blue cornbread?
Add a spoon of blue Spirulina to your morning smoothie, acai bowl, or yogurt
Bold Black Foods
While we also don't typically think of black foods as eating the rainbow, they have tons of healthful benefits. Black olives. Black beans. Black sesame. Blackberries. Black garlic. Who knew there were so many black foods? Similar to other food colors, the black pigment comes from anthocyanin, a type of flavonoid. As previously mentioned, anthocyanin can improve mood, focus, heart health, and overall disease risk. (11,14) Discover new black foods for a bold boost of color on every plate.
For instance, black sesame is a common ingredient in Japanese cuisine that initiated the black food trend in the United States. But, these seeds go beyond an Instagram worthy photo. This black food is also packed with calcium, healthy fats, and amino acids. (16) Research has shown that black sesame can help reduce blood pressure, especially in pre-hypertensive adults. It has been proposed that black sesames help vessels to relax, which eases blood flow within the body. Long-term black sesame meal consumption has also been suggested as a way to decrease one's risk of cardiovascular disease. (13) Talk about a heart-healthy seed!
Ways to Enjoy Black Foods:
Add olives to salads, homemade bread, or use them as a tapenade in your favorite sandwich.
Use black sesame seeds as an easy salad topper, or with roasted vegetables
Get adventurous and try making a homemade black sesame ice-cream
Keep frozen blackberries for easy add-ins to yogurt and oatmeal
Pump up a family fiesta with black bean enchiladas, tacos, or nachos. Then try our loaded sweet potato fries with black beans.
Make your own veggie-burgers with a black bean base
Incorporate black beans into your next brownie batter for a healthful flare
A Few More Facts on "Fight-o-Nutrients"
The Super Crew calls phytonutrients, "fight-o-nutrients" because they help fight off disease! Colorful fruits and vegetables contain powerful phytonutrients that help fight off disease, enhance the immune system, decrease inflammation, and promote healthy bacteria in the digestive tract! (10)
These phytonutrients have been studied in relation to cancer, and many studies have found that they are important regulators of this pathological process. Phytochemicals have been shown to increase chemotherapeutic sensitivity, which can improve the survival rate of cancer patients. They have even been shown to act as agents that target tumor-suppressor transcripts. (1) Anthocyanins, which are found in red, purple, black, and blue foods, have been studied and seen to slow the rate of colon cancer cells! Some studies have not only seen slowed cancer growth, but pigments from purple corn and chokeberries have completely killed cancer cells! (3)
Overall, eating a diet rich in fruits and vegetables automatically helps increase your phytochemical intake and can potentially have a role in reducing your risk of certain cancers. Learn more about how what kids eat today can help prevent cancer tomorrow!
Now that you have a few more facts under your belt, find ways to include an assortment of colors in you and your children's diets. Remember to eat the colors of the rainbow, and have fun with it! To learn more about easy ways to include color variety in your diet visit Fun with Fruits & Vegetables.
Play a game with kids to see how we can get most colors on the plate. No matter how quickly your child's favorite color changes, try to always get it on the plate. Red food. Orange food. Blue food. Green food. Black food. The color combinations are endless. Use our Super Crew color tracker and make it this week's goal to get in at least 5 colors a day!