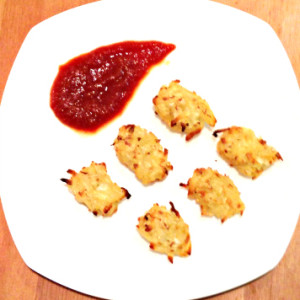 Are your kids getting enough vegetables in their diet? Here's an easy and creative way to get your kids to enjoy more veggies!
If your family is like most American families, you're probably not getting quite enough vegetables or whole grains in your diet (1,2). The great thing about veggies is that they are low in calories, high in nutrients and can be made into just about anything! Whole grains are rich in B vitamins, including folate, dietary fiber, iron, selenium, and magnesium (3). So if you're struggling to reach the recommended needs with your family's diet, try these easy and delicious recipes that make your vegetables and whole grains seem more like indulgent foods.
Cauliflower Tots
When I think of tater tots, I think of comfort food. Many people might think of tater tots as the healthier alternative to fries. However, French fries can have fewer calories and sodium than tater tots! (4) Adding cauliflower to homemade tater tots allows you to retain the same color and texture while giving your family the extra benefits of cauliflower such as more dietary fiber, calcium, folate, and vitamins C and K, as well as less sodium and calories (4). Plus, baking them will cut out empty calories and excess fat. Give your spuds a healthy makeover the whole family will love!
Ingredients:
1 cup thinly diced raw cauliflower
1 cup shredded raw Yukon gold potato (peeled)
1 Tbsp all-purpose flour
¼ tsp salt
Directions:
Preheat oven to 450 degrees
Mix all ingredients in a bowl and let sit for 15-20 minutes
Spoon out 1 T of the mixture into the palm of your hand and form a cylinder by squeezing the moisture out into an empty bowl
Place on a parchment paper-lined baking tray
Repeat until all the mixture is used – should make 20 tots
Spray the tops with baking spray (I use a canola oil spray)
Bake for 12 minutes, remove from oven and turn, spraying again
Bake for another 12 minutes, remove from oven and enjoy!
Nutrition:
Traditional tater tots (10 tots per serving) – 150 calories, 7 g fat, 1 g saturated fat, 22 g carbohydrates, 379 mg sodium, 2 g fiber, 2 g protein
Cauliflower tots (10 tots per serving) – 110 calories, 2.5 g fat, 0 g saturated fat, 20.5 g carbohydrates, 300 mg sodium, 3 g fiber, 3 g protein
Savory Sweet Potato and Leek Cakes
Sweet potatoes are a powerhouse vegetable that's not just for Thanksgiving anymore! Sweet potatoes are incredibly versatile and easy to use, not to mention nutritious. This recipe packs a double punch with vegetables and whole grains, including amaranth and steel cut oats. Amaranth, a traditional grain from Mexico, is similar to quinoa as it's a complete protein.  In a recent study, Amaranth was shown to lower cholesterol when part of a balanced diet, protecting your body from heart disease (5). Don't just stop at amaranth, steel-cut oats, quinoa, and spelt and are underutilized in delicious meals and snacks too! Check out these 10 ways to eat and enjoy buckwheat, another healthy whole grain! Make these savory sweet potato and leek cakes as a hearty side dish served with greens or use them as a meatless burger!
Ingredients:
1 ½ cup shredded raw sweet potato
1 ½ cup thinly sliced leeks
½ cup shredded parmesan cheese
½ cup dry steel cut oats
½ cup dry amaranth
2 ½ cups water
1 egg
¼ cup almond flour
1 T olive oil
Directions:
Preheat oven to 400 degrees
Bring 2 1/2 cups water to a boil in a medium-sized saucepan, pour in the amaranth and steel-cut oats, cover pan, reduce heat to low, and simmer for 20 minutes. Fluff with a fork and allow to sit for another 2 minutes. Place in a shallow dish and cool for 10 minutes.
In a small skillet, heat the olive oil over medium heat and add leeks, sauté for 3-5 minutes
Mix all the ingredients in a large bowl
Cover a baking pan in parchment paper and lightly spray with a baking spray (I prefer olive oil spray for this recipe)
Fill ½ cup measuring cup with the mixture and turn over to place on the baking pan then press down slightly with the flat bottom of the measuring cup until the patty is ½ inch tall
Repeat until all the mixture is used, keeping space in between the patties (should make 8 patties). Use a second pan if needed.
Bake for 25 minutes, remove from oven and enjoy!
Nutrition Facts:
Serving size 1 cake: 183 calories, 6 g fat, 1.5 g saturated fat, 26 g carbohydrate, 99 mg sodium, 5 g fiber, 7.5 g protein