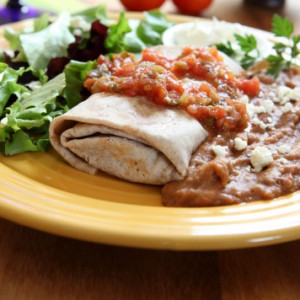 Looking for easy, microwavable, healthy meals? Whether you're a college student or teen cooking in your dorm room or at home, we have you covered.
Congratulations, you are officially a college student! An exhilarating new life chapter has just begun and I'm sure there are a million thoughts racing through your mind, such as, "Who is going to be my roommate? Where's the closet gym? Which classes should I pick? How am I going to avoid the rumored 'freshman 15′?"
The truth is, it's very possible to prevent excess weight gain and eat healthfully, even while being restricted by space, time, money, and appliances. Setting up your dorm room or apartment for healthy eating will make healthy living a breeze. But like all tasks, it involves planning and list-making. Organize what you need before you head off to college, and create a go-to-list of easy snack and meal ideas like the ones below that you can fall back on. Also, check out our food survival kit for dorm rooms.
Here are 8 quick, healthy, go-to microwaveable meals you can make in your dorm room. Perfect for days when you miss a mealtime or the dining hall is closed for other reasons.
This post contains an affiliate link. As an Amazon Associate, we earn from qualifying purchases. 
Items you will need:
A variety of microwave-safe bowls in different sizes
Can opener
Measuring cups
Cutting board
1 chef's knife and 1 serrated knife
Storage containers (e.g., snapware containers; glass is preferred for hot foods, but plastic containers can be used for cold items such as chopped fruit).
Microplane grater, vegetable peeler, or cheese grater
Microwave silicone covers keep your microwave clean, are safe for you, your food and the environment. We love Walfos heat resistant covers.
BREAKFAST
Eggs – 3 easy ways to make them
You've probably heard microwaving eggs is an awful idea and will result in an egg explosion. Messes can happen, but there are a few simple ways to avoid it.
Sunnyside up: Crack an egg onto a plate. Poke a very small hole in the yolk to prevent it from exploding. Cook for approximately 45 seconds-1 minute. If you're still worried about explosions, cover the egg with a plate for extra security.
Scrambled eggs: Crack an egg into a cup and pour in ¼ cup of milk. Stir and then cook in the microwave for 2 minutes.
Poached eggs: Drop 1-2 eggs into a cup of water. Cook in the microwave for 50 seconds to 1 minute, or until the whites are fully cooked.
Sprinkle a spice blend, cumin, and cayenne on your eggs for extra flavor! Enjoy eggs on whole-wheat crackers or whole grain bread.
Microwaved Steel-Cut Oats
Steel-cut oats are great because they have a low glycemic value and help you feel full throughout the morning.
Ingredients:
1/4 cup steel-cut oats
1/2 cup water
Apple, thinly sliced
Pinch of cinnamon
Optional: fresh fruit of your choice, dried fruit, nuts, or coconut
Other options: Drizzle of maple syrup or local honey
Directions:
Select a large microwave-safe bowl (be sure not to fill more than 1/4 of the bowl with oats so that you prevent a boiled-over mess).
For one serving, add approximately ¼ cup steel cut oats and 1/2 cup water to the bowl
If desired, slice apples thinly and add to oatmeal with a pinch of cinnamon.
Cook oatmeal mixture for approximately 2 1/2 minutes (depending on the strength of your microwave)
Top with fresh fruit or, depending on what's in season, dried fruit, nuts, or coconut! Add a few drops of pure maple syrup or local honey and enjoy the bliss!
Check out these grab-and-go breakfast ideas.
LUNCH
Microwaved Brown Rice, Chicken/Tofu, and Vegetables
Ingredients:
1 cup of brown rice
2 1/2 cups water
Chopped veggies of your choice
Low sodium soy sauce (to taste)
Cooked chicken or tofu
Optional: Spices of your choice or ginger soy sauce
Directions:
Cooking dried brown rice in a microwave can take upwards of 30 minutes, but you can cut the cooking time in half by soaking the brown rice overnight or using parboiled rice. Parboiled rice has been partially boiled (hence "par-boiled") in the husk (the very outermost, inedible layer of a grain) giving it the benefits of brown rice with the texture of white rice.
For soaked rice: Mix 1 cup brown rice with 2 ½ cups water. Soak overnight in the refrigerator. When ready to cook, microwave for about 15 minutes or until the water is absorbed and rice is tender. You can also invest in a rice cooker–which can prepare other ancient grains like quinoa, millet or amaranth.
For parboiled rice: Mix 1 cup of rice with 2 cups of water. Remember, make sure there is ample room leftover inside the bowl to prevent the contents from boiling over. Cook on high for 5 minutes or until cooked.
Once the rice is cooked, add chopped veggies of your choice, low sodium soy sauce, and cooked chicken/tofu. Heat for 30-45 seconds and enjoy! Add spices as needed or a ginger soy sauce for extra flavor.
Microwaved Veggie Bean Quesadillas
Ingredients:
1 cup dried beans or 1 can of beans of your choosing
1 cup corn kernels
Cilantro, chopped (to taste)
Red onion, diced (to taste)
1-2 cloves garlic, minced
Shredded cheese (to taste)
Whole-wheat tortilla
Directions:
You can enjoy dried or canned beans in your dorm room. If you use dried beans, soak them overnight before cooking. Soak 1 cup of beans in 3-4 cups water. Cook the next day in the microwave for 7-8 minutes or until done.
To make a microwave quesadilla, place the beans in a bowl with 1 cup frozen corn kernels
Mix chopped cilantro, diced red onion, and 1-2 cloves of minced garlic into the bowl.
Add the shredded cheese of your choice (remember block cheeses are cheaper than pre-shredded cheese, and you can grate the cheese yourself) and mix all the ingredients together.
Add the quesadilla mix to one side of a tortilla, fold in half, place it on a microwave-safe plate and cover with a paper towel. Cook for 1- 1.5 minutes on high until gooey and melty.
DINNER
Microwaved Veggie Bean Burritos
Ingredients:
Ingredients for Microwaved Veggie Bean Quesadillas (see above)
Veggies of your choosing (spinach, cabbage, kale and/or shredded carrots)
Eggs, meat and/or tofu (to taste)
Optional finishing touches: hummus, guacamole, sour cream
Directions:
Follow the same guidelines as the lunch quesadillas, but this time switch up the ingredients by adding more veggies (e.g., spinach, cabbage, kale, shredded carrots), eggs/meat, peppers, and whatever else your heart desires (e.g., hummus, guacamole, a touch of sour cream).
Stuff the whole grain tortilla a little more than the quesadilla and roll up like a burrito. Cover it with a paper towel, and cook on high for 2 minutes.
Southwest Quinoa Salad
College students are often strapped for cash, and quinoa isn't the most budget-friendly item. If you want to use it, look for it in bulk in stores or online. Otherwise, use brown rice as a substitute.
Ingredients:
1 cup quinoa
2 cups of water
1/2 cup corn kernels
1/2 cup black beans
1/2 red bell pepper, chopped
1/2 cup green onion
Cilantro for garnish
1 tbsp olive oil
Juice of 1 large lime
Pinch of cumin and black pepper
Directions:
Soak quinoa overnight, with the ratio of 1 cup of quinoa to 2 cups water. (Again, the bowl needs to be less than half full). Cover the quinoa with a paper towel or loosely with plastic wrap. Cook on high for 3 minutes, stir and then cook for another 3 minutes or until the quinoa granules become more transparent. You can also cook quinoa in a rice cooker.
If you're using brown rice, follow the instructions above.
Add corn kernels, ½ cup black beans, chopped red bell pepper, ½ cup green onion, and garnish with cilantro.
The dressing: Mix together 1 tbsp olive oil, juice of 1 large lime, and a sprinkle of cumin and black pepper. Pour over salad and enjoy this wholesome goodness! Here's 5 more tasty quinoa recipes and be sure to miss this 3 ingredient black bean, corn salsa and quinoa salad.
SNACKS
Popcorn
Sprinkle with nutritional yeast and coconut oil, or cinnamon, raisins, peanuts, and local honey (about ½ tbsp). Choose organic or non-GMO popcorn whenever you can. Check out 10 more ways to enjoy popcorn as a healthy whole grain snack.
Microwaved Sweet Potato
Ingredients:
Sweet potato
Pinch of cinnamon
Directions:
Wash the skin of the sweet potato well.
Use a fork to poke a few holes in the potato.
Place in microwave for 5 minutes then flip the sweet potato over and cook for another 5 minutes (experiment with your microwave since cooking times may vary based on the strength of your microwave).
Carefully remove from microwave (it will be hot!), slice open, sprinkle with a little cinnamon, and enjoy with bliss!
Bon Appetite!