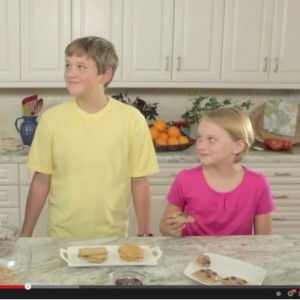 Finding quick and delicious ways to boost your meals, snacks, and desserts with plant-based foods is 
easier than you think!
A focus on eating more plant-based foods can benefit the whole family. Here are two delicious plant-based recipes to enjoy with your family that are fun to make and so delicious to eat! We've even included a great video for a quick how-to for both an Almond Butter Chocolate Dessert and Roasted Beet Hummus!
Almond Butter Chocolate Dessert
Ingredients:
Almonds, raw or roasted.
Graham Crackers
Chocolate chips
Directions:
Use raw almonds for a sweet delicate taste or roasted almonds for a more savory flavor. Fit the blank screen of your Champion Juicer (or use homogenizing body) onto the juicer body and fill feed spout about half way with almonds. Turn the juicer on, and slowly continue to feed the almonds into the machine. Add almonds slowly. Run through twice for a creamier product. Place almond butter on top of Graham crackers and top with chocolate chips.
Roasted Beet Hummus
Ingredients:
1 15oz can of Chickpeas
2 red beets, roasted and cut into chunks
1 Garlic clove
Juice of ½ lemon
1 teaspoon of Olive oil and 1-2 teaspoon of tahini sauce, or tahini butter
Optional: fresh herbs (dill or basil) and sumac for topping
Directions:
Fit the blank screen (or use homogenizing body) onto the Champion Juicer body. Alternate chickpeas, garlic clove, oil, tahini, and beets for best flavor melding. To make green hummus, replace beets with 2 handfuls of fresh spinach. Serve with bell pepper slices, jicama, celery or red or blue baked corn chips.