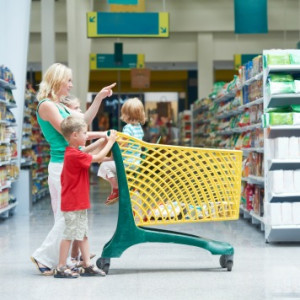 With just a few tips and tricks, you can save time and money on your next trip to the store.
Grocery shopping doesn't have to be hard or overwhelming! Here are a few of our most loved tips:
Grocery Shopping Basics
One of the easiest ways to make grocery shopping simple and fun is to create a shopping list. Strategically select a few recipes for the week, using items you already have, leftovers you can use, and anything in your freezer. This cuts back on the cost of buying items you don't necessarily need. Ask your children what they would like you to purchase as well. Incorporating them into meal planning makes them feel like you're not ignoring their interests and food preferences, and who knows what types of exciting recipes they'll come up with! Sticking to a list can also help prevent impulse buys, since you are more likely to select the items you need, rather than those you simply want.
Buying Food for Families
When shopping for large families, consider buying in bulk. Remember, many fresh items, such as broccoli, can be purchased in large quantities when on sale, and can be frozen for later use! Purchasing produce while it is on sale can add up to huge savings. As you plan your shopping trip, look for local ads and coupons on items that you and your family enjoy. Consider produce that is in season for cheaper rates and be open to trying a variety of different foods while expanding your palate. Teach your kids about eating in season with these seasonal food fun coloring activities.
Bringing Your Children to the Store
When you bring your children with you, try your best to adhere to the shopping list you previously created. This will help avoid conflicts with the kids when they see the chips and candy aisles and beg you for "just one." Include your kids in the shopping experience by asking them to find food items on the self, or select fruits and veggies. To reduce stress, try shopping with your children in the morning when they are well rested and when the store is less crowded. By doing this, you can take your time and make it an enjoyable experience. Keep in mind their safety as well. Some children may have tendencies to reach out of the cart touching several items, raw meats included. You want to avoid spreading germs and getting sick! Have them help plan your grocery store visit, with this fun grocery store activity for kids!
Keep the Layout of the Store in Mind
Many shoppers don't realize that the most important and healthy items are located around the outside of the store. Fresh produce, milk and dairy, and lean meats are all located along the outer walls of the store. Avoid walking through the center aisles as much as possible, except while picking up legumes, whole grains, beans, or frozen produce! Center aisles typically contain frozen treats, chips, and processed foods.
Quick Tips to Keep in Mind
Limit ready-to-eat meals as much as possible- many contain higher amounts of salt and sugar.
Select frozen foods last so that they do not spend too much time defrosting in your cart. This could impact the texture and safety of the food.
Choose less fatty meats, such a lean ground turkey or pork loin.
Choose whole grain bread, pasta, and cereal- they contain more fiber for better digestion!
Don't forget to check items for expiration dates.
Be mindful of food items located at eye level –they are typically the most expensive.
Wash hearty fresh produce once you get home. You'll be more likely to grab it if it is ready to eat! Avoid pre-washing delicate foods like baby greens or berries until ready to eat. This will help extend their shelf-life.
Try implementing some of these tips next time you grocery shop. You'll be shocked at how much time, money, and stress you can save with just a little pre-planning. Happy shopping!
For even more helpful healthy shopping tips, check out our Healthy Grocery Shopping Toolkit.