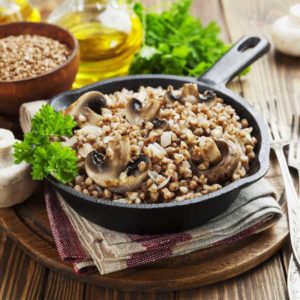 Eating gluten-free doesn't have to be tasteless and boring thanks to buckwheat! Learn how to eat buckwheat with simple cooking tips!
Buckwheat for Breakfast:

Hot cereal for breakfast: add kasha to your pantry and give it a try: cook it as a breakfast cereal mixed with milk, cinnamon, and a dash of brown sugar or honey (follow package instructions for the exact liquid to kasha ratio).
Buckwheat pancakes topped with your favorite berries, for a super-power anti-oxidant morning blast. Or buckwheat waffles with raspberry coulis and slivered almonds.
Buckwheat crepes: have fun exploring savory and sweet fillings the top with cinnamon.
Replace other flours with buckwheat: Replace part of the flour in recipes for muffins or cookies with buckwheat.
Buckwheat for Lunch or Dinner
Soba noodles, served hot or cold, in a stir-fry loaded with veggies.
Add it to soups to increase their nutritive value; add buckwheat groats during the last half an hour of soup preparation time, or kasha during the last 15 minutes.
Kasha salad: mix cooked kasha with chopped tomatoes, cucumbers, onion, and dill; use vinaigrette (olive oil and balsamic vinegar), the same way you would for a regular salad.
To the experimental shopper in you: search for Italian "Pizzocherri" (buckwheat pasta) at Italian grocery stores and try a summer variant of the classic recipe "Pizzoccheri Valtellinessi."
To the experimental cook in you: try something new—home-made buckwheat pizza crust; find an online recipe or develop your own, by substituting buckwheat flour for wheat in your favorite recipe. Start first with no more than half substitution and experiment.
More fun uses: replace bread crumbs in your Thanksgiving stuffing recipe withbuckwheat groats or add leftover kasha to a hearty winter stew.
Check out the many health benefits of buckwheat, a superfood.