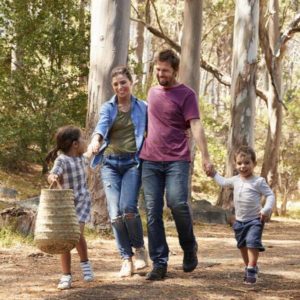 Summer is upon us and it's time to get outside with the family. Enjoy some fresh air and pack a kid-friendly family picnic basket for your big day out.
Instead of grabbing for the bag of chips and throwing together a few PB&Js, try these healthy, easy, and delicious family picnic basket options instead. Choose from a mix of salads and slaws, dips and dressings, and pair with your other favorite snacks!
Salads and Slaws for Your Family Picnic Basket
Mango Kale Black Bean Quinoa Salad
This plant-based salad is sure to be a kid pleaser with its complex, sweet, and citrusy flavor. It's full of plant-based protein and is also a nutritionally balanced meal. If the kids are running around during your picnic, this salad is a great balance of carbohydrates and protein to fuel their fitness.
Cruciferous Slaw 
This cruciferous slaw recipe is perfectly crunchy, full of nutrients, and high in fiber. Plus, cruciferous veggies have powerful cancer-fighting properties! Animal studies have found that certain molecules present in cruciferous veggies decrease the risk of developing many different types of cancer. (1) It's a perfect addition to your picnic basket because kids will love the change from typical veggie-based dishes.
Curry Egg Salad
A delicious twist on the classic egg salad, this curry egg salad recipe pairs well with whole grain bread or crackers. Did you know that turmeric, which is an ingredient in curry powder, contains the chemical curcumin? Curcumin is a polyphenol that may help reduce the risk of developing breast cancer. (2)
Veggie and Bean Salad
In a rush to prepare food before heading off to the park? This mixed bean and veggie salad can be put together in no time! It offers a plant-based boost that is filled with "fight-o-chemicals." It has refreshing flavors to enjoy during some fun in the sun.
Fresh Pesto & Garbanzo Bean Pasta Salad
This bean pasta dish is packed with flavor and is a fun twist on traditional wheat-based pasta. Your kids probably won't even taste the difference! It's a great solution if you're looking for a dish with a good source of protein and fiber. Basil is a key ingredient in the fresh pesto topping and is a rich source of vitamin K – a vitamin important for bone health and blood clotting. (3,4)
Garbanzo Artichoke Salad
Artichokes are delicious and a rich source of vitamin K and folate. (3) This garbanzo artichoke salad is also high in fiber, which is important for promoting gut health. Use fresh tomatoes and herbs from your garden or the local farmer's market for an extra flavor boost!
Dips & Dressings for Your Family Picnic Basket
Homemade Guacamole
Use this creamy homemade guacamole recipe as a dip for tortilla chips, veggies, or whole-grain crackers, or try it out as a sandwich spread. Did you know that avocados are technically considered a fruit?! Studies have shown that eating avocados instead of animal-based fats can help improve cholesterol levels. (5) So let the kids dive into this tasty dip for their taste-buds AND their health!
Roasted Beet Hummus
This twist on traditional hummus produces a wild pink hummus that kids love. Pair with their favorite sliced veggies or healthy crackers. Your kid-friendly picnic just got even more fun.
Caramelized Onion Dip
Add some pizzazz to your picnic with this caramelized onion dip. Made with non-fat sour cream and loaded with flavor, it has a complex flavor that is popular among the adult and kid crowds alike. You can even try it with nonfat plain Greek yogurt for a protein boost.
Dressings
Simple green salads make the perfect picnic addition. Leafy greens are full of important vitamins, including vitamins A, C, and K, as well as fiber and potassium. Chowing down on green salad will help everyone in the family meet their recommended weekly intake of dark green vegetables. (6) Toss your green salad with one of these five delicious and easy homemade salad dressings and you will have a perfect picnic dish ready in no time!
Food Safety
On warm summer days when you are packing food to go, it is extra important to follow safe food handling practices. Keep your family safe while enjoying outdoor activities by following these strategies for summer food safety.
Other Picnic Tips & Ideas
Remember to pack the picnic blanket and reusable bowls and plates! Read

more picnic packing tips here

.
Looking for the perfect kid's book to bring along? This

picnic themed book

is full of family stories, special recipes, and tons of fun activities. It's the perfect addition to any picnic!