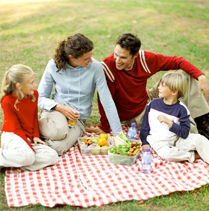 When it's sunny outside is there any better way to enjoy the weather than to get out of
the house and under the trees for a picnic? Not only is it a great way to cool off or catch some fresh air but you can also enjoy healthy foods and quality time with family and friends.
How do you pick foods that everyone will like? An easy way to accomplish this is by packing basic items and letting everyone create their own tasty meals. Simply prepare the foods in your basket ahead of time so these items can be easily used in a variety of sandwiches, salads or wraps to satisfy everyone at the picnic.
The most important tip to remember is to let your imagination go wild! What foods will add color, crunch and flavor to your sandwich, wrap or salad? Purple cabbage? Cucumbers? Avocado and dark leafy greens? How about red ripe tomatoes with a little salt and pepper? Or perhaps a Jalapeno for a little kick? For more ideas visit your local Farmers' Market to find farm fresh fruits and vegetables, while supporting local farms.
Meet with family and friends at different parks around the city or your town; take a drive into the mountains or to the beach. Encourage and inspire each other to find healthy and unique ways to pack a picnic basket, shop from local farmers and spend time outdoors with special friends.
Basket Basics
Napkins/Towel (wet and dry)
Reusable or biodegradable Forks, Knives, Spoons
Plates or bowls & Cups
Sheet or blanket
Freezer packs to keep perishables cold
Sample Grocery List (Include foods from your local farmers' market)
Lettuce Leaves, Whole-grain Tortillas, Lettuce Leaves
Salad Mix, Sprouts & Herbs
Tomatoes
Avocados
Carrots, celery, cucumbers
Hummus & Salad Dressing
Olive Oil
Salt and Pepper
Cheese, tuna, lean protein sources such as turkey & chicken
Nuts and dried fruit, peanut butter
Fresh fruit in season
Raw veggies in season
*Chop foods ahead of time that are difficult to cut
Not sure what to create? Try this special summer salad.
Ingredients:
Lettuce
Chard
Kale
Spinach
Tomatoes
Cucumbers
¼ slice of Avocado
Broccoli
Purple cabbage
Dill
1 oz Feta Cheese
1 oz Walnuts
Sprouts
Prepare listed items in slices, cubes or pieces and mix in a large bowl. Serve with olive oil & vinegar and hummus or your own favorite dressing.
For less calories and fat use less feta cheese, walnuts and avocados.
Check out Melissa's Healthy Living recipes for more tasty ideas.  See our Organic and Local Foods section, for more on what to include in your grocery bags and picnic basket.