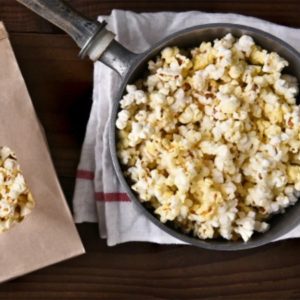 Running out of ideas for quick and healthy snacks for your kids to keep them happy? Try these super easy and delicious options.
Who doesn't love snacks? We all enjoy the internal satisfaction of popping crunchy, creamy, salty, and sweet snack foods into our mouths.  When providing your kids with snacks, it's so easy to just open a bag of potato chips or box of cookies. Unfortunately, most "easy snacks" are processed and full of artificial flavors and additives.
Below we've shared a couple of fun, healthy, and delicious snacks you and your kids will love. When making them, always think about the "texture and flavor" rule. Many kids aren't the biggest fans of soft food, so pair something crunchy with a creamy dip like hummus or ranch. The great thing is that the majority of fruits and vegetables are crunchy in texture. Apple slices, baby carrots, celery sticks, jicama sticks, broccoli, are just a few examples of some healthy but crunchy snacks.
Add a pop flavor to bland foods like popcorn with a mixture of spices and herbs. Think about balance and choose flavor profiles like sweet, salty, and spicy to give snacks a tasty yet creative edge. In many countries, children are exposed to spices at an early age. In addition, enjoying the same snacks you've prepared for your kids will demonstrate excellent model behavior and encourage them to eat as well.
Sour Cream and Onion Popcorn
Popcorn is an unprocessed whole grain food rich in vitamins like folate and niacin and minerals like iron. 5 cups of popped popcorn has only 100 to 150 calories. That's equivalent to just 10 potato chips! For an exciting adult version, add some cayenne pepper for a little kick.
Ingredients:
1/3 cup unpopped popcorn kernels
2 tablespoons olive oil
3 tablespoons fresh chopped dill
3 tablespoons parmesan cheese
1 teaspoon garlic powder
1 ½ teaspoon onion powder
½ teaspoon black powder
Directions:
Place the kernels in a brown bag. Fold the top of the brown bag and place in microwave on high for 2 minutes. In a bowl, mix the olive oil with all the seasonings. Pour the popcorn on top of the mixture. Let your kids have fun by allowing them to toss the seasoning and popcorn with their hands.
Jicama Sticks with Ranch Dip
Did you know that jicama is also known as the "Mexican turnip" or "yam bean?" It's slightly sweet yet watery taste is almost like a cross between a pear and a turnip. Crunch away with your kids!
Ingredients:
1 jicama, cut into strips
2 tablespoons reduced fat mayo
2 tablespoons nonfat Greek yogurt
1 tsp parmesan cheese
½ tsp garlic powder
½ tsp dried parsley
Directions:
In a bowl, mix mayo, Greek yogurt, parmesan cheese, garlic powder, and dried parsley. Adding spices like oregano is a great way to introduce new flavors to your child.
Cucumber Cups with Roasted Red Pepper Hummus
Cucumbers are a great vegetable loaded with fiber and water. Their fiber content helps with constipation. Better yet, cucumbers are a natural anti-wrinkle agent. Next time you cut a cucumber, save 2 slices and place them on your eyes for a nice cooling effect. Try picking organic cucumbers over conventional due to their increased risk of pesticide exposure as recommended by the Environmental Working Group.
Ingredients:
1 English Cucumber
1 cup of low-sodium canned chickpeas
1 tsp tahini
½ tsp grated garlic
¼ roasted red pepper
Directions:
In a food processor, add chickpeas, tahini, garlic, and roasted red pepper. Pulse until smooth. Cut the cucumber into one-inch rounds. Use a small spoon to take out a few cucumber seeds. Dollop the hummus on the cucumber and pop them in your mouth. Be adventurous and add avocado or baby spinach instead of the roasted red pepper.