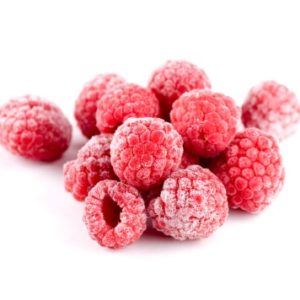 Do your kids get bored of the same old snacks? Choose one of these new, fun, and healthy snacks for them to try this summer!
Both adults and kids alike are snacking more! Snacks provide around 37% of children's energy intake but only around 15-30% of important micronutrients – yikes (1)! What's more, the foods we think of as snack foods have also changed over the decades. In the 70s, fresh fruit was king, but now fruit juice (fresh or processed) has taken its place. Snacks these days more often consist of packaged chips, cookies, cakes, bars, and sugary drinks – foods that are highly processed and loaded with sugars, salts, fats, and white flour. No wonder it's so challenging to stay at a healthy weight. So go retro and bring healthy snacks back. Have these foods available at home for whenever your kids are hungry in between meals. They'll develop good eating habits that create a healthy mind and body for life!
Keep the Snacks Chilled!
Try frozen foods. Kids love frozen raspberries, blueberries, corn, and peas right out of the bag. Yes, we've tested it! And what could be easier for a busy mom! Check out these 10 frozen foods that taste great on a hot summer day.
Frozen Concord grape juice pops are a hit! They'll bring back wonderful memories for mom and make sweet new ones for kids.
Sweet and tangy Greek yogurt pops are filling and tasty! Make them colorful by blending up mango and pineapple and then swirling into yogurt. Scoop into mini-muffin tins or ice cream molds for a cool treat! Check out these mixed berry fro-yo pops!
Fruit-based soups are all the rage right now. Try a smoothie-based bowl that combines fruits and veggies, like this grasshopper bowl: in a blender, add one green apple, 2 to 3 kale leaves, ½ cup pineapple (frozen), 1 banana (peeled, frozen), 1 celery stalk, 1/2 teaspoon ginger (peeled, grated), coconut water as desired, and extra ice. Serve with frozen grapes, sliced strawberries, and a sprinkle of flaxseed.

   

A cool blend of melon is always a crowd pleaser! Remove the rind and seeds from your favorite melon, chop it up, and freeze. Place into a blender with almond milk and mint. For a tropical island touch, add coconut water and half a lime or lemon.
Make Crunchy Snacks!
Mix up fruits and veggies. Combine cubed cucumber, papaya, apple, and an orange and sprinkle with lemon and sea salt. For a kick, add a bit of chili powder!
Try kale chips. They offer a satisfying yet healthy crunch. Buy or make your own. Wash greens, making sure to remove as much water as possible. Chop them into bite-sized pieces, toss with a bit of olive oil and sea salt, and roast in the oven at 375° until crispy. Add sunflower seeds or chick peas to the roasting pan for added textures and flavors.
Make air-popped popcorn and get creative with toppings. Add unsalted nuts and seeds like almonds, walnuts, and sunflower seeds. Add just a pinch of sea salt to taste. For sweetness, sprinkle in chopped dates and raisins.
Lettuce cups or wraps are refreshing and fun! Wash and have readily available whole leaves of green cabbage, romaine lettuce, or iceberg lettuce. Make wraps by adding in quinoa, hummus, shredded carrots, sliced tomatoes, beans, chicken…basically anything that would go well in a sandwich or salad. Adding tasty dips and spreads makes wraps a big hit!
Make the swap from processed snacks to whole foods with these flavorful and satisfying ideas! Your kids or picky eaters will thank you.