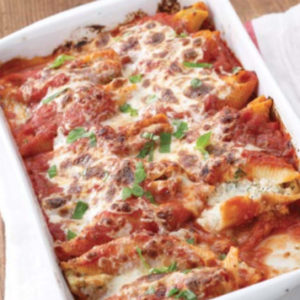 If your kids are yogurt lovers you should give these tasty Greek yogurt recipes a try!
Greek yogurt is actually a super food that provides protein, calcium, magnesium and potassium—who'd have thought this kitchen staple could pack such a powerful punch? Even people with lactose intolerance can enjoy yogurt, as many people with lactose intolerance can digest it with few to no symptoms (which is great for those who can't get their calcium from milk).
How can you include Greek yogurt in meals and snacks?
There are so many fun ways to include Greek yogurt in your diet. Dips, smoothies, baked goods, parfaits, spreads—the list goes on! You can even use it in place of sour cream and sneak it into desserts—yogurt can boost the flavor, volume and nutrients in many dishes.
What are the nutritional benefits of Greek yogurt?
Depending on the brand, Greek yogurt can be lower in sugar and higher in protein than regular yogurt. The recipes featured below use CHOBANI® Greek Yogurt, a brand I'm particularly a fan of. I especially like their kids' yogurt because it provides 25% less sugar than the leading kids' brand and has 2 times the protein—plus, it's rBST-free, contains no preservatives or modified corn starch and is less than 5% lactose (again, a positive for those who have a hard time with lactose!). One my family's favorite ways to eat yogurt is to freeze CHOBANI's Kids® yogurt tubes and then pop them out of the freezer to enjoy as a post dinner dessert. I personally love the watermelon flavor, but everyone has their own favorite! Check out these tasty ways to enjoy Greek yogurt below for all ages!
For Toddlers:
Yogurt is an ideal food for toddlers since it offers protein, calcium, and probiotics important for digestive health. CHOBANI's Tots® pouches also provide 12mg of Omega 3's and have no artificial colors or flavors. Check out this tasty recipe for your little tot!
Sweet Potato Apple Peach Yogurt:
Made with CHOBANI 4% Plain Greek Yogurt, yields 4 servings, 2.5 oz portions (after the age of two you can switch to low-fat plain, unless otherwise indicated by your health practitioner)

Ingredients:
1 cup Chobani 4% Plain Greek Yogurt
1/2

sweet potato



1/2 apple
1 peach
Directions:
Peel the sweet potato and cut it into small pieces. Peel and core the apple and cut it into large pieces. Peel the peach and separate the flesh from the pit.
Put the sweet potato into a sauce pot with a lid and add 1/2 cup of water. Bring to a light simmer and cook until sweet potato is almost tender. Add apple and peach and cook for an additional 3 minutes. Remove pot from heat, drain excess water, and allow to cool. Once cool, place ingredients in a food processor and process until smooth.
Place puree in refrigerator until completely cool. Combine 1 cup CHOBANI yogurt with 1/2 cup puree.
Reserve remaining puree refrigerated for later use.
After School Go-Tos:
Having healthy, refreshing food ready and easy to grab snacks will have your kids digging into something nutritious instead of going after chips in the pantry or other junk food. The following recipe is also a great way to avoid wasting slightly over-ripe fruit.
Mixed Berry FroCho Pops:
Made with CHOBANI non-fat Vanilla Greek Yogurt. Yields 4 Servings.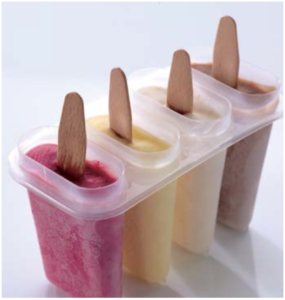 Ingredients:
1 cup Chobani Vanilla Greek Yogurt
1 cup fresh or frozen mixed

berries

1 teaspoon fresh lemon juice
3-5 tablespoons honey, to taste
Directions:
Use a food processor to purée berries, CHOBANI yogurt, lemon juice and honey until smooth.
Divide mixture among freezer-pop molds, stopping about 1 inch from the top.
Freeze until firm, about 6 hours. Dip molds briefly in hot water before unmolding.
If you don't have freezer pop molds, use small paper cups. After filling the paper cups, place a sheet of plastic wrap over the tops, cut a slit in center of the wrap, and add a popsicle stick.
Nutrition Information: Calories 100, Calories from Fat 0, Total Fat 0g, Saturated Fat 0g, Trans Fat 0g, Cholesterol 0mg, Sodium 30mg, Total Carbohydrate 18g, Dietary Fiber 1g, Sugars 15g, Protein 6g.*
Nutritional information provided is an estimate only.
Dinner Time:
Italian-Style Stuffed Shells:
Made with CHOBANI non-fat Plain Greek Yogurt. Yields 6 SERVINGS
Ingredients:
1 cup CHOBANI Plain Greek Yogurt
1 12-oz package jumbo pasta shells (about 24 shells)
kosher salt
3 cups tomato sauce
1 cup part-skim

ricotta

cheese
2 cups shredded mozzarella cheese
1/2 cup grated Parmigiano-Reggiano cheese
1/2 cup finely chopped flat-leaf parsley
6 fresh basil leaves, roughly torn
Directions:
Cook pasta shells in salted, boiling water until al dente. Drain and set aside.
Pour 1 cup tomato sauce into the bottom of a 9×13-in baking dish.
Combine CHOBANI, ricotta, 1 cup mozzarella, 1/4 cup parmesan and parsley in a medium bowl. Stuff each shell with CHOBANI mixture and arrange seam-side down in baking dish. Top with remaining sauce and cheeses.
Heat broiler to high. Broil stuffed shells until warmed through and cheese is melted and bubbling, 6-8 minutes. Serve.
Nutrition Information: Calories 450, Calories from Fat 130, Total Fat 14g, Saturated Fat 8g, Trans Fat 0g, Cholesterol 40mg, Sodium 1070mg, Total Carbohydrate 54g, Dietary Fiber 4g, Sugars 9g, Protein 31g.*
Nutritional information provided is an estimate only.
Looking for more ways to enjoy Greek yogurt? Check out these 15 Tasty Ways to Enjoy Greek Yogurt.