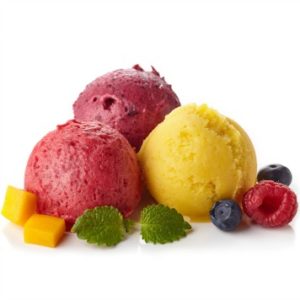 Explore new foods with your kids to substitute for the junk food they don't need! Healthy foods can taste yummy too!
This post contains an affiliate link. As an Amazon Associate, we earn from qualifying purchases. The link is noted with an asterisk (*) or Amazon image.
Kids love sugar — it's actually a scientific fact we're born with a sweet tooth. So, it's totally normal for kids to reach for a sweet treat, and it's okay to allow them to indulge occasionally. After sugar, we know kids love greasy and salty foods too! But, it's important to teach your kids that they don't have to eat unhealthy snacks to satisfy their cravings. Instead, teach them how to choose healthier versions of their best-loved snacks so they can still feel physically good when they splurge occasionally. Here are a few examples of delicious, nutritious swaps to create healthy food substitutions for kids' favorite foods.
Ice cream
When your kids scream for ice cream, replace it with "nice cream!"  Try offering pureed frozen bananas as a fruit whip. The texture of blended bananas mimics ice cream's creaminess.  You can even add cocoa powder for a chocolaty fruit whip. Try other frozen fruits blended in a food processor, Cuisinart Ice Cream Maker*, or in a specific type of juicer for a variety of flavors that taste like homemade frozen yogurt. You can also pour the mix into popsicle molds to enjoy as fruit pops. For a creamier texture add in yogurt and freeze in Tupperware containers, then scoop it out, or pour over an ice-cream maker insulated dish to enjoy right away.
Nachos
Ditch traditional 'nachos' by removing the chips and instead just combine all of the tasty toppings into a bowl—this is where all the flavor is anyway! Try combining chopped cilantro, diced onions, and chunks of tomatoes and then spreading over black beans and quinoa or shredded meat for extra protein and lasting satiety. Sprinkle a small amount of cheese on top and olé!  Really missing the chip? Try making thinly cut sweet potatoes as the base to make sweet potato nachos or toast some corn taco shells which ingredients don't include added fats. Check out this how to cook sweet potato nachos with the kids. They're delicious!
Candy Bars
It's inevitable that your kids will probably want to eat candy bars. Although a protein or granola bar might seem like a better option, some aren't. If you do decide to choose a bar, look for ones with a few whole ingredients, such as Rx bars for kids or low sugar KIND bars. Ideally, search for brands that are lower in added sugar and higher in fiber (at least 3 grams) and protein (at least 4 grams).
Chocolate
You've probably heard a thing or two about the benefits of chocolate. Now, we're not talking about your typical milk chocolate with a big sugar load, but real chocolate. In fact, dark chocolate is full of antioxidants and plant power compounds. However, the darker the chocolate, the more bitter it will taste. To let your kids enjoy the health perks while still feeling like they're satisfying that sweet tooth, try sprinkling cacao nibs over other healthy snacks. They're delish over plain low-fat yogurt, oatmeal, or on top of bananas rolled in nut butter, which will also provide satisfying fiber and protein!
Potato Chips
Sometimes your kid craves a savory crunch, and potato chips feel like the perfect solution. Why not DIY at snack time? Homemade vegetable chips can be a tasty way to add a little crisp without all the processed junk found in the brands at the supermarket. Just thinly slice your favorite veggies—anything from carrots to parsnips to beets to potatoes will work—and spray them with cooking spray. Sprinkle with your favorite herbs and spices, or even some nutritional yeast for a cheesy flavor. Throw them in the oven at 375 degrees F for 10-15 minutes (some vegetables may take a little longer) and enjoy! Polenta chips are also a delicious alternative to potato chips. Check out this wholesome and tasty polenta Super Crew recipe the whole family will love.
Try these other simple swaps:
Use natural peanut butter instead of the more traditional sugar-sweetened varieties.
Choose all fruit and no-added-sugar jellies and jams.
When choosing crackers, pasta, breads, and other similar foods, opt for whole

–

grains over refined ones. If you're having trouble getting your children to eat the whole

–

grain versions, make a slow transition. For example, mix half white rice with short grain brown rice or choose wheat bread (typically a mixture of white and whole wheat grains) instead of going right to 100% whole wheat.
Mix plain low-fat or fat-free Greek yogurt with your own defrosted frozen fruit instead of buying sugary, flavored yogurts.