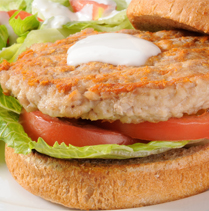 Competitive foods (foods that compete with healthy foods) can also be tackled in
the home. Here is a list of some popular summer foods and their better choice substitutes:
Swap the hot dog for nitrate-free turkey dogs.
Why? High levels of dietary nitrates have been shown to cause cancer.
Swap the hamburgers for a 95% lean turkey burger or meatless garden burger.
Why? Lean turkey meat is lower in saturated fat and cholesterol, making it a better choice for your heart. Garden burgers are meatless and contain no cholesterol.
Swap the potato salad for homemade sweet potato salad. (Combine boiled and diced sweet potatoes with olive oil, green onions, cumin, and a dish of salt and pepper).
Why? White potato salad is made with mayonnaise and contains high amounts of saturated fat and little amounts of nutrients. Sweet potatoes are rich in Vitamin A, and swapping out the mayonnaise for olive oil is a heart-healthy alternative.
Swap the corn bread for fresh corn on the cob.
Why? Corn bread is loaded with sugar and has very little nutrition.  In comparison, fresh corn is sweet and full of nutrition goodness.
Swap the cookies for fruit salad.
Why? Cookies are loaded with trans-fats to help increase their storage life; trans-fats have been linked to heart disease. Fruit salad is fat-free and full of healthy nutrients!
Swap the ice cream sandwich for a Fudgsicle.
Why? An ice cream bar has 170 calories and 3.5 grams of saturated fat, compared to a Fudgsicle that has only 100 calories and 1 gram of saturated fat.