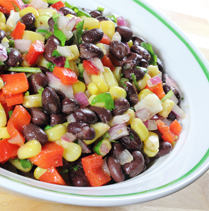 Fiber is an important part of good nutrition for your kids! Including food sources of fiber in each of your kids' meals and snacks is easy! Here are foods high in fiber!
Foods high in fiber are all around us!
They include beans or legumes, whole grains, fruits, and vegetables. Recommended servings for these foods are:
Two to three 1/2 cup servings of legumes (beans and lentils) per week
At least three servings of whole grains per day
At least five 1/2 cup servings of fruits and vegetables per day – two servings of fruit and three servings of vegetables. Five to nine servings per day are the ultimate goal.
When eating fruit and vegetables, try to leave the skin on whenever possible. This is where the fiber is typically found along with many other disease-fighting nutrients. Keep in mind fruit juices are often high in calories and sugar and low in fiber. Children should have no more than four to six oz (1/2 cup to 3/4 cup) per day. Focus on fresh fruits and vegetables whenever possible. See how much fiber your children need with this quick guide.
What To Look For When Shopping For High Fiber Foods:
Read the food labels and choose products high in fiber.
Foods that are considered to be high in fiber have at least 5 grams of fiber per serving.
Foods that are considered to be a good source of fiber have 2.5-4 grams of fiber per serving.
When shopping for whole grains, look for the first ingredient on the ingredient list to have the word "whole" in it such as "whole-wheat flour". If it says
enriched or bleached, it is not a whole grain and will not be as high in fiber.
Here are some examples of whole grains:
Being brown doesn't make it a whole grain! Make sure to read the label. Check out our fun printable activities on whole grains to enjoy with the kids!
Barley
Bulgur
Millet
Oats
Wheat berries
Whole corn (hominy)
Whole barley (not pearl barley)
Whole rye
Whole-wheat (pasta, bread, tortillas)
Quinoa
Fruits, vegetables and whole-grain cereals are good fiber choices for young children. As children grow, parents can add beans, nuts* and more whole-grain products to their meals. It is important to introduce children to these types of high-fiber foods while they are young to help them learn healthy eating habits for the rest of their lives. As long as your child is meeting the recommendations for whole grains, fruits, vegetables, and beans, he or she will be getting plenty of fiber.
Fiber also helps with regular bowls. If your child is constipated boosting fiber along with water can help. See our Poop on Scoop Guide for more guidance.