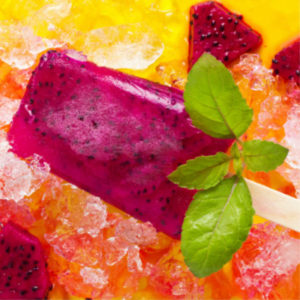 Creating tasty popsicles is easy, fun, and healthy for kids! Here are some delicious mixes to try with the kids this summer!
Need some inspiration on how to keep cool, stay hydrated, and squeeze in some extra nutrition during the hot summer months? Look no further! Check out these delicious popsicle combinations and never get the store-bought version again!
Healthy Popsicles Recipes Made With Natural Ingredients:
Vanilla yogurt and fruit
Combine equal parts in a blender and puree!
Parfait pops
These work best with Dixie cups. Alternatively, layer yogurt, granola, and chopped fruit into the cup, pop in a popsicle stick and freeze.
Tart raspberry
1 cup of fresh raspberries, 1 cup of plain yogurt, a few tablespoons (tbsp) of honey, and a squeeze of lemon make for a deliciously tart treat.
Kiwi lime
In a blender, puree ¼ cup honey, 2 cups of water, 6 kiwis, and 1/3 fresh lime juice—add more or less honey depending on how tart you like it! You can use lemons to make kiwi lemonade pops!
Orange smoothie
4 cups of Greek yogurt, 1 cup thawed orange juice concentrate, 2 medium ripe bananas, 1 tbsp. fresh lime juice. You can add in the zest from the lime for some extra zing.
Pineapple orange banana pops
2 cups pineapple (fresh or frozen, just make sure they're chopped!), 3 medium ripe bananas, 2 oranges (peeled—try to get as much of the white skin off as possible). Pop into a blender and pulse, using a little bit of milk (if you want it creamy) or water to help it along.
Strawberry lassi pops
Blend together ¼ cup buttermilk, 1 cup strawberries, ¼ cup plain yogurt, 3 tbsp. of honey, 1 tbsp. of sugar, and a pinch of salt.
Strawberry watermelon kiwi
Combine together equal parts diced kiwi, diced watermelon, diced strawberries, and diced pineapple. Fill up a popsicle cup with the mixture and then fill the space in each popsicle cup with 100% orange juice (pineapple juice works great too!)
Spicy watermelon pops
This one is a zinger! Puree about 3 cups of watermelon with 2 small tomatoes (tomatoes should be soft and ripe). Make sure the blend is smooth. Thinly slice 2 jalapeno peppers and mix into the puree. Let the mixture sit in the fridge for about an hour—if you want the pops to be extra spicy, keep the sliced peppers in. Otherwise, strain them out (you'll also be straining out some of the watermelon-tomato mixtures, but it's ok—the flavor won't be impacted, though the texture of the pop may change.)
Tropical coconut pops
Blend 1 cup coconut water, 1 cup fresh mango (or pineapple—or both!), and 2 tablespoons of honey.
The great thing about popsicle recipes is that they're so easy to adjust and adapt! Tweak these to work for you—maybe you like yours sweeter or more tart. Don't be afraid to experiment with the kids!