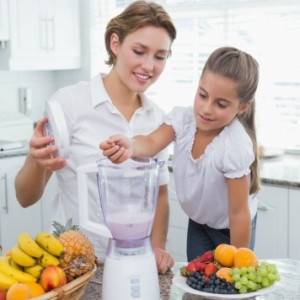 It's time for summer camp and summer school! Use these tips to make sure that your kids actually eat the nutritious lunch you pack for them.
Dayle Hayes from "School Meal Rocks" says: "It's not nutrition if your kids don't eat it." So here are a few steps to keep it simple while making sure your child's bagged lunch or purchased lunch is readily consumed.
Get your kids involved.
Ask them at dinner about their favorite foods to pack for lunch, how much time they get to eat lunch at school or camp and who they sit with. Have your children help pack lunch the night before. The more you get them involved, the more likely they will eat the food! Plus it makes the morning more relaxing while trying to get out the door on time.
Review the school menu with your child.
So many schools are offering healthier, tastier options, you may be able to alternate between packing and buying without compromising their nutrition.
Consider the time.
If they only have 10 minutes for lunch by the time they sit down, then you need to think of quick, healthy foods like fruit smoothies, whole grain crackers and string cheese. Make enough smoothies for a couple days –then just drop in ice cubes in the thermos the next morning.
Educate.
Use packing lunch as an opportunity to explain the food groups and the MyPlate principle. Draw a picture showing that half the plate is fruit and vegetable, ¼ is whole grains and ¼ is lean protein. So if there isn't a veggie at lunch, encourage them to snack on some after school and to include them at dinner.
Eat the rainbow.
Try to include at least 2 colors of plant-based foods at lunch. For example orange carrots and frozen pineapple tidbits, red sugar plum tomatoes and green grapes, or black bean dip and frozen mango chunks. Not only does this boost the nutritional quality, but it also makes the meal more colorful and exciting!
Purchase a new lunchbox.
Invest in a fun new lunch box or soft lunch tote, an ice pack, and some food containers your kids help pick out. Sometimes younger kids have to see the food through the container to be interested in opening it, so clear lunch food containers may increase the odds of it being opened and eaten. Colorful Bento boxes are also popular with kids. Check out packing lunch the bento box way.
Add sensational labels.
If you have an extra minute, label a container or two with little post-it note, like "magnificent mango" or "tasty hummus" –it may help your lunchbox come home empty. Or leave your child a little note or quote.
Keep it interesting by diversifying.
When offering variety, keep portion sizes small and colorful. For example, a sprig of purple grapes, 4 sticks of carrots and celery, a small container of low-fat ranch dressing. Or you could try 5 pieces of sliced apples sprinkled with cinnamon, a small turkey and cheese wrap and a small square of black bean brownie with an 8oz carton of milk. With lots of small options, you are increasing the chances that your child will get a balanced meal at lunch.
Add fun shapes!
Try using sandwich cutters or cookie cutters to make exciting shapes. They might really enjoy a car sandwich or star pineapple pieces. Shaping foods make meals instantly more appealing, but doesn't really add much prep time! If time permits, let your child be a part of this fun step.
Kids are easily distracted by conversations and observations, so grab their attention with a fun colorful bagged lunch. Take the stress out of feeding your kids lunch this summer by trying these tips!