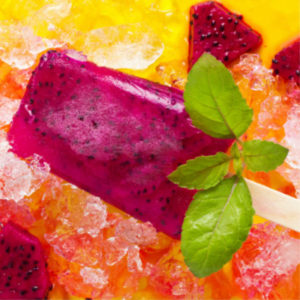 Keep cool all year round by transforming nutritious, color-filled ingredients into frozen treats with these homemade popsicles for kids.
Are you looking for a snack that offers a POP of wholesome nutrition? Check out these melt-in-your-mouth popsicles that parents can feel confident serving!
Healthy Homemade Popsicles for Kids Made with Natural Ingredients
Making healthy homemade popsicles is easy-peasy lemon (or any other fruit) squeezy. For food-spiration, check out these must-try flavor combinations. Or get your kiddo's creative juices flowing by experimenting with colorful ingredients to create their own irresistible treat. Here are 10 easy popsicle flavors you can make:
Fruit and Vanilla Yogurt Popsicles
Parfait Pops
Tart Raspberry Popsicles
Kiwi Lime Popsicles
Orange Smoothie Pops
Pineapple Orange Banana Pops
Strawberry Lassi Pops
Strawberry Watermelon Kiwi Popsicles
Spicy Watermelon Pops
Homemade tropical coconut
1. Fruit and Vanilla Yogurt Popsicles
It's a cream-filled dream for your tastebuds! Create easy homemade yogurt popsicles by blending equal parts of your favorite vanilla yogurt and fruit. Puree the ingredients and then simply pour the mixture into some fun molds.
2. Parfait Pops
It's best to go old school with these healthy homemade popsicles. We're talking paper cups!
First, layer each cup with yogurt, granola, and chopped fruit.
Then, secure a popsicle stick and pop it into the freezer.
Your kiddos will love making their way through each row of colorful ingredients.
3. Tart Raspberry Popsicles
It's a berry sweet treat that your kids will love to eat.
In a blender, combine 1 cup of fresh raspberries, 1 cup of plain yogurt, a squeeze of lemon, and honey.
For a spark of tartness, add more lemon juice!
Pour into molds or paper cups.
4. Kiwi Lime Popsicles
This recipe is sub-lime!
In a blender, puree ¼ cup honey, 2 cups of water, 6 kiwis, and 1/3 fresh lime juice.
For kiddos who love some sour power, use less honey and embrace the natural tartness.
Don't have limes? No worries! You can also use lemons to make kiwi lemonade pops!
5. Orange Smoothie Pops
Create a healthy homemade popsicle that embodies the nostalgic flavors of a classic orange creamsicle.
Simply blend 4 cups of Greek yogurt, 1 cup thawed orange juice concentrate, 2 medium ripe bananas, and 1 tbsp fresh lime juice.
For an extra zing, add some zest!
Pour into popsicle molds or paper cups.
6. Pineapple Orange Banana Pops
Add a tropical flair to snack time by blending 2 cups chopped pineapple, 3 medium ripe bananas, 2 oranges, and water.
To make your healthy homemade popsicle extra creamy, substitute the water for a splash of milk.
Pour into molds or paper cups.
7. Strawberry Lassi Pops
It's no wonder the Beatles sang about "strawberry fields forever." This berry-licious blend is hard to resist!
Create this tasty pop by blending ¼ cup buttermilk, 1 cup strawberries, ¼ cup plain yogurt, 3 tbsp honey, 1 tbsp sugar, and a pinch of salt.
Pour into popsicle molds or paper cups.
8. Strawberry Watermelon Kiwi Popsciles
Enjoy this classic flavor for a refreshing homemade healthy popsicle.
Combine equal parts of diced kiwi, watermelon, strawberries, and pineapple.
Then, fill the popsicle molds, leaving room for a 100% fruit juice topper (We love orange or pineapple juice).
9. Spicy Watermelon Pops
These homemade watermelon popsicles are a zinger!
Puree 3 cups watermelon and 2 small, ripened tomatoes.
Then, add 2 thinly sliced jalapeño peppers into the mixture.
Allow it to sit in the fridge for about an hour to kick up the heat.
Then, strain out the peppers and pulp to pour into your popsicle molds.
For those who enjoy an extra spice in life, keep the sliced peppers in the popsicle mixture.
10. Homemade Tropical Coconut Popsicles
Your kiddo will go loco for these coco pops! This homemade coconut popsicle recipe has a taste that will make tastebuds quake!
Combine 1 cup coconut water, 1 cup fresh mango (or pineapple—or both!), and 2 tablespoons of honey.
Mix in unsweetened coconut flakes for extra flavor and texture.
Pour into popsicle molds.
Healthy homemade popsicles for kids are an easy yet fun way to get youngsters in the kitchen. Include a variety of ingredients for your kiddos to taste as they create their next culinary masterpiece. They may find a unique flavor combination that gets them excited about a new food! For more ways to make good nutrition fun, check out the Super Crew books!