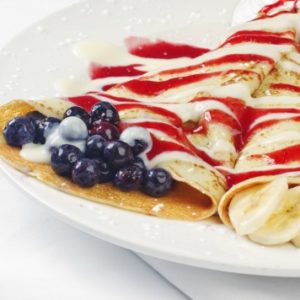 Check out these tasty colorful dinners your kids will love!
A pop of color from fruits and vegetables can liven up the dinner plate and pack a nutritious punch. Before eating, ask yourself, how many colors are on my plate? Aim to include at least 2 colors, a duet, with every meal and snack.
Before you know it, the food on your plates will be transformed into vibrant, edible works of art that can appeal to the whole family. Here are a few recipe suggestions to get you started on creating "color appeal" at the dinner table. The following recipes make about 4 servings and allow for small amounts of leftovers.
Color Duet Dessert: Blueberry Coulis with Apples
Ingredients:
1 (1 lb.) bag frozen blueberries
1 tablespoon sugar (Try Demerara, Turbinado or Muscavado sugar for a distinct flavor)
½ teaspoon cinnamon
For serving: sliced or halved apples, raw or baked (Granny Smith or Jonathan)*
Directions:
Simmer the frozen blueberries with the sugar for 10 minutes. Stir in the cinnamon.
Serving suggestions:
Cut apples in slices and serve with blueberry coulis for dipping.
Cut apples in half, take out the core, and fill each half with a heaping spoon of blueberry coulis.
Spoon blueberry coulis over warm baked apple slices or halves.
Use leftover blueberry coulis as a topping for weekend waffles, French toast, crepes, or pancakes. Or try stirring leftover coulis into plain yogurt! Make it fun and festive.
Play the colors: Try frozen red raspberries or cherries instead of blueberries. Swap the apples for fresh yellow peaches or nectarines during the summer!
*Apples to Apples: The two varieties of apples suggested above are both on the tart side, and they pair well with the acidic undertones of the blueberries. These varieties of apple are also good for baking.
Apples with flesh suitable for baking (also good raw): Winesap, Jonagold, Granny Smith, Jonathan, Golden Delicious
Apple's not suitable for baking: Red Delicious, McIntosh (if using in pies, always mix with a baking-suitable apple, such as Golden Delicious)
Note: Granny Smith is a long-term storage apple and can be kept in the fridge for a long time without going bad. Buy a bunch so that you always have some kind of fresh fruit on hand.
Color Duet Pasta: Fantastic Fettuccine!
Ingredients:
1 lb. fettuccine pasta + 1/3 cup of the pasta cooking water
2 tablespoons olive oil
3 cloves garlic, minced
1 lb. asparagus (fresh or frozen), chopped in 1-inch pieces
1 (16 oz.) can garbanzo beans, drained and rinsed
1 large jar (24 oz.) marinara sauce
Optional: basil (dry or fresh); Parmesan cheese; black pepper
Directions:
Bring a large pot of salted water to a boil. Add the pasta and cook according to package directions. Drain, reserving 1/3 cup of the cooking water.
Meanwhile, heat olive oil in a large skillet over medium heat. Add the chopped garlic and sauté in for 1 minute. Add the chopped asparagus and sauté for another minute. Add the garbanzo beans and the reserved pasta cooking water and simmer for 5-10 minutes. Add the marinara sauce.
Mix the pasta with the sauce and serve with basil, Parmesan cheese, and black pepper. The green asparagus stands out in the red sauce, while the beige garbanzo and pasta make up the background color.
Play the colors: Try spring peas, spinach, or kale instead of asparagus. Look for fresh tomatoes in the summer instead of canned tomatoes. Instead of Parmesan cheese, try goat cheese. Think of all the pasta possibilities! Have fun aiming for 4 colors a day with the Super Crew Color Tracker!
Color Duet Soup: Double Veggie and Grain Soup
Ingredients:
1 cup carrot pieces
1 cup broccoli pieces
2 teaspoons olive oil
4 cups water or low-sodium broth (veggie/ chicken/ beef)
½ cup leftover cooked grains (or uncooked small soup noodles)
Add to taste: salt and pepper
To finish: chopped parsley and lemon wedges
Directions:
Pulse the carrot and broccoli pieces in the food processor until they are finely chopped (you can also chop by hand).
Heat the olive oil in a large pot over medium heat.
Add the chopped veggies and sauté for about 2 minutes.
Pour in the broth and let the mix come to a boil.
Once boiling, add the grains, stir, reduce heat to a simmer, and let the soup simmer for another 10-15 minutes.
Add the salt and pepper to taste.
Ladle the soup into bowls and sprinkle with chopped parsley. Pass around lemon wedges and allow each person to add the lemon juice "to taste" in their bowl of soup. The flecks of orange carrots and green broccoli add a nice brightness to the soup!
Play the colors: Use any two-color mix for your "veggie shreds," such as yellow zucchini and green asparagus or green zucchini and orange sweet potatoes. Or, try adding in some colorful orange spices like cumin and turmeric. Create your own color palette with your favorite veggie combinations.