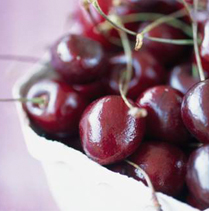 Learn about the benefits of cherries, how to choose the best ones, and ways to include them in your snacks and meals.
Cherries are delicious little red balls that contain a good source of fiber, vitamin C, and the building blocks of muscle known as amino acids. There are many different types of amino acids; cherries are rich in one called tryptophan. Tryptophan helps in the creation of a hormone called melatonin, which helps you sleep through the night. Eating cherries after dinner can provide a sweet dessert and guarantee sweet dreams!
Cherries also contain anthocyanins, a pigment that gives cherries their bright color. Anthocyanins hold high antioxidant and anti-inflammatory powers because of their ability to hunt for body toxins called free radicals. Getting rid of free radicals is shown to lower the risk of cancer, heart disease, and stroke. Studies with Bing cherries showed the delicious fruit could lower arthritic inflammation (even with people who have painful gout attacks) because of its role in the anti-inflammatory response. In fact, cherries hold a higher anti-inflammatory level than aspirin, a common over-the-counter anti-inflammatory drug. The next time your joints feel achy, trade the drug counter for the supermarket counter!
What Types Of Cherries Should I Eat?
Sour and Bing (sweet) cherries contain high levels of anthocyanins.
Fresh, frozen, dried and as juice – all types of cherries contain health benefits.
If choosing cherry juice, try to choose a brand that contains sweet Bing cherries and avoid the brands with added sugars or mixed with other juices.
Frozen cherries tossed into a fruit smoothie taste great, cost less and can be enjoyed all year round.
How Much Do I Need To Eat?
In order to reap the health benefits, a 1-cup serving is recommended most days of the week.  With just 90 calories, you can't lose!
What are Some Tasty Cherry Treats?
Fresh cherries
Frozen cherries can be tossed into a fruit smoothie or blended with a small amount of vanilla yogurt to create cherry sorbet.
Frozen cherries can be heated in the microwave and added to plain yogurt with cinnamon and walnuts for a sweet breakfast.
Cherries (pitted) with yogurt and granola
Cherry pie made with whole wheat crust (trans-fat free)
Easy cherry fruit whip– a delicious sorbet substitute.
How do you choose cherries?
You want to make sure they are deep red in color and firm to the touch
When possible, choose organic because they require higher amounts of pesticides than other fruits
Find out the health benefits of cranberries, kale, and chia seeds, too!