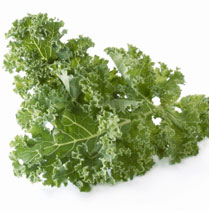 Kale is a dark leafy green vegetable that contains lots of healthy nutrients.
Why is Kale so great?
Kale has a high amount of good nutrients including Vitamin A, Vitamin C, calcium and fiber.
Vitamin A is a fat-soluble vitamin that contains carotenoids, plays a role in cell development and aids in immunity (1). Carotenoids are responsible for the vegetable's vibrant green color and attract insects for pollination. Kale contains high levels of lutein and zeaxanthin, two carotenoids that help with eyesight (2). Adequate Vitamin A intake has been proven to protect against blindness (2). Eating kale can help sharpen your vision!
When Vitamin A deficiency occurs, the body has a hard time creating different cells that produce a barrier to infection. A pediatric study looking at Vitamin A supplementation (450 g/day) showed that children who were taking Vitamin A supplements had lower levels of respiratory infections (3).
Vitamin C has been widely recognized for its part in immunity; people take Vitamin C pills when they start to feel sick to help shorten the length of an illness. What you may not know is that Vitamin C plays a role in scavenging for toxins in the body, giving it antioxidant powers (4).
Antioxidants are also present in kale. It contains isothiocyanates, a phytochemical shown to have antioxidant powers and protect against various types of cancers and coronary artery disease (4).
Calcium can be found in dark leafy green vegetables, including Kale. Calcium is important for bone health, especially during childhood when bone mass is being created. Though it is not as rich in calcium as dairy products, kale can contribute to daily calcium intake for strong healthy bones.
Soluble fiber is important in the diet and benefits the body by helping bind food in the gut to leave the body, taking toxins and cholesterol along with it (5). Reducing cholesterol can lower the risk of heart disease and stroke.
Kale is very healthy and a wonderful vegetable to integrate into your diet. Try kale chopped up and cooked in your favorite soups, as kale chips, stir-fry, garnish or veggie slaw salad. It can taste bitter, so be creative and try this recipe from allrecipes.com below for a yummy introduction!
Sweet Pepper Pasta Tossed with Kale
Ingredients
1 (8 ounce) package uncooked bow tie pasta
1 tablespoon olive oil
1 medium red bell pepper, chopped
1 cup roughly chopped kale
1 medium yellow bell pepper, chopped
1 pinch dried basil
1 pinch ground cayenne pepper
8 oz feta cheese, crumbled
salt and ground black pepper to taste
4 cloves garlic, chopped
Directions
Bring a large pot of lightly salted water to a boil. Add pasta and cook for 8 to 10 minutes or until al dente; drain. Heat oil in a skillet over medium heat. Stir in red pepper, yellow pepper, kale and garlic. Season vegetables with basil, cayenne pepper, salt and black pepper. Cook until vegetables are tender. In a large bowl, toss cooked pasta with skillet mixture. Sprinkle with feta cheese and serve warm.
(Source: https://allrecipes.com/recipe/sweet-pepper-pasta-toss-with-kale/detail.aspx)
Curious how kale stacks up to spinach? Find out here!