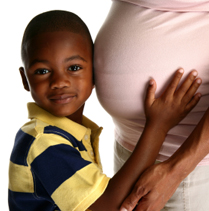 Pregnancy is a time when a woman needs more calories, but this is due to the extra protein, calcium, and iron that are needed during pregnancy.
Many women use pregnancy as an excuse to "eat for two". Careful planning ensures both mom & baby get all their needed nutrients. A pregnant woman will quickly see that if she starts eating for two adults, her weight gain during pregnancy may skyrocket. Remember, always follow the advice of your personal medical provider for weight gain guidelines during pregnancy. Keep your weight gain moderate to prevent having more weight to lose after delivery, and prevent you from carrying that baby weight when your baby starts school! Read Maternal Weight Gain During Pregnancy for more tips on eating during pregnancy.
Here are some examples of easy, nutrient-dense meals:
Triscuits or other whole-wheat crackers with snack pack of chunk light tuna mixed with low-fat mayo and onions (see Safe Fish to Consume During Pregnancy and Nursing). Try carrot & bell pepper strips on the side for extra crunch. Add a cheese stick and yogurt for bone building calcium for you & the baby.
Homemade trail mix with mixed nuts, dried fruits such as apricots (high in iron), raisins, dried cranberries & blueberries, whole grain cereal such as Wheat Chex, and popcorn for extra fiber. Popcorn sprinkled Parmesan adds lots of flavor with out too many added calories. You can make this ahead of time and keep with you for an easy, nutritious snack.
Fresh fruit with yogurt, topped with low-fat granola or high fiber cereal such as Fiber One. Vary your fruits and cereals to prevent boredom.
Veggie or Soy burgers (try them from the frozen food section of the supermarket) topped with 2 ounces cheddar cheese, spinach or another dark leafy green, sliced tomatoes, and onions on a whole-wheat bun. Microwave a sweet potato to go with it and top it with cinnamon and a handful of walnuts for another healthy dose of omega 3 fatty acids.
Mix up a salad of mixed greens, such as iron rich-spinach, garbanzo beans, carrots, tomatoes, a handful of high fiber nuts, and leftover chicken breast cut into strips. Instead of croutons top with your favorite nuts – sunflower seeds, walnuts, cashews, almonds, etc. Top with olive oil & vinegar. Remember to avoid soft unpasteurized cheeses such as feta, brie, bleu, camembert and Mexican style soft cheeses during pregnancy.
For even more easy meal ideas, visit my blog: Melissa's Healthy Living!