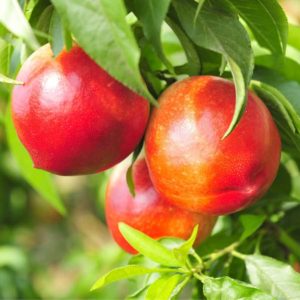 Learn about nectarine benefits and how to include this tasty fruit in your family's diet.
Did you know that California grows over 95% of the nectarines produced in the United States? They are generally available from April to late August at the market, making summer the perfect time to enjoy a juicy nectarine. While this sweet fruit differs slightly from a peach, it equally offers tons of health and nutritional benefits. This summer, get creative in the kitchen and incorporate nectarines into any meal of the day, including sweet treats!
What is a nectarine?
Nectarines are similar to peaches, both originating in China more than 2000 years ago, and cultivated in ancient Persia, Greece, and Rome. They were grown in Great Britain in the late 16th or early 17th centuries and were introduced to America by the Spanish. A nectarine tree can live for 40 years and grow up to 30 feet high, although nectarine producers maintain them at 12 feet for an easier harvest. Today, there are more than 100 varieties of nectarines, including Freestone or Clingstone varieties. The Freestone types separate from the pit easily, and the flesh of the Clingstone type clings to the pit.
Nectarine vs. Peach
Nectarines: peaches without the fuzz? Well, not exactly. Nectarines and peaches come from the same plant species, the Prunus persica, but the nectarine is of a different variety. Nectarines get their characteristically smooth skin from the expression of a recessive allele. (1) They are also smaller in size than peaches and have a smooth golden yellow exterior with shades of red. The yellow flesh may often have a pink tinge, and they have a distinct aroma and more pronounced flavor than the peach.
Nectarine Nutrition
Talk about delicious and nutritious! Nectarines are low in calories, with only about 60 calories in one medium-sized fruit. A medium nectarine also provides 2 grams of fiber, which contributes to digestive health and overall feelings of fullness. Not to mention, they are also a good source of vitamins C, A, and beta carotene. (2) These nutrients contribute to immunity, organ function, skin health, vision, and more. This is why there are so many nectarine benefits.
Nectarine Benefits
Antioxidants and phytonutrients: Nectarines get most of their antioxidant punch from polyphenols, which help protect us from degenerative diseases. Nectarines also contain antioxidants in the form of vitamin C and carotenoids. (3) According to one study, nectarines had the highest antioxidant activity compared to apricots, sweet cherries, flat peaches, regular peaches, and plums! (4)
Fiber: Nectarines contribute to daily fiber intake in the form of soluble and insoluble fiber. Both of which can improve bowel regularity, improve cholesterol levels, and overall digestive health. Diets high in fiber also give you long-lasting energy to help fuel your day. Not to mention, they help keep you both full and satisfied. Read more about soluble and insoluble fiber.
Buying and Storing Nectarines
Try these tips for buying and storing the fruit for optimal nectarine benefits.
Look for fruit with no blemishes on the skin. Avoid extremely hard or dull-colored fruits and instead choose nectarines that are barely soft to the touch.
If your nectarines are under-ripe, allow them to sit on the counter for 2-3 days to ripen. But don't stack them as they can go from good to moldy, when under pressure. In a time crunch? No worries! Put the nectarines in a paper bag, which will encourage them to ripen more quickly.
Handle with care. This delicate fruit tends to bruise more easily than peaches.
Avoid fruit that is too soft, wrinkled, or has punctured skin.
Once ripe, store ripe nectarines in a plastic bag in the coldest part of the fridge. They will generally keep for 5 days.
When possible, opt for organic nectarines as they often have higher pesticide levels, see "organic food products." When organic isn't possible, try your local farmer's market, which may have additional health benefits.
How to Eat Nectarines
The name nectarine comes from "nectar" or what the Greeks called food of the gods. No wonder this fruit tastes like a little piece of heaven. Nectarines can be eaten fresh, sliced, as a pie filling, or in any recipe that calls for peaches.
Try some sliced in your breakfast cereal or Greek yogurt, with cinnamon and walnuts.
When nectarines are in season, buy them in bulk and freeze them for later use. Then, you can add to smoothies throughout the year for an extra hit of sweetness and nutrients!
They are also scrumptious when grilled alongside pork or poultry. Simply halve the nectarine and remove the pit (freestone varieties work best for this). Brush open the side of fruit lightly with oil and place it on a hot grill. Grill them for 15 minutes, or until tender and golden. Serve the grilled nectarines as a side or garnish to your favorite protein dish.
They're so delicious baked in the oven! Slice the nectarines in half, and then remove the pit. Make a sweet dessert by sprinkling nutmeg, cinnamon, and a drizzle of honey. Bake them in the oven at 200F for approximately 15-20 minutes. Once ready, serve them warm and topped with non-fat plain Greek yogurt.
Toss them chopped in a summer salad combined with arugula, walnuts, and goat cheese for a sweet yet savory dish.
Turn fresh or frozen nectarines into a tasty jam for yogurts, oatmeal, whole grain toast, and more.
Make a quick and easy nectarine sorbet by blending frozen nectarines with a dash of honey.