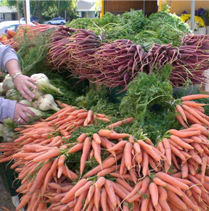 Summertime is here and for many communities that means that farmer's markets are in full force!
Farmer's markets typically are open one day per week and provide seasonal locally grown produce. Depending on the size of the market, some will also sell meats, seafood, eggs, dairy, and grains, all of which are locally-sourced. Shopping at farmer's markets and buying locally is good for our health, good for our community of farmers, and for the environment. It is a win-win situation for all involved. Don't hesitate- visit your local farmer's market today! For a list of the farmer's markets closest to you, visit Local Harvest. Read below for more reasons to shop at your local farmer's market. This post contains an affiliate link. As an Amazon Associate, we earn from qualifying purchases. 
Nutrient-packed produce.
The longer the time for food to travel to your plate, the longer the time between harvest and when it is consumed, which means less fresh produce with fewer nutrients. Farmer's markets sell local produce which means it traveled small distances and was just harvested to provide you with the most vitamins and minerals for your health.
Buying seasonal produce won't break the bank.
When you buy produce that is in season, the food won't need to be shipped in from far away places, and that a decrease in travel time is reflected in your lower food bill. All produce found at farmer's markets is sure to be in season!
Local food from your farmer's market is bound to taste better!
Fresh food tastes better when eaten shortly after harvest. If your kids aren't the biggest fans of veggies, have them try some local varieties! You might be surprised by their reactions.
Shop outside!
Many farmer's markets are set up outdoors so you can enjoy the beautiful weather while shopping for your food. It beats being stuck inside a supermarket for an hour! Just make sure to bring your own tote bag and reusable produce bags – which also come in handy for packing kids toys! We like these mesh durable product bags that come in different sizes.
Purchasing food from the farmer's market is good for the environment.
Cutting down on food processing, packaging, and travel will reduce the number of fossil fuels burned. A study conducted in Iowa found that increasing the local produce for Iowa by 10% would save 280,000-346,000 gallons of fuel and reduce CO2 emissions by 6.7-7.9 million pounds (1). Bringing your own reusable grocery totes will score you extra points for being environmentally friendly.
Help support local farmers and your community!
Purchasing from farmer's markets helps keep farmers in business and contributes to the local economy.
Variety is the spice of life.
Many farmer's markets sell meats, seafood, dairy, eggs, and bread. Knowing who your farmer allows you to know how the animals are treated (are they free-range, wild-caught?) and what they are fed (grass-fed, vegetarian-fed?).
Look for extra goodies!
Sometimes markets will sell all-natural body products, locally sourced chocolates, and ice cream, and homemade baked goods.
Make it a family trip!
Farmer's markets will often hold special events with fun activities for kids such as face painting, music, and dancing. Bringing your kids along is a great opportunity to sneak in a little education about nutrition and get them more interested in the food they eat.
Feel-good decision.
Knowing you made a choice that will benefit your health, farmers, your community, and the environment will keep your spirits high.