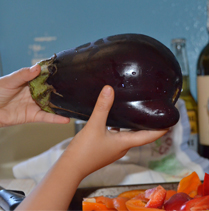 Learn new ways to use fruits and veggies in your meals and snacks that your children will enjoy!
Fruits and vegetables! We need more of 'em and so do our kids. Yeah yeah, they're full of vitamins, minerals, and fiber, you already know. But did you know that eating lots of fruits and veggies can also help keep weight under control? Plus they're packed with phytonutrients that can fight off chronic diseases. And if that's not enough, fruits and veggies help our kids grow, perform better in school, and stay energetic so they can get out and be kids!
Sold yet? You're probably saying, "Okay. Just how do you expect me to get my kids to eat more?" I hear ya! To start, a good rule of thumb is to build every meal and snack around fruits and vegetables. Try some of these tips and techniques to get you on track.
Fruit and Veggie Tips
First, ask your kids what their favorite fruits and vegetables are and how they like them prepared.
Then take your kids grocery shopping with you and have them pick out new fresh, canned or frozen fruit and veggies to try out.
Make mealtime fun! Let your kids help you prepare fruits and veggies at home. They can tear up broccoli, wash vegetables, toss salad and much more.
If your kid is picky, try veggies in different textures.
Kids like to have control. Put out small bowls of raisins, baby carrots, cherry tomatoes, crunchy noodles, chopped fruit, etc. and let them make their own salads.
Pick a dressing they will like. Children tend to go more towards the sweeter ones like honey mustard, rather than a vinaigrette.
Try our kids cooking activities, like these polenta chips or avocado pudding.
They can make their own wraps or tacos too, loaded with beans, tomatoes, corn, cucumber, avocado, tomatoes, and so on. Create a mini assembly line
with kids up front taking the lead.
Stuff a baked potato with salsa and guacamole.
Try peanut butter and banana instead of PB&J, Yum!
Serve chopped veggies (like baby carrots, celery stalks, Jicama sticks, asparagus spears, broccoli, and cauliflower ) with salsa, low-fat ranch dressing, flavored hummus, peanut butter, or guacamole.
Dish up boiled edamame in their shell as a snack. Edamame is soybeans in the pod. They're such a fun food as they pop out of the shell so easily. You can buy them frozen or fresh.
Add pureed or finely chopped veggies to soups, sauces, and casseroles, give veggie noodles a try or even go for veggie tater tots.
Start the day with a fresh fruit smoothie by blending 1/2 banana, 1/2 cup frozen strawberries, 1/2 cup 1% milk, and 1/2 cup 100% fruit juice.
Have your kids make ants on a log for a snack – spread peanut butter onto celery stalks and top with raisins.
Or make elephant ears – spread peanut butter onto lettuce leaves.
Play with your food – create some easy food art projects with healthy food choices.
How many fruits and vegetables should my kid eat each day?
We should aim for at least 1-2 cups of fruit and 1-2 cups of vegetables for our kids, depending on their age. See our portion sizes of food groups by age guide to help meet your kids' needs. An apple, orange, pear, and medium banana all count as a cup. For some of the smaller fruit, about 8 strawberries, 3 small plums, and 32 grapes make a cup. Note: 1/2 cup of dried fruit counts as 1 cup. 100% fruit juice counts too, but whole fruit over juice whenever possible. Juice is high in calories and is easy to over-consume.
As for veggies, a medium potato (of course having them as French fries negates their benefit and the skin is key to getting the maximum nutrition), about 12 baby carrots, 2 large celery stalks and 2 cups salad greens are all about 1 cup. And don't forget beans and peas can count as veggies too!
For more tips on the benefits of fruits and vegetables and plant-based foods see Foods that Fight Cancer.