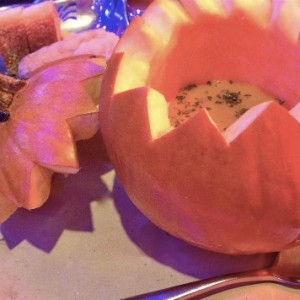 A pumpkin and apple soup recipe perfect for afternoons in the kitchen with your kids this fall!
Pumpkins make more than just great jack-o-lanterns! Your children might be surprised to learn that they can actually eat these traditional Halloween decorations, including the seeds! When you welcome pumpkin into your kitchen, you'll be happy to realize that it makes a delicious addition to your cooking repertoire all winter long. This orange-fleshed treat is loaded with vitamin A – just one cup fulfills the recommended dietary allowance for kids and adults – which promotes healthy skin, eyes, and a strong immune system. Pumpkins have many health benefits and can be easily added to pancakes, muffins and pasta dishes!
How can the kids help you?
Get your kids involved in making this comforting soup. Ask for their help in selecting the pumpkin. At home, once you have removed the top of the pumpkin, they can help scoop out and clean the seeds. Have your kids guess how many seeds are in the pumpkin, and then let them count to see who got the closest.
When toasted, the seeds make a crunchy high-protein snack. Spread the clean seeds out on a baking sheet and dry overnight, or season with your favorite spices and toast in the oven on a low temperature until golden and crunchy. Let your kids be in charge of selecting seasoning for the seeds. Sweet with cinnamon or savory with sea salt, either way, toasted pumpkin seeds are a special treat! Learn more about pumpkins and orange foods with Super Crew kid Andy.
Recipe:
This easy recipe is a weeknight favorite, and because it yields so much, it is convenient to stash in the freezer. The flavors are remarkably complex considering its simplicity, and children love the sweetness from the apples.
Servings: about 12
Ingredients
2 tablespoons olive oil
1 large onion, diced
2 tart apples, diced
4 lb sugar pumpkin or 3 (15 oz) cans unsweetened pumpkin puree
5 cups vegetable stock (can also use water or chicken stock)
4 ounces fresh goat cheese
salt and pepper to taste
Directions:
To roast the pumpkin (skip this step if using pumpkin puree):
Preheat the oven to 350 degrees.
Line 2 baking sheets with parchment paper.
Slice off the top of the pumpkin with a large, sharp knife.
Scoop out insides- clean seeds and save for roasting.
Roast whole or cut the pumpkin in a half and place face down on a baking sheet.
Roast for about 45 minutes to 1 hour, or until the skin has darkened and crinkled, and you can easily poke through it with a fork.
Let cool and use a spoon to scoop the flesh away from the skin.
Discard the skin and reserve the flesh for the recipe.
For the soup:
Heat the olive oil in a medium-sized pot over medium heat. When the oil is warm and shimmering, add the apples and onions and sauté until fragrant and soft, about 3-5 minutes.
Add the pumpkin puree and the stock. Bring to a boil.
Once boiling, lower the heat and let the mixture simmer for 10 minutes.
Turn off the heat and add the goat cheese in crumbles, mixing to combine.
Allow the soup to cool slightly, then puree the soup to desired consistency using an immersion blender or by pureeing in batches with a blender.
Season with salt and pepper to taste.
Nutrition Facts
Servings: 12
Calories: 122; Fat: 5.5 grams; Carbohydrates: 14 grams; Protein: 5 grams; Sodium: 188 milligrams; Potassium: 393 milligrams; Fiber: 2 grams
Quiz Yourself:
Pumpkin is an excellent source of?
Vitamin K
B vitamins
Vitamin A