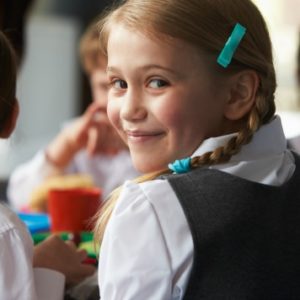 Learn how to pack healthy lunches to provide good nutrition for your kids with these meal ideas that are full of color!
Do you know that feeling when your kid comes home from daycare, camp or school again with almost all of the food they left with that morning? We've all been there! Whether it's packing for school, daycare or camp, coming up with kid-friendly nutritious lunches your child loves can feel like a small miracle. We're here to help with strategies and offer simple solutions so you can hit a home run for healthy and tasty bagged lunches!
Vary the Color
Adding different colored fruits, vegetables and legumes are great eye appeal. By adding in a mix of colors, you are truly packing a punch! Each color contains unique health benefits through phytochemicals, vitamins, and minerals. You can plan ahead to make sure the colorful foods hold well in your child's lunch box by picking up some of the following options during your next trip to the grocery store:
Veggies: snap peas, cherry tomatoes, grapes, celery sticks, jicama, baby carrots
Frozen foods: pineapple tidbits, mango chunks, peas, and corn – don't defrost, many kids love to eat them frozen like these 10 popular frozen foods!
Beans and legumes: Black beans, pinto beans and chickpeas (which all taste great with a healthy marinade or dressing!)
Balance
When packing lunches, aim to include at least 4 of the 5 food groups – dairy, fruit, grains, protein, and vegetables. Using bento boxes, mini containers, or ziplock bags can help to make sure the foods don't blend together since most kids prefer their foods separated. If you're preparing or cutting certain foods, always make more than you will use for that day to have extra snacks on hand, and for easy grab-n-go options for the rest of the week! Another trick to keep up your sleeve is to avoid food boredom by adding variety with different dressings or food pairings!
Keep it Real
Aim to choose food options that are as close to their original source as possible, which will also help your kids to identify the foods they are eating! Do your best to avoid snacks and foods with additives, dyes, and chemicals. These are commonly found in popular kids' foods, so make sure to read your food labels to double check. Do your best to keep your expectations real in the process! Kids tastes do change- their favorite meal one week could be a meal they despise the next. It's hard to imagine, but even the most adorable cookie cutter lunch or juiciest fruit will go uneaten at times. There are always solutions if you're patient and creative!
Cook Once, Pack 3 days-worth
Packing lunch 5 days a week can be stressful. When you are preparing meals, save yourself time by making enough for 3 days. If you're cooking chicken for dinner or pasta, throw in a bit more to the pot or pan and you will have lunch covered! With your creative hat on, you can use the same items many different ways. For example, chicken + pasta can also turn into chopped chicken aioli in a wrap, or a barbeque chicken sandwich on whole grain bread. Just remember to pack the bread and barbeque separately for kids to reassemble later –no one likes a soggy sandwich!
Here are some lunch ideas that require minimal preparation and can be enjoyed right out of the lunchbox with no heating required!
Meal 1: 
Pasta Primavera Salad with Roasted tomatoes, Chicken, and Baby spinach

Whole grain pasta (bowtie or pinwheel)
Tomatoes roasted with crushed garlic (canned or fresh)
Chopped chicken breast
Baby spinach
Add lemon juice and olive oil and toss everything together

Sliced kiwi
Jicama and carrot pick up sticks with homemade ranch dip. Save half of the dip for the next day! (try these tasty jicama slaws)

2 tablespoons reduced-fat or regular mayo
2 tablespoons nonfat Greek yogurt
1 tsp parmesan cheese
½ tsp garlic powder
½ tsp dried parsley
Tip: A sprinkle of parmesan cheese is a great flavor booster! To prevent parmesan cheese from spoiling in the fridge, place it in a ziplock bag and pop it in the freezer.
Meal 2: 
Bean and Cheese "Sushi Wrap"

Spread mashed black beans with a bit of lemon juice on a whole grain tortilla, sprinkle shredded mozzarella cheese, and roll into a tight log. Then cut it into slices just like sushi!

   
Orange sunshine – Peel an orange and slice it into thick circles (try this fun fruit sushi wrap too!)
Edamame or snap peas
Tip: Beans provide protein, fiber, phytochemicals, and magnesium, which are all important for maximizing kids' health potential. Switch things up from time to time and use pinto or cannellini beans.
Meal 3: 
Turkey, Cheese, and Cucumber Stackables
Whole grain crackers
Turkey breast slices preferably same size as crackers
Cheese slices preferable same size as crackers
Cucumber slices
*Place in zip lock bags and encourage kids to stack em' and eat em'
2 clementine
Red and green bell pepper sticks with hummus
Meal 4:
Chicken and Broccoli Salad with Pita chips or Pita pocket (while the pitas are in stock, try these Greek Pita Pizzas)
Chicken breast and broccoli roasted on sheet pan with garlic

 Add 1 tsp of ground cumin, 1 juice of lemon, ¼ cup shredded cheese, ¼ cup chopped parsley or cilantro

Serve with pita chips or pita pocket and let the kids fill them themselves

Carrot "Dollar Coins": Slice carrot into thick slices
Frozen red or green grapes
Tip: Include a fun fact on a post-it note in the lunch box. For example, "Carrots are loaded with beta-carotene and are good for your eyes."
Meal 5:
Taco Salad Lunch Bowls

Place shredded lettuce, black beans, corn, ground turkey cooked with taco seasoning, grape tomatoes, and shredded cheese in Tupperware

Apple slices with nut butter

Cut apple around the core; place the pieces back together and secure with a clean rubber band so pieces don't oxidize

Homemade popcorn sprinkled with sea salt and olive oil
Tip: Popcorn is a great whole grain snack that can be sprinkled with an array of crazy flavor combinations. Exposing children to different flavor profiles early on really develops their palates.
See more tasty lunchbox ideas with the Bento Box strategy.