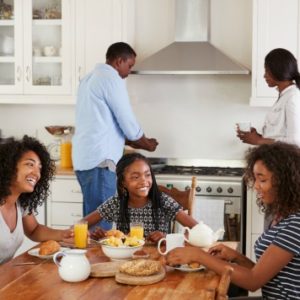 You may think breakfast is the most important meal of the day, but many teens think the exact opposite.
Most of them run out of the house in the morning, skipping breakfast on their rush to school. "I don't have time!" "I'm too rushed!" "I'm not hungry in the morning!" The excuses are endless. However, the problem still remains. Teens are not eating breakfast, an important meal that's been shown to help them concentrate better in school, feel more energized, and make better food choices throughout the day. How can we tackle these excuses and encourage them to eat?
Quick Breakfast Facts and Tips for Your Teen
Start by simply giving them the facts and a couple of simple tips:
Breakfast can help boost your memory, help you tune in more and stay focused.
Skipping breakfast in an effort to lose weight is more likely to cause weight gain. Breakfast can actually help us maintain a healthy weight by keeping us from being over-hungry later and making poor food choices!
Make time by planning ahead. By preparing your breakfast the night before, you save loads of time in the morning. If you're really pressed for time, keep emergency breakfast and healthy snacks in your locker for when you need a morning pick-me-up.
A healthy nutritious breakfast will give you more energy throughout the day than a few extra minutes of sleep.
Eat lighter at night so you're ready for a healthy meal in the morning. Many people aren't hungry in the morning simply because they ate too much for dinner the night before.
Breakfast provides a boost of important nutrients and fiber for a healthy body.
Use these tools to help your teenager start to incorporate the most important meal of the day. Making time for breakfast regardless of whether it is a sit-down meal or on the go will make a lasting difference and their bodies will thank them!
Easy Breakfast Options for Your Teen to Try
Need a few more healthy and quick breakfast suggestions? Try these…
Scrambled eggs with peppers, onions, and herbs—add some slices of fruit on the side for some healthy carbs to complement the protein and fat.
Greek yogurt (often lower in sugar) with fresh or frozen fruit, cinnamon, and walnuts.
Whole grain toast with an egg and sliced avocado
Overnight oats made with non-fat milk, a couple of Tbsp. of plain greek yogurt, chopped fruit, and walnuts
Apple and peanut butter
Whole grain cereal with low-fat or skim milk or kefir
Lightly toasted mini whole wheat bagel with low-fat cream cheese with sliced tomato and avocado
Pre-made green smoothies with a boost of protein powder—the key is to make extra, put the blender back in the fridge with the leftovers, then add ice and re-blend the next day to save on time and washing.
Batch-cook these gluten-free banana walnut oat waffles.  Make 2 batches and freeze the extras. Put wax paper in between each waffle for easy separation.
Hard-boil eggs ahead of time. Eat them alone with a little salt and pepper, with a piece of toast, or even with an avocado or some hummus! See Diced, Sliced and Mashed, 10 Ways to Dress Up Your Morning Toast.
Featured Recipe: Egg Muffin Sandwiches
Batch cook these delicious egg muffin sandwiches. Wrap them in wax paper and freeze them. When you're ready to eat, pop them in the microwave for 2 minutes for a delicious and quick on the go breakfast. Learn why eggs are good for you!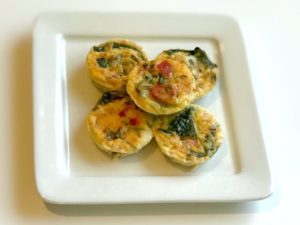 Ingredients:
8 large eggs
12 English muffins, whole grain
12 tablespoons shredded low-sodium cheese, divided
½ cup chopped green onion*
½ cup basil
1 cup chopped spinach
1 cup chopped broccoli
1 cup sliced mushrooms
1 tablespoon olive oil
salt and pepper to taste
* You can use any vegetables you like!
Directions:
Preheat oven to 350 degrees.
In a bowl, crack eggs. Then add 2 tablespoons of water, green onions, and basil.
Season with salt and pepper and whisk.
In a muffin tin pan, lightly brush compartments with olive oil or line with cupcake liners.
Add your choice of vegetables in a muffin tin and top it off with whisked egg mixture ¾ of the way up.
Top with shredded cheese and place it in the oven for 12-15 minutes or until eggs are done.
Toast English muffins and place each muffin in between to create a sandwich.
Check out more teen breakfast ideas!